This post is part of a virtual book tour organized by
Goddess Fish Promotions
. One randomly chosen winner via rafflecopter will win a $50 Amazon/BN.com gift card. Click on the tour banner to see the other stops on the tour.
My Take on Critique Groups
My first agent asked me to do three things: fix the formatting of my manuscript, join Romance Writers of America, and become part of a critique group.
The first two tasks were easy to accomplish. The third? Not so much. What was a critique group, and where would I find one? If only I could ask a romance author, but I didn't know any. I looked for a local chapter of Romance Writers of America and asked to attend their meeting. Lo and behold, I was suddenly in a room full of women who wrote romance, many of whom were multi-published bestsellers! Not only that, they were incredibly nice and willing to answer my questions.
I joined that chapter, and at our next monthly meeting, I discovered that one of the members lived close to my neighborhood. I asked her if she knew of any local critique groups. She did. In fact, she happened to be part of a critique group and they were looking for another critique partner. Bingo! I jumped at the chance to join them. Turned out, they met four miles from my house. Who knew there were romance authors so close to home?
Becoming a part of a critique group was the single most important thing I've done to improve my writing. Not only do I learn from what my partners say about my work, I learn from reading (and critiquing) their work. I've become familiar with what makes a passage sound good, and what might be done to improve a problematic scene. When I'm stuck with a plot twist, my partners always have a good solution. We celebrate each other's successes and commiserate when things go wrong.
My group meets once a month. Every time we meet, each member submits up to 10,000 words (about forty pages) of our work-in-progress. We print out everyone's submissions and read each chapter. If we have questions or suggestions about the work, we write notes in the margins.
On the night of our critique meeting, we sit around my friend's kitchen table, eat dinner, and get to work. We discuss each submission and offer our suggestions. By the end of the night, every author has handwritten edits and suggestions to enhance her work.
We've found that a group of four authors works well. We're able to get through four submissions in one evening, and each of us has unique strengths to contribute to the group. I'm a good content editor. Our second member is great with grammar. Our third offers great dialogue suggestions and always makes sure our heroes are strong. And our fourth member is particularly good at catching mistakes and providing ideas that deepen our stories.
If there is no critique group near you, consider finding an online critique partner. You'll be amazed by how much you grow as a writer when you're willing to submit your drafts for suggestions.
She avoids men like him. He needs a woman like her. One lie changes everything…

Gabriel Antonov is a mechanic who can fix anything, even a woman's hesitance. His talents have earned him the well-deserved reputation as a player, but when a routine one-night stand goes wrong, he's haunted by what he's done. Nothing can free him from those depraved memories, until he meets Leigh Nelson.

Leigh avoids strong, silent types like Gabe, who is stronger and quieter than most guys. The only man she's focused on is her father, who is suffering from a devastating health crisis. She'll do anything to help him, even at the cost of ignoring her own well-being, but the stress is getting to her. Gabe's strength is tough to resist, and his silence might be hiding a crushing secret only she can understand.

He can't outrun his gut-deep craving for her. Problem is, she's running from him. When they're marooned in his lakeside cabin, he might finally catch her…if he can admit why he's falling apart without her.
Enjoy an Excerpt:
She rose and gave him a smile.
That smile made him want to do pointless, tender things like brush his fingers through the blonde curls hanging down her slim back, but he kept his hands to himself. With her, he had to be careful. Take things slow. If he moved too fast, she'd come up with some reason to leave. He wanted to give her reason to stay.
For one night.
Or a long weekend.
Whatever it took to satisfy his hunger for her.
For the first time in months, he wanted to be with a woman. Not just any woman, though. Just Leigh. He wanted her so badly, every word he spoke came out curt and rough. Winning her trust would be tough if he kept sounding like a horny Neanderthal, so he kept his mouth shut and guided her out of The Crab Trap with a light touch to her back.
About the Author: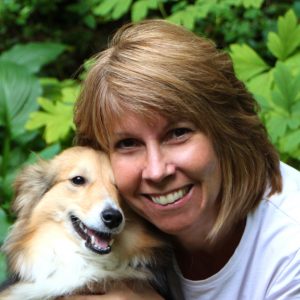 Lynn Kellan writes contemporary romance about strong men who have a weakness for smart women. She believes men and women aren't that different, because everyone wants to be with someone who will empty the dishwasher. To prepare for her career as a romance author, she fell in love with bad boys, burly athletes, battle-hardened Marines…and married a chemist. Lynn has won numerous writing contests and served two terms as President of her local Romance Writers of America chapter, but she feels a true sense of accomplishment whenever she doesn't embarrass her teenaged kids.
For love. For funny. For ever.
Website | Twitter | Facebook | Instagram | YouTube | Newsletter | Goodreads
RUN TO HER is on sale for $2.99. Buy the book at Amazon, Smashwords, iBooks, or Kobo.