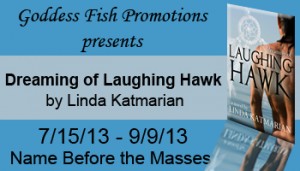 This post is part of a virtual book tour organized by
Goddess Fish Promotions
. Linda will be awarding a $25 Amazon gift card to a randomly drawn commenter during the tour. Click on the tour banner to see the other stops on the tour.

My Take on Critique Groups
by Linda Katmarian
Critique groups are an important component of every writer's development. It is how you learn about yourself as a writer and how you learn to evaluate your craft. That said, there are some important things to understand about critique groups and how you relate to them.
Basically there are two types of groups: the kind that praises everything you do and provides little constructive criticism and the kind that rips you up and leaves you bleeding on the floor. I have experienced both of these types. The question then becomes how to benefit from a critique group.
Most important of all, check your ego at the door. Critique groups are for learning. You take what your fellow writers are willing to offer and use what you can. It's not about you; it's about the writing. There are some who have good critique skills and who can offer sound, honest advice. There are others who mean well, but lack the skills or who are unwilling to offer any useful critique. And finally, there are those who think critiquing is a blood sport. They enjoy savaging the work of others, but rarely offer any useful advice.
As a writer, I am most distrustful of groups that are too gentile and timid to give you some of the hard truth that you need to hear. If you fall into this type of group you will be tempted to succumb to all the flattery and you will feel no pressure to improve.
Then there is the other extreme. I can take being pommelled by fellow writers if they have something insightful to offer. If not, I just shrug them off. Unfortunately, many writers cannot withstand critiquing that is a trial by fire. These kinds of groups crush the spirit of too many writers, who eventually give up and go away.
The moral of the story is to develop a thick skin and an open mind and to learn to trust your own instincts about what others have to say about your writing.
I offer up this little poem of mine that I wrote after surviving one of the bloodier types of critique groups:
Writer
Writer, when first I tapped you on the shoulder,
did you think I promised success and fame? Glory be to you forever?
Better to draw up a business plan, study for another career.
And you did.
You studied editing and theory,
dedicated much paper to these easy gods and their prophets,
planned for your coronation.
Tell a story and tell the truth, I whispered in your ear.
I will have no other gods before me.
You became a fearful priest who coveted your scrolls.
I am not the god that accepts tithes or grants dispensations.
Only flesh and blood will do. I make no promises.
Writer, if you carry your cross the distance and
you are still conscious when they nail you to it,
maybe they will crown you King of Words.
About the Author: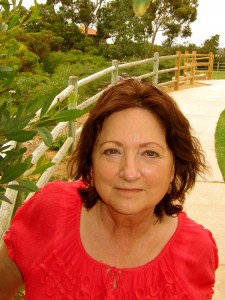 Author Linda Katmarian grew up in the Midwest and graduated with a Master's Degree in French literature from Illinois State University. She has studied under Sol Stein, prolific author and former owner of Stein & Day publishing company in New York, and Louella Nelson, an experienced romance writer and teacher of fiction writing. In 2012, after a long career as a technical writer, Linda committed herself to writing fiction full time. She lives in Southern California. DREAMING OF LAUGHING HAWK is her debut novel.
Author page: http://amazon.com/author/lindakatmarian
Website: http://www.lindakatmarian.com
Blog: http://www.scheherazade-thewritinglife.blogspot.com/
Twitter: http://www.twitter.com/LindaKatmarian
Facebook: http://www.facebook.com/authorlindakatmarian
In 1964 Elizabeth Leigh is looking forward to college, escape from her unhappy home, and the fulfillment of her dreams. Adventure. Love. Her place in the sun. On a restless afternoon, she leaves school early and discovers her mother is packing to run off with a lover, abandoning Elizabeth and her stepfather. Worse, she learns her mother has squandered the college money her grandfather left her.
A fortuitous invitation from her cousin Melina to come to Los Angeles rescues her from an uncertain future. In Los Angeles, Elizabeth finds security in the embrace of her aunt's family and is introduced to the man who soon becomes her fiancé, Collin Greenslade, an ambitious, up-and-coming real estate developer. Life could not be more perfect.
When her cousin's boyfriend, a civil rights activist, has his Thunderbird vandalized in Mississippi, he enlists his roommate, Mark Laughing Hawk, to tow his car back home. Melina insists that she and Elizabeth should come along for the ride, but what starts as a fun romp across the country becomes a journey of the soul that complicates love and endangers lives.
Dreaming of Laughing Hawk explores the desire for love, power, and sense of purpose and the lengths we will go to attain them.
Buy the ebook or print book.