This post is part of a virtual book tour organized by Goddess Fish Promotions. Judi Lynn will be awarding $20 Amazon or B/N GC to a randomly drawn winner via rafflecopter during the tour. Click on the tour banner to see the other stops on the tour.
My Take on Critique Groups
I've belonged to a local writers' group for over twenty years. We don't have any dues or many rules—only that we have three people volunteer to read for each meeting, each reader gets fifteen minutes to read before we go around the table to comment, and the reader can't respond until everyone's finished their feedback. The last rule became a necessity when readers replied to every comment, and we could only manage one reader in two hours with a lot of repetition. Our group critiques, but we also encourage. We state what we consider the work's strengths, what we liked, and what we think the author could make better. Too many passive verbs? Someone catches it. Word choice? Think of a better one. Plotting. Pacing. All the basics are scrutinized. If we know of any markets for someone's work, we recommend those. It's a good base for a critique group, but our real strength is that we've known and cared about each other for so long. If someone's hit a snag, she can use her fifteen minutes to brainstorm instead of read. If marketing is beyond someone, we talk about that. We concentrate on how to make each writer better—including the actual story and the follow-through.
I've attended a few other groups. Some have speakers who talk about specific topics. POV, conflict, how to develop characters—all of those are good. I always learn something, even if it's something I knew once and forgot. Some groups just share what they've written with no feedback. One group was so brutal, I'd burn my manuscripts and walk away if I attended it often. Everybody needs different things at different times. But my group works for me. They don't let me slack off. If I've come up with a weak idea to hang a novel on, I hear about it. If there's not enough emotion, enough angst, it's brought to my attention. And if I have a case of the Why Am I Doing This?, they tell me to pull up my girl panties and write better. Our group might not work for you, but it keeps us motivated and honest. It makes us try harder.
Tyne Newsome promised to help Daphne Ferris pick up the pieces if her professor boyfriend dumped her. Tyne is a hottie chef with no intentions of committing to anyone. He has big plans for his future. Daphne owns a stained glass shop and spends most evenings eating dinner with her parents. She prefers safety and solitude, but Tyne keeps bumping her out of her usual routines. He's not someone she can ignore. And soon, they find that they complement each other so well, they're both pushed to places they've never been before.
Enjoy an excerpt
Tyne zipped down the inside staircase and stopped to glance at Daphne's shop in the dim light. Most people didn't move at four-thirty in the morning, for good reason. When he returned later this afternoon, would the shop be decorated with dangling crepe paper and balloons? The professor she'd been seeing was supposed to be a free man today. All he had to do was sign his divorce papers. Patrick could finally ask Daphne to marry him. Nothing Tyne would celebrate. The man was as exciting as porridge, but Daphne thought she'd be happy with him.
On his way out the door to his Jeep, he inhaled the crisp, clean Fall air. It perked him up, cleared his head. Driving down Main Street with its brick buildings, striped awnings, and old-fashioned street lamps, he saw Maxwell step out of his bakery to snag the morning paper by his door. Another early riser. When Maxwell saw Tyne's orange Jeep, he raised a middle finger and grinned. Tyne laughed and returned the gesture.
About the Author: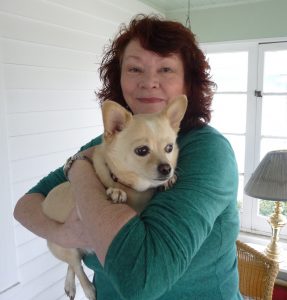 Judi Lynn lives in Indiana with her husband, a bossy gray cat, a noisy Chihuahua, and a parakeet. She loves to cook and owns more cookbooks than any mortal woman would ever need. That's why so much food sneaks into her stories. She also loves her flower beds, but is a haphazard gardener, at best.
Website | Blog | Facebook | Twitter
Buy the book at Barnes and Noble, Amazon, or Kensington.