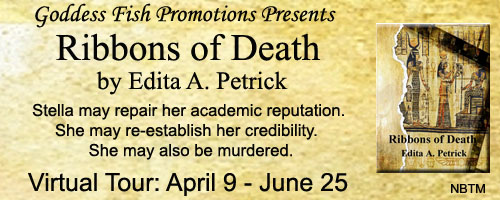 This post is part of a virtual book tour organized by
Goddess Fish Promotions
. Edita will be awarding a Kindle copy of "Ribbons of Death" gifted from Amazon to 4 randomly drawn winners via rafflecopter during the tour. Click on the tour banner to see the other stops on the tour.
My take on critique groups
You've worked hard on your first 2,000-word chapter of your brand-new mind-child and you're absolutely sure it's ready to be sent to your critique group, for praise and nothing else. Of course, you agree to abide by the conduct rules of the workshop and why not? There's nothing to fear about. You're the epitome of respect and courtesy, fairness and honesty—heck, you're the foremost crusader for honest reviews…and then the first critique comes in and every single curse and insult that you've ever learned bubbles up on your lips. You want to hurt all of them, all at once, at the wretch who dared to rip your darling apart.
This is the reaction most often echoed in any workshop-member's response when asked how he or she felt about his first critique.
I've been a member of Fiction Writing Workshop for more than ten years.
It is an Internet Writing Workshop, run off the Penn State University servers. I've lost count how many offensive and downright threatening emails I received from a workshop member whose submission I critiqued. There are moderators of course, but once the email is hurled out there for workshop members to see, it's hard to backpedal for its author. And precisely because most authors, beginners or established, do not react well to critiques, I tell those who ask me about the critique groups to simply stay away from them. They are not for everyone. In fact, they are for very few who have developed their professionalism to a point where they're able to look objectively on any form of critique and either disregard it or learn from it. There are really only those two options that emerge from a critique. That's the main reason for my cautionary advice.
The writer who is just beginning to develop his writing craft is cocooned in a bubble of heady optimism and lofty dreams of glory and recognition that his writing will bring him. The mid-level writer's optimism has somewhat cooled off and he is in a stage where doubts start to set in. He is at the point of difficult decision: Continue or give up writing and focus his energies on something more rewarding. The next stage is what I call "count-to-five-groaning" stage. At this stage, the writer will read the critique, groan and then count to five and re-read it again and again and again, as long as it takes, to ascertain whether the critiquer has a valid point or whether to dismiss his critique. Regardless what his decision, he will write a polite 'thank you' note for the critique.
When the writer reaches this stage, it would be beneficial for him to join a critique group – but not before he is able to self-identify that he is in 'author-developmental' stage. It takes a great deal of courage, self-control and medication-of-your-choice for the writer to reach this stage. Is there a way to get 'here' from 'there?' Sure there is. And I don't mean to develop a thicker skin.
Ten years ago, after receiving a critique that was well-meaning but hurtful nevertheless, I walked around for 4-5 days, tossing my reply to the critiquer over and over in my head until it literally worked itself out of my system. Believe me, few if any people can go for days silently cursing and hurling insults at a disembodied name. Life will interfere; other more pressing needs will wash out the pain and anger and by day four, you will be ready to let go of the hurt and get back to the serious business of improving your writing craft. As times goes by, the length of time it takes for you to get rid of the anger becomes shorter and shorter until finally, the writer reaches the stage where he is able to read all critiques, good and bad, with equally stoic expression and only an occasional sigh.
This is the stage where joining a critique group will be actually quite beneficial. Especially if you manage to find one or two members whose observations you'll come to trust. These will be the equivalent of your publisher's editor (or freelance professional editor, as the case may be) that you will work with toward a common goal—to produce a flawless manuscript that shines for your reading audience.
In conclusion, those writers who are just starting to develop their writing craft should stay away from critiquing groups and workshops. Their confidence and optimism would only get undermined by the members' varied and often ill-targeted critiques. New writers should direct all their energy into self-learning and reading works of established writers. Critique groups are beneficial to mid-level writer who is able to take away some kernel of knowledge from any critique. It is also important for the mid-level- and-higher writer to find the right-fit critique group. Basically, if the author does not feel 'at home' after one or two critiques he or she should leave the group and find another. And those writers who are ready to seek publication, can join a critique group as means of staying in touch with others learning the craft, but they would be better off finding one or two high-level editors to show them what is still lacking in their craft.
When a horribly scarred man knocks on the door of Stella Hunter's ramshackle cottage in upstate Montana, she lets him in. What's there to lose? The book critics killed her chances to warn the world about myths and legends behind the myths and legends.

But once the man pushes a book smudged with bloody fingerprints across the table, Stella sees a glimmer of hope. She may yet repair her academic reputation. She may re-establish her credibility within the scientific community and she may vindicate her 'peace-taker' theory. She may also be murdered by anyone standing next to her if her theory is correct.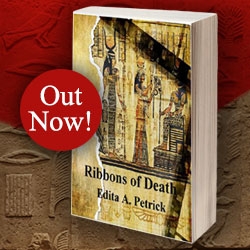 Enjoy an excerpt:
"Of course. Why didn't you just say so," he said gruffly but knew she'd see that his eyes were laughing. Then something occurred to him. "Wasn't the Benedictine order founded by St. Benedict?"
She rapped her knuckles on the back of his hand. "No. He only wrote their rule—its prologue and seventy-three chapters—commonly known as RB. It spells out basic virtues a man should have—humility, silence and obedience. It also gives details of common living and sharing. Many a broken marriage today would still be intact if the partners had only taken trouble to learn the ins-and-outs of St. Benedict's Rule." She let him ruminate on her lecture and turned to McEwen. "What's in the tabloid/diary that would interest me?"
The antiquarian resumed his story. His friend Peter immediately set to translate the Latin text of the diary and, when finished, he sat back reflectively, much puzzled how such a fanciful tale could have indeed been written by a monk. Brother Lucien, the scribe at the Clairvaux Abbey, was inspired to become Abbot Bernard's unofficial biographer when he heard that clergy in Paris had already started this noble pursuit.
About the Author: By profession, I'm an engineer and ten years ago, I left a corporate job to concentrate on writing. It was perhaps the scariest thing I've done. Of course, there were other considerations at the time, life, kids, economy and my mother who was battling cancer. I wrote as means of staying grounded because I had to hold it together. There was no one else to pitch in. There wasn't a single moment that I didn't have doubts about whether what I was doing was the right thing or not, but doubts come and go, while the need to write goes on forever. Since 2005 I've published 5 books and this year alone I have 6 new ones coming out. I live in Toronto with my family and our two pets – wheaten terriers. And whenever I'm tempted to look back, and start second-guessing my past decisions, I sit behind the computer and start another book. At least for me, that's a cure-all.
Website | Blog | Twitter | Facebook
Buy the book at Amazon or Solstice.