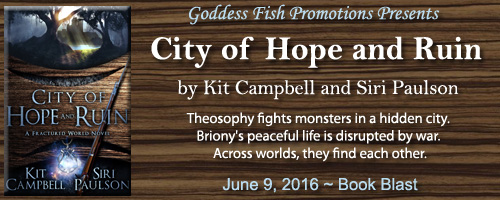 This post is part of a virtual book tour organized by
Goddess Fish Promotions
. The authors will be awarding a $50 Amazon or B/N GC to a randomly drawn winner via rafflecopter during the tour. Click on the tour banner to see the other stops on the tour.
My take on critique groups
Siri here on behalf of Kit Campbell and myself. Thanks so much for having us!
I'm a big believer in critique groups, as long as they're helpful and not toxic. Learning how to critique someone else's story will teach you a whole lot about analysing what works and what doesn't, about separating your personal reading preferences from objective quality, and about your own writing.
It's much easier to see problems in other people's writing than your own. Conversely, it's much harder to see what needs fixing in your own story. Having other people you trust to tell it like it is? Invaluable.
I'm lucky enough to be part of an in-person critique group that works really well. Here are some reasons why…
We've learned to check our egos at the door. Separating your writing from your heart is a hard thing to do. It's tough to take critique – to sit there and listen while people tell you what's wrong with your story. But it's a really important thing to learn, because sooner or later it's going to happen to you (editor? agent? review?), and you'd better know how to handle it with grace. On the flip side, it's also important to learn how to give criticism without making it personal.
We've learned how to deal with the feedback. I've learned that there are some times when I just should not submit a story. It's still too close to my heart, or too early in the process. For example, when I'm in the middle of a novel draft, I should not submit early chapters – I'll get defensive (not out loud) and also start second-guessing everything I'm doing. But other people find it so helpful to get feedback with plot problems along the way. Figure out what works for you! I've also had to learn how to filter the critiques, to pick and choose what's helpful for the direction I want for the story.
We trust each other. Part of this is because we all write in the same genres, and most of us are at a similar stage in our careers (published a few books or just on the cusp of publishing). Part of it is because we've learned how to give a balance of positive and negative feedback, with specific issues identified and specific solutions suggested. Part of it is just familiarity – we're not friends, exactly, but we've been meeting a long time. And we tease each other and just generally keep a sense of humour about the whole thing.
We have an established process. Here's how we do it: Meetings are once every two weeks and usually run about two hours. We have two victims, er, critiquees per meeting, submitting up to 10,000 words each – either a short story or some novel chapters. Submissions are emailed around the previous week so everyone can read them twice and make notes (ranging from broad strokes to line edits, depending). Sometimes the author includes specific questions about how certain aspects are coming across, or a synopsis of earlier chapters if relevant.
During the meeting, the critiquee takes notes and doesn't talk much, although they're allowed to ask questions or clarify their intentions. We go around the room, more or less, taking turns giving a verbal critique – it might cover plot, character, pacing, worldbuilding, logic gaps, stuff that doesn't ring true, whatever's relevant. Sometimes a meeting turns into a free-for-all where everyone's contributing to the discussion at the same time, other times we stick to talking in sequence. We don't dwell on the more nitty-gritty line edits during the meeting – the critiquee can go over those on their own time. At the end of the session, the critiquee can ask further questions. Finally, we give the author our copies of the submission with our edits marked (either by hand or with the comment function in MS Word).
This method is really helpful because it's detailed but not too detailed. We get feedback from multiple people on every scene and every plot/character development, which usually doesn't happen if you email your entire novel to beta readers. Not to say betas aren't useful! Getting a reader's broader impressions is important too. On the flip side, there's no point in getting hung up on the sentence-level writing if the scene isn't working…plus if you get too much feedback on that level, you run the risk of losing your unique voice. But personally, I find it much easier to write pretty prose than to write effective scenes, so that's where I need the help.
So there you have it – everything I know about critique groups! Over to you. Love 'em, hate 'em, wish you could find one?
Every night the monsters hunt.

A city that is the whole world: Theosophy and her companions in the City militia do their best to protect the civilians from the monsters, but they keep crawling from the Rift and there's nowhere to run. Theosophy knows she'll die fighting. It's the best kind of death she's seen, and at least she can save lives in the meantime.

They say the Scarred carve you up while you're still alive.

A village in the shadow of a forest: Refugees from the border whisper about the oncoming Scarred, but Briony can't convince her brother to relocate his children to safety. Briony will do anything to protect them. She owes them that much, even if it means turning to forbidden magic.

When Theosophy and Briony accidentally make contact across the boundaries of their worlds, they realize that solutions might finally be within reach. A world beyond the City would give Theosophy's people an escape, and the City's warriors could help Briony protect her family from the Scarred. Each woman sees in the other a strength she lacks—and maybe something more.

All they need to do is find a way across the dimensions to each other before their enemies close in.
Enjoy an Excerpt:
Dean Prosody was pacing in her cramped office when Theosophy arrived. Her bayonet and whetstone lay forgotten on her desk.
Theosophy stopped just inside the door. "Sir?"
"He's not in his quarters, and he took his spear," said the dean, not looking at her.
Theosophy reached into her belt pouch and pulled out her double crystal, tuned to her partners. One side had gone dark, of course, but the other pulsed weakly. She could feel the direction of the pull—toward the ruins—but that meant nothing, surely he wouldn't be such a complete…
"What did you say to him?" Dean Prosody demanded.
Theosophy shrugged.
"Nothing about avenging Rhetoric?"
"I should hope not," she said. "I was a little busy fighting for my life. With one partner gone and the other just standing there…"
The dean gave her a look, blue eyes snapping.
"What? I let him mourn after. But he still let the third one get away, and almost got me killed. I had to say something."
The dean sighed.
"There's a reason I'm the longest-serving fighter. And it's not because I'm nice."
"About that, Theosophy…maybe you should consider stepping down."
She opened her mouth, but nothing came out.
"I know you're the reason a lot of these kids are still alive. But you're turning sour. It's not healthy."
Theosophy grimaced. The thing was, staying alive the longest wasn't any kind of mercy. It just meant everyone you used to know was dead.
About the Authors:
It is a little known fact that Kit was raised in the wild by a marauding gang of octopuses. It wasn't until she was 25 that she was discovered by a traveling National Geographic scientist and brought back to civilization. This is sometimes apparent in the way that she attempts to escape through tubes when startled.
Her transition to normalcy has been slow, but scientists predict that she will have mastered basics such as fork use sometime in the next year. More complex skills, such as proper grocery store etiquette, may be forever outside her reach.
Kit can be found cavorting about the web at her blog  or website, on Pinterest , and even occasionally on Twitter.
Siri Paulson writes all over the fantasy and science fiction spectrum, including (so far) secondary-world fantasy, urban fantasy, steampunk, Gothic, historical paranormal, and YA with spaceships. She is also the chief editor at Turtleduck Press. Siri grew up in Alberta, Canada, but now lives in an old house in Toronto. By day, she edits non-fiction for the government. Her other current passion is contra dance, a social/folk dance done to live Celtic and roots music. Her favourite places in the world are the Canadian Rocky Mountains and a little valley in Norway.
Siri's short fiction and the anthologies she has edited can be found on Turtleduck Press. She blogs at https://siripaulson.wordpress.com/ and tweets at http://twitter.com/Siri_Paulson.
Multi-region buy link for ebook: http://authl.it/B01DYSR7QE