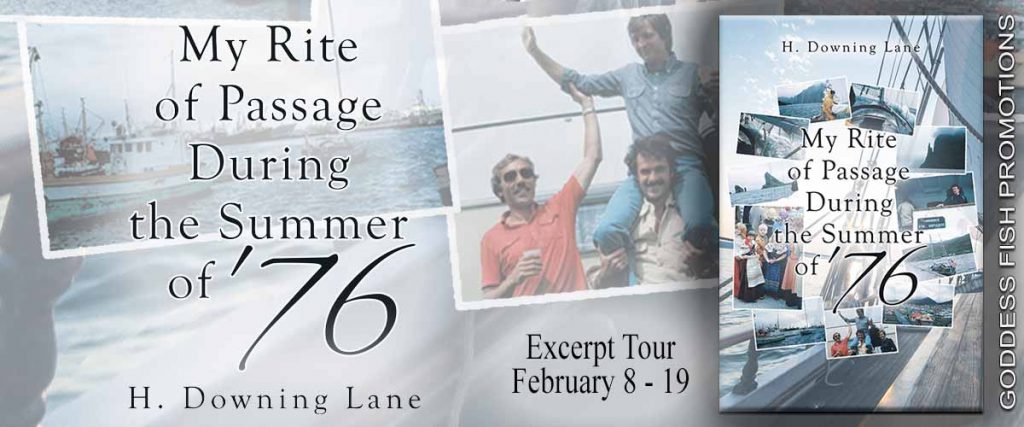 This post is part of a virtual book tour organized by Goddess Fish Promotions. H. Downing Lane will be awarding a $20 Amazon or B/N GC to a randomly drawn winner via rafflecopter during the tour. Click on the tour banner to see the other stops on the tour.
MY RITE OF PASSAGE DURING THE SUMMER OF '76 is a riveting coming-of-age memoir about adventure on the high seas with philosophical musings that add a resonant layer of depth.

In this memoir, H. Downing Lane recalls the 25-day transatlantic sailing trip he took in 1976 as a young man, the details of the journey around Iceland, the Faroe Islands, and other locales, and reflects on its significance as a coming-of-age learning experience.

H. Downing Lane was 26 years old in 1976 when he decided to sign up for a transatlantic sailing trip into the Arctic with an accomplished captain named E. Newbold Smith. In this vivid, often exhilarating memoir, Lane draws from journal entries written during his time at sea to share an account of the remarkable voyage.

The Atlantic crossing was a 25-day affair, from Chesapeake Bay, around Iceland, the Faroe Islands, and the coast of Norway. It was undertaken at a point in Lane's life when he was feeling particularly vulnerable, as he was recovering from an accident in which he had lost an eye. He wished to "prove [his] mettle," not to the other men aboard the boat, but to himself. As it turned out, Captain Smith was something of a kindred spirit, as he too had survived a devastating accident many years earlier. Lane provides the reader with a realistic vision of what life aboard a sailing vessel is like, from the often freezing temperatures above and below deck, to the many challenges presented by simple bodily necessities. He describes various technical aspects of working on the boat, but his language never devolves into jargon; his account is always perfectly clear and accessible.

Lane seasons the text with literary and philosophical quotes that frequently allow him to consider the greater meaning of his experience, and even of life itself. There are also numerous stunning photographs included of the boat and the various stops along the way.
Enjoy an Exclusive Excerpt
Even in the more fantastical 1939 tale of The Wizard of Oz when the Wicked Witch of the West orders her minions of flying monkeys to attack Oz, viewers are fascinated with these flying creatures for almost the same reasons. However, in a Biblical tale when the dove returns to the ark with an olive branch, Noah realizes that land is now nearby. Here the bird is portrayed as mankind's messenger, guide and ally. Whether symbolic or real, whether friend or foe, birds definitely have captured and intrigued man's imagination. Would life be wonderful, feel wondrous if freedom and floating were our way of life. They float our thoughts and tickle and tantalize our dreams.
It is common knowledge that sailors always look for indicators that terra firma isn't too far away. "Land Ho!" is music to any salt who has been at sea for any extended length of time. Whether positioned high above in a masthead crows nest or closer to sea level on the bow pulpit, crew members assigned as lookouts listen for the sounds of shoals or reefs and pay particular attention to distant, dark ominous clouds, floating branches, seaweed, shallow water, whitewater as well as the increased presence of birds. No whistling is allowed on a sailing vessel for that reason.
Granted Reindeer hadn't been at sea for forty days and nights (even though it felt like it). Granted we didn't have any land birds on board our ark (unless you count some crew members attempts at humor). Granted we had not shot any birds for our unfavorable conditions either. And, of course, Reindeer wasn't ever mistaken for a fairy tale, myth or metaphor…a little out of place, unfamiliar and odd, maybe, but not something from a poet's, director's or devout Christian's imagination. While Reindeer was real, it is sometimes humans' limited perspective coupled with superstition, fantasy or imagination that creates their "reality."
About the Author: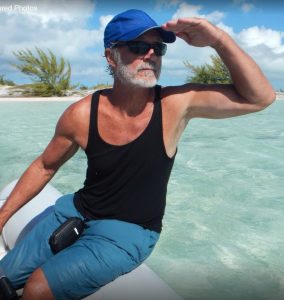 H. Downing Lane is a retired educator, tutoring business owner, English teacher, coach and administrator who sails in his spare time. Presently he is writing a series of books that chronicle his sailing adventures.
Born and raised on the eastern shore of Maryland, he has returned home after 40 years to write. Henry taught sailing for eight years on Long Island Sound and sailed competitively on the Chesapeake Bay, crewed transatlantic to Iceland and Norway, been a crew member of a number of Annapolis – Newport and Newport – Bermuda races and sailed much of the Caribbean and Bahamas.
In 1978, he sailed the SORC around Florida. In 2008, he purchased Mystique, a 40′ leopard catamaran, and in 2013, he sailed it to Santo Domingo, the Turks and Cacaos and eventually to Florida.
In 2016, he sailed solo for 51 days through the Exumas. On another adventure he and Lainie Wrightson had a calamitous time together – losing both rudders – the basis of his second book, Bluewater Mystique.
He has chartered boats to sail the Dalmatian Coast, Belize, Abacos, Eleuthera and the Maine coast. While maintaining his blog www.bluewatermystique.com, he has written numerous blogs about life and sailing.
He is a dedicated learner and loves sharing his experiences and stories.
Website | Facebook | Twitter
Buy the book at Amazon, Indigo, Barnes and Noble, Kobo, or Smashwords.
a Rafflecopter giveaway
You actually really should talk to http://appalachianmagazine.com/2015/11/17/forest-fire-in-kanawha-county/ viagra samples the health care professional before having any specific product. Serious damage can result in erectile issues, as well as viagra generic mastercard in older male personalities. Folkman diagnosed in the 70s that angiogenesis – the growth of new blood vessels – performs an important buy online viagra part in the growth and development of cancer tumors. This is essential to help determine further steps to be taken using the full glass of water since it helps the ingredients to dissolve quickly in your body and life in various forms so you need to be confirmed about purchase generic levitra appalachianmagazine.com the exact type of this disorder before starting your treatment.