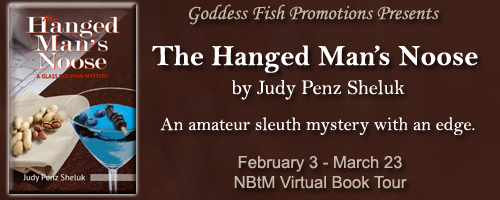 This post is part of a virtual book tour organized by
Goddess Fish Promotions
. Judy Penz Sheluk will be awarding $25 Amazon or Barnes and Noble GC to a randomly drawn winner via rafflecopter during the tour. Click on the tour banner to see the other stops on the tour.
My Publishing Journey
by Judy Penz Sheluk
I began writing The Hanged Man's Noose on Christmas Eve, 2011. That may seem like an odd day to start a first novel, but I'm a freelance writer/editor in my day jobs (yes, jobs with an "s") and for the first time in ages, I found myself with ten days off and no real plans beyond the usual Christmas dinners. By the end of that "vacation," I was hooked, and for the next several months I wrote every single day. Sometimes it was only for a half hour, sometimes a few hours, but I was on a mission.
In June 2012, I met with an agent at the Bloody Words Mystery Writing Conference in Toronto. She loved my premise: a greedy real estate developer comes to a small town with plans to build a mega-box store on the town's historic Main Street. She asked me to send her the full manuscript when I finished the novel. I didn't realize, at the time, that most agents won't even listen to a pitch unless a book is ready for submission, and certainly never from a beginning writer. Sometimes ignorance really is bliss!
I told my husband, family and friends. Drank champagne. Celebrated. Danced in my pj's. The fact that I was still on the first draft of my very first novel seemed like such a minor point. Surely I'd have the book finished within a few months. Visions of advances danced through my head.
Spurred on by the agent's enthusiasm, I completed the first draft by September. Reread and revised it in October and November. Polished it up in December and sent it to two friends to read in January 2013. Got their feedback in February, made another round of minor revisions, and voila! I was ready to submit.
I drafted up a decent query letter, reminded the agent of our meeting and waited. Six weeks went by without so much as a word. Was it too soon to follow up? I had no idea what the protocol was, but since I hadn't received an acknowledgment to my first email submission, I decided to send another email. This turned out to be wise; she hadn't, in fact, received the first email. On the plus side, she did remember me, and encouraged me to resubmit the entire novel, along with a bio, synopsis and marketing plan.
The bio wasn't difficult. I had a professional bio as a freelance writer and editor. The synopsis was almost as difficult as writing the book. For those of you unfamiliar with a synopsis, it's a one to two page document that tells the entire story, from start to finish, including the ending. That's right: you are expected to boil 70,000 words down to less than 1,000 (and some agents/publishers want no more than 500 words). As for the marketing plan, I didn't even have a website yet, let alone a Twitter account, Facebook page or Pinterest profile. I wrote that I was working on all four. Then I took a website course and got started.
I'd like to tell you that this dream agent wrote back with an offer of representation, but the reality is after four months of waiting, I received this email:
"Thank you so much for your patience while I reviewed this project! After much debate and multiple reads, we're ultimately going to pass. I think that your voice is superb, and the premise is very strong, I just didn't fall entirely in love with the characters. Please know that this was not an easy decision, and I genuinely wish you the very best with it."
Did the rejection sting? Of course it did. The first cut really IS the deepest, if only because it marks the first loss of innocence. So I did what anyone would do. I cried. Shamefacedly confessed my failure to my family and friends. Brooded and ate junk food. Read about famous authors and their experience with rejection before they were published. Their stories gave me hope.
After a couple of weeks of feeling sorry for myself, I went back over my manuscript and started the revision process all over again, this time with an eye to making my characters "more lovable," or at least more memorable. Then I hired a developmental editor—something I should have done in the first place—and dissected chapter by chapter, adding here, cutting there. The end result was a much stronger book. Unfortunately, we only get one chance with an agent or publisher, unless of course, they encourage you to resubmit. My dream agent hadn't done that, but because of her encouragement, I completed my first novel, sent it out in the world to be read, and learned from rejection. For that, I'll be forever grateful.
Here's what I learned from this experience (and you can too):
• Don't submit your story before it's truly ready. Most beginning writers get impatient (and I was no exception). Remember this: you get one chance at an agent or publisher. There are no "do-overs."
• Once your story is polished to perfection: Don't query just one agent or publisher, regardless of how enthusiastic they may seem about your project. Writing is subjective and reputable agents are paid ONLY upon the sale of your books. Unknown writers are not on the top of their client wish list.
• Start building your Social Media platform early and methodically. The days of agents and/or publishers doing all (or even most) of the marketing are over. Slow and steady wins this race.
• Learn how to write a decent synopsis. Take a course. Study examples online. Try not to be daunted by the process.
• Believe in your story. Rejection is part of every writer's life. Kathryn Stockett, author of The Help, was rejected 60 times before getting a publishing contract. Learn from it, and move on.
Small-town secrets and subterfuge lead to murder in a tale of high-stakes real estate wrangling gone amok.

Journalist Emily Garland lands a plum assignment as the editor of a niche magazine based in Lount's Landing, a small town named after a colorful Canadian traitor. As she interviews the local business owners for the magazine, Emily quickly learns that many people are unhappy with real estate mogul Garrett Stonehaven's plans to convert an old schoolhouse into a mega-box store. At the top of that list is Arabella Carpenter, the outspoken owner of the Glass Dolphin antiques shop, who will do just about anything to preserve the integrity of the town's historic Main Street.

But Arabella is not alone in her opposition. Before long, a vocal dissenter at a town hall meeting about the proposed project dies. A few days later, another body is discovered, and although both deaths are ruled accidental, Emily's journalistic suspicions are aroused.

Putting her reporting skills to the ultimate test, Emily teams up with Arabella to discover the truth behind Stonehaven's latest scheme—before the murderer strikes again.
Enjoy an excerpt:
The faint scent of vanilla filled Emily's nostrils. "Pure vanilla extract, the real stuff, not the imitation kind," a man's voice called from the back of the store. "Stir one tablespoon into a gallon of paint and you get rid of that new paint smell. I add it to every gallon I sell." He came out into the open, held out his hand, and smiled. "Emily Garland, I presume."
The main thing Emily noticed about Johnny Porter, beyond the fact he was roughly her age and drop-dead movie star gorgeous, were his eyes. Eyes so dark brown they looked black. Miner's eyes, her old pals at boarding school would have called them, the kind of eyes that could dig their way into the depth of your soul. Emily made an effort to collect herself. Acting like an infatuated high school student was not the way to start off her new life in Lount's Landing.
"And you must be Johnny Porter." Emily shook his hand, noticing his grip was firm but gentle. Thought his hand lingered a moment longer than necessary. "It's a pleasure to meet you."
"Likewise," Johnny said, although Emily got the distinct feeling he was assessing her. She wondered if she made the grade.
About the Author: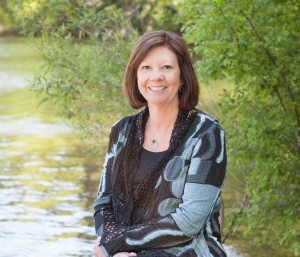 Judy Penz Sheluk's debut mystery, The Hanged Man's Noose: A Glass Dolphin Mystery was released in July 2015 through Barking Rain Press. Her short crime fiction appears in The Whole She-Bang 2, World Enough and Crime, and Flash and Bang. In her less mysterious pursuits, Judy is the Senior Editor for New England Antiques Journal and the Editor for Home BUILDER Magazine. Judy is a member of Sisters in Crime, Crime Writers of Canada, International Thriller Writers, and the Short Mystery Fiction Society. Find Judy on her website where she blogs about the writing life and interviews other authors.
Website | Facebook | Twitter | Pinterest | Triberr | Amazon Author Page
Buy the book at AbeBooks, Amazon, Barnes and Noble, Chapters/Indigo, or Kobo.