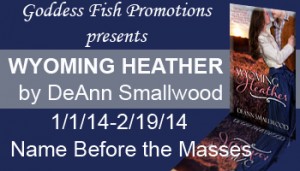 This post is part of a virtual book tour organized by
Goddess Fish Promotions
. DeAnn will be awarding a $25 BN gift card to a randomly drawn commenter during the tour. Click on the tour banner to see the other stops on the tour.
My Perfect Valentine Day
I had to think a minute on this one. Then I had to decide if you would think me a wee bit strange to share this one special Valentine's Day. I decided, go for it.
I was quite a bit younger (no I'm not going to share how much younger)(wink) and my children were in kindergarten and second grade. They were both excited about Valentine's Day and of course had all their cards addressed and Valentine boxes made. We had spent last night making cut-out heart shaped cookies. Icing and sprinkles all over the kitchen. Yep!
We lived on a small farm and I had insisted on having a milk cow. Neither my husband nor I knew how to milk, but determination overcame that obstacle. At least mine did. My husband conveniently never could grasp the concept. Therefore I was the one that got out of bed at 4:00a.m. to milk my little Jersey cow named Summer. Summer was my baby and everyone knew how I felt about her. That morning as I milked, an idea flew into my head. It was Valentine's Day. Valentines were given to people we liked…loved. Valentines were received from people that liked…loved us. Voila! Summer should give me a Valentine. Grinning like a Cheshire Cat, I quickly made a red heart and wrote this poem in its middle.
I love you in the morning. I love you at night. I love you when you milk me, cause Hon you do it right.
Then I took this masterpiece of prose and taped it to Summer's tail. When it came time to get the kids out of bed I went running into their bedroom and told them to hurry out to the barn and see the wonderful surprise Summer had for me. They did. There hanging from her tail was the Valentine/poem. Eyes got huge and Summer's prose was read and exclaimed over. Shamelessly, I encouraged them to believe she had composed and crafted this wonderful Valentine. And of course, Summer being the wonder cow, no one doubted her being capable of this feat. Silly, but this has become one of our favorite memories. My grown-up children now tell their kids how they once had a cow named Summer that gave Grandma a Valentine with an original poem.
I look back on these days and this fun occasion and I can't stop the smile from my face and heart. I've received beautiful boxes of candy from my husband and sentimental cards from my children. But still and all the Valentine I treasure came from Summer. What a perfect Valentine Day.
About the Author: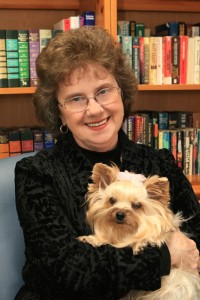 I live in Colorado with my husband and my two Yorkie kid dogs: Stormy, four pounds, and Eli, six pounds. I'm a native of Colorado, but I lived several years in Wyoming and Montana. I draw from these beautiful states for much of my material. My historical romances are: Montana Star, Sapphire Blue, Unconquerable Callie, and Wyoming Heather. Tears In The Wind is a contemporary romance. Then I changed genres from my beloved romances and wrote, under the pen name of D. M. Woods, my first suspense/thriller: Death Crosses The Finish Line. The second book in this 'death' series, Death Is A Habit, will be out later this year. Truly, I mean it when I say my greatest pleasure next to writing is having my books read and enjoyed. There are many more stories just waiting to be written and enjoyed.
Facebook ~ Website
Heather is a spirited, independent woman living alone on a ranch left to her by her parents. She is also a healer of animals, domestic and wild. A woman doing a man's work, running a ranch that everyone said couldn't be done, not in this untamed, vastly unsettled land, in the mid 1800's. The ranch had everything she needed except water. She stole that from a neighboring abandoned ranch watched over by a lonely cabin and a grave.

He rode alone, coming back after five years to an empty cabin, a run-down ranch, and a grave on a hill. A former Texas Ranger burnt out on life and afraid to love. Whip had spent five years hunting the man that took his wife's life and left him to die.

Whip and Heather meet in an explosive moment on the banks of the Powder River. Both lonely, both drawn to one another, and both stubbornly fighting the attraction.

Whip vowed he would take up his dream abandoned five years ago and make his beloved ranch profit and to put aside the sweet linger of all memories shared by him and his wife. The ranch would be a jealous mistress occupying his every thought and every minute. He had no time or desire for a woman much less a pair of runaways from The Orphan Train, stowaways in Whip's wagon and onto the Powder River Ranch.

But fate heeds no one or no thing. The criminal from Whip's past reemerges in the present. Now, Heather is in danger and Whip stand, once again on the cusp of loss. Fate shows a strong, willful woman, full of love and compassion, just what she's been missing in her life. And it shows a calloused Texas Ranger that Heather and love does flourish on the Wyoming plains.
Buy the book at Amazon.