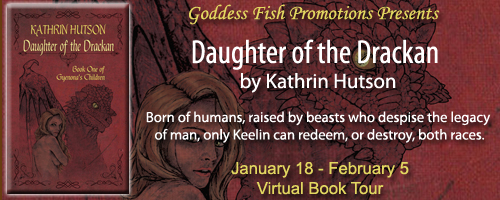 This post is part of a virtual book tour organized by
Goddess Fish Promotions
. Kathrin Hutson will be awarding a $25 Amazon/BN GC to a randomly drawn winner via rafflecopter during the tour. Click on the tour banner to see the other stops on the tour.
My Life Outside of Words
I chose this topic because one of the editors I supervise (yes, I'm an editor as well…) told me she couldn't think of a single besides writing and words she could connect to me. She followed that with, "No one believes you have a life outside of words."
I am here to prove her wrong (though, admittedly, I found the statement oddly complimentary).
So, I've got a list of the top five things outside words (writing and editing) that make up Kathrin Hutson.
1. Music —I've been playing piano since I was five years old. Definitely longer than I've been writing. I was classically trained for twelve years by the most amazing piano instructor, who became a huge role model for me and a pillar of my young life. I learned music by an uncountable number of 'the great's': Bach, Mozart, Mendelssohn, Czerny, Rachmaninoff, Khachaturian, Beethoven… Won some pretty high marks in piano adjudication and competitions, and even starred as a 'guest pianist' in a two-piano duet with my teacher's teacher (who was from Poland, escaped to America during WWII, and performed internationally). I was seven at the time, and only vaguely remember it (with help from the concert program). When I was seventeen, I had the natural teenager disdain for order and structure, and I stopped taking lessons. Sometimes I wish I hadn't, but I moved my focus to composing my own pieces, most with lyrics, and singing and performing. I definitely enjoy that other creative outlet, and I go back periodically to some pretty fun open mic nights.
2. Yoga —No writer can sustain their creativity without also taking care of their body. I rather enjoy yoga, and I practice in my living room just about every morning first thing. It keeps me flexible, my muscles strong, and works better (and quicker) than a cup of coffee for waking up (though I also drink coffee). Lately, though, I've been unable to keep to my yoga schedule. I recently had surgery on my foot to remove a pretty nastily painful bunion, and I've been taken out of the game (mostly physically, at least). I got the stitches out last week, and so far we're healing well, my foot and I—just no physical activity for a while yet. I very much look forward to future months, when I can return hiking in the beautiful Sierra Nevada Mountains in which we live, playing in the woods, and rock climbing back into my daily life, along with yoga. Good thing my recovery coincides with Spring coming.
3. Meditation —This comes in so many different forms for me, but it rounds out my self-care. I studied Tibetan Buddhism under the Venerable Geshe Dakpa Topgyal at the Charleston Tibetan Society Dharma Center in downtown Charleston for about six months before we moved to California. I wish I had found the Dharma Center way sooner. I never took Refuge—the ceremony of declaring one's dedication to Buddhist teachings and way of life—but I learned so many valuable things. I still try to meditate for at least twenty minutes every day, and though that's not much, it helps keep me centered. I also consider dream interpretation (which I've been doing since middle school) and reading Tarot (which I started in high school) forms of meditation as well. I do read for others, if they ask me to, and I definitely enjoy helping them see in front of them what they already know.
4. Food —Boy, am I ever a foodie! My husband Henry is one of the most talented maestros of the kitchen I've ever met, and I'm incredibly lucky that he loves cooking so much. Our dinners consist of gourmet meals (and I'm a terrible cook). He also has a keen eye (and some special access) to fantastic restaurants, and he treats me to them every once in a while. But our mutual favorite? Sushi! Holy moley, I could eat sushi all day every day (literally raw fish and nothing else) for the rest of my life if it wasn't so horrifyingly expensive.
5. Sadie and Brucewillis —What is this, you might ask? No, Brucewillis is not spelled incorrectly—it is, in fact, one word. Henry and I have two silly, dopey, super loving pit bull mixes. Our dogs are our babies. Sadie just turned three and embodies the brooding teenager mentality. We get our love from her when she smooshes in between us first thing in the morning for a wakeup cuddle. Brucewillis isn't quite a year and a half yet and is completely indiscriminate with both his kisses and the things he carries around in his mouth (he's a quarter lab). And the monster's already 85 pounds. They're best buds and have managed not to get into too much trouble, and they're the perfect companions for hiking, swimming, and of course, the dog park.
See? I do things besides words! And thank goodness I'm fortunate enough to have the freedom and the time to enjoy this 'other world' to my heart's content (and more completely once I heal this dang foot).
Thank you so much, Long and Short Reviews, for hosting me on your site today. Thank you, fantastic readers, for having followed along, commented, and supporting Daughter of the Drackan and me through the last three weeks. You've made this so much fun, and I can't wait to hear what you think about it all. I do so hope you've enjoyed yourselves. –Kathrin
Keelin is the only human fledgling, weaned by the drackans of the High Hills and given their instincts, ferocious strength, and fierce hatred for humankind. But even the drackans closest to her cannot explain why she has violent blackouts from which she wakens covered in blood.

A desperate, reckless search for the source of this secret brings her face to face with the human world and memories from a locked-away past, long forgotten. Keelin becomes a terrifying legend among human assassins while she hunts for answers, and the human realm's High King is murdered.

While a sickly steward hides within crumbling walls, commanding her every move with a magic he should not possess, Keelin's journey to track him down threatens her loyalty to the drackans who raised her. The rogue who crosses her path hides familiar secrets, echoing her own terrifying bloodlust and forcing her to consider that there may be something human about her, after all.
Enjoy an excerpt:
Igetheyr stood unmoving, and E'Kahlyn gently unfurled her red-brown wings. The child sat atop the drackan's scaly back, legs huddled up to her chest. She too stared at Igetheyr, eyes glowing from beneath the shock of tangled hair.
The others snorted and growled at the human, their hatred and bloodlust already thick in the air. The drackans' centuries-old feud with the scale-less race ran deep within their blood. Seeing one now in their home stirred timeless memories of the war, so long ago, that had started their hatred in the first place, and memories of the last human fledgling who had turned astray.
Igetheyr shifted his eyes toward the child, expressionless until he chose to speak. E'Kahlyn shot her mind-voice in a direct, shielded stream to the child, hoping to reach it before Igetheyr did. 'Have you heard our discussion?'
A light, purple-gray blotch found its way slowly to her mind with the feeble words, 'I did.'
'Then go to him, young one.'
The child slid to the ground, gazing at the drackan with pleading eyes. E'Kahlyn nudged her forward with her snout. The child stumbled toward Igetheyr's great figure and placed her hands behind her back. Her narrow chest stuck out vulnerably, head held high, and she met eyes with the black drackan. Fear did not exist in the child, as if it never had. She was part of the new world around her now and still so disconnected.
Igetheyr snorted, seemingly entrapped by her boldness. E'Kahlyn opened her mind to just the two of them, eagerly awaiting the important exchange, the final word.
About the Author: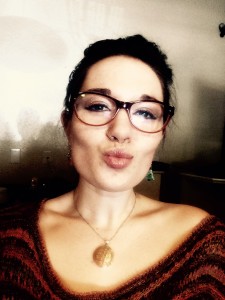 Kathrin Hutson has been writing fiction for fifteen years, editing for five, and plunging in and out of reality since she first became aware of the concept. Kathrin specializes in Dark Fantasy and Sci-fi, and the second novel in this series, Mother of the Drackan, will be released this February.
Kathrin runs her own independent editing company, KLH CreateWorks, for Indie Authors of all genres. She also serves as Story Coordinator and Chief Editor for Collaborative Writing Challenge, and Editing Director for Rambunctious Rambling Publications, Inc. Needless to say, she doesn't have time to do anything she doesn't enjoy.
You can grab your copy of Daughter of the Drackan, in print or as an ebook, on Amazon.
Website | Facebook | Publisher | Publisher Facebook | Publisher Twitter