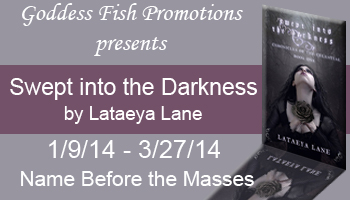 This post is part of a virtual book tour organized by
Goddess Fish Promotions
. LaTaeya will be awarding a $20 Amazon GC and an autographed paperback copy of the book (US ONLY) to a randomly drawn commenter during the tour. Click on the tour banner to see the other stops on the tour.
My Journey to Getting Published
I would like to take this time to thank my host Long and Short Reviews for giving me this opportunity to share my views as a guest blogger. Thank you for your support. I can't comment during the day, because I work, but as soon as I can I will stop by. Thanks again! L.L.
My journey to getting published was a long and difficult journey that made me question everything about myself at one point. Coming up with the idea or concept about fusing angels, vampires, and mythology wasn't even the difficult part. The ideas flowed, but it did take me a lot of time to write the book. A lot of research also went into it. My writing process is a lot different than the average writer. Most writers go straight to their lap top, open up a document and type away. I don't do that, first I write my entire book in a marble notebook. After I'm finished, I then type my book in a word document, and format it the way I want it. After I finish typing it, I re-read and edit the work several times. Then after I had the book the way I wanted it, I had my editor, who is also my husband, to proof and edit the book. At that point I could not afford a professional to edit the book. During the editing process I started to look at book promotion websites and cover designers. I found a great cover designer to come up with a cover concept that reflected the over all ambiance of my book. After I approved the editing and cover design, I then partnered up with an eBook converter to convert my book into a digital format. My book was then published!
After my eBook went live on Amazon, Smashwords and Barnes and Noble, I learned that having paperback copies available for distribution was a must in the publishing world. I published my paperback through Create Space, and booked my first book tour. The first book tour was a great success and it really opened my eyes to new ideas that I didn't know about the publishing industry. I learned that having a book professionally edited is extremely important for a book to be successful.
The tour company that hosted my tour gave me a recommendation for an affordable professional editor, and I had my book re-edited and re-published. After I went through that whole process again I did a second book tour to promote my book. It was the best thing I'd ever done when it came to my book. The whole entire process took about three years to finally complete, and there were times when I did feel like giving up, but just like my main character Sydney—I stayed strong and persevered through it all.
About the Author: Years of exposure within the writing and publishing world have made a lasting impact on Author LaTaeya Lane. Writing since she was seven years old, Lane began jotting down phrases and themes later turning them into poems and short stories. Writing became such a passion throughout her youth that she became the Junior and Senior editor of her High school newspaper. She wrote her first novel at age sixteen but was not seeking publication at that time in her life. Lane entered several creative writing contests during her early years of writing and won a few of them. Always captivated by the supernatural and elements of fantasy, Lane was inspired to write a series of books that focused on going beyond the boundaries of life and imagination. The angel vampire fantasy Swept into the Darkness is Lane's first published book in a series called Chronicles of the Celestial. Lane completed a degree in Liberal Studies and currently works to support the education of special needs, middle school students. Lane resides in New Jersey with her husband Leo and son, and is working on writing and publishing the other four books in the series: Dark Betrayal, Dark Revenge, Dark Defiance, and Dark Revelation. Lane also loves to draw and paint. Traveling and experiencing a variety of different foods is also a deep passion of hers. Lane loves watching horror and fantasy movies and is a believer of the Ancient Alien Theory. Some of her favorite authors include Charlaine Harris, Stephen King, and Erick Von Daniken.
Authors Den ~ Goodreads ~ Facebook ~ Twitter ~ Website ~ Night Owl Reviews
Sydney London is no ordinary twenty-four year old. Ever since she was a child she has had unique out of this world abilities. Suffering from a near death experience and surviving a deadly car crash Sydney is no stranger to death and loss. Cut off from the world around her she encounters an Angel and eventually falls for him inspired by deceitful magic.

Her one true love awaits in the shadows attempting to guard and protect her by risking his immortality. Traumatized by the murder of her best friend she sets off on an unspeakable journey to bring the dead back to life. Sydney's journey of self discovery opens her up to learn of her true angelic identity. She is led in the middle of an inter dimensional war among a hybrid breed of Angel Vampires and the Hierarchy of the Angelic clan. Will her unique powers and the love she bears for her guardian be enough for her to save the Earthly Realm or will she be Swept into the Darkness?
Buy the book at Amazon, Barnes and Noble, or Smashwords