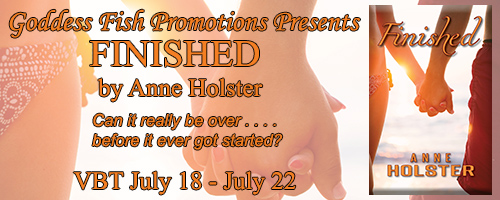 This post is part of a virtual book tour organized by
Goddess Fish Promotions
. Anne Holster will be awarding a $20 Amazon/BN GC to a randomly drawn winner via rafflecopter during the tour. Click on the tour banner to see the other stops on the tour.
My Inspiration behind Finished
Anyone who writes a novel is inevitably asked what their inspiration was. Of the many questions I have been asked as a fairly new writer, the most common are concerned with how the story came to me, how I created the characters, and how I chose my setting. Like most writers, I was inspired in large part by the books I love – you know, the ones you can't wait to get home and read? The ones that make you ignore a ringing phone or stay up hours past your bedtime, even if it means you'll be tired for work the next day?
That is the effect I wanted my own books to have on readers. I tend to be mostly drawn to stories that revolve around relatively 'normal' people and not the likes of professional athletes, billionaires or werewolves. I like the reader to think, hey, this could really happen; this could be me. That's how Jess and Finn from my new novel Finished were born. Finn is just a regular college student, cramming for finals and working a part-time job. On the other hand, though, he's also that dreamy guy who's got the bad-boy edge to him that could drive any red-blooded American girl crazy.
It's the same with Jess. She's a regular girl who's about to start her first year of college and works a part-time summer job just like so many of us have done at her age. Of course she's also hoping to catch the eye of the bad-boy like I'm sure so many others have tried to do at her age.
As for the setting, I eventually chose the Jersey Shore simply because it was easy for me to relate to. The Jersey Shore is where I spent much of my youth, experiencing many of the same things that the array of characters in Finished are going through. When I began writing the book I wasn't sure what the setting would be after the first few chapters which take place on a college campus. It just popped into my head one day and I decided to go with it. I'm glad I did because I loved the way it turned out!
It began with a drunken kiss, a furtive but passionate grope atop a pile of discarded winter coats. Downstairs, the party raged on, but all Jess hears is the pounding of her heart as Finn Evans – the guy she had fantasized about for God-knows-how-long – ran his hands along her body. It isn't until Finn staggers from the dark room that Jess realizes she has not only lost her virginity, but her underwear as well. Things only get worse when she sees Finn again and realizes he doesn't even know it was her in the bedroom that night! She heads to the Jersey Shore with her best friend, hoping a summer of fun will heal her broken heart.

Finn awakes with a colossal hangover and a pair of girl's underwear jammed in his pocket. It's not the first time he's had sex at a party, but it is the first time he doesn't know the girl's identity. Thinking he'll never see her again, he heads to the Jersey Shore for a summer of sun, sand and sex.

While down at the shore, Jess and Finn find themselves thrown together time and time again, eventually forging an unlikely friendship. By the time Finn realizes he's fallen for her, Jess is with someone else. Will Finn be able to convince Jess that he is the one for her, or will his bad boy reputation haunt him forever?
Enjoy an Excerpt:
"Finn, you gotta see this," Jess said over her shoulder, "Jill's standing on the porch railing with a kazoo in her mouth. I think she's using it to ref beer pong."
"No shit!" I said, walking up behind her. "She's gonna end up on her ass in the sand the way she's teetering back and forth like that." I couldn't help but laugh at the vision of Jill sprawled across the sand in front of the house.
Suddenly I got a weird feeling of déjà vu, a vague impression of me and Jess in a room. It was the smell of her shampoo or soap or something… I chased the memory, but came up with nothing. I figured it was probably all the time we'd spent together over the summer.
We were both startled when someone yelled Jess' name from the other room. She whipped around to see who it was and found herself staring right into my eyes. I could have stepped back, but I didn't. Then again, neither did she. We just stood there for a minute, our faces nearly touching, and I knew if I'd had a few more beers in me I might've done something stupid like, I dunno, leaned in and kissed her or something. Instead, I just slowly pulled back.
About the Author: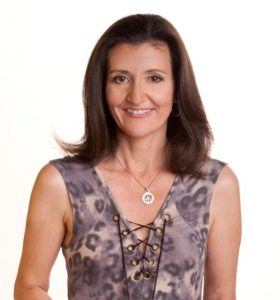 Anne Holster resides in Northern New Jersey with her husband and two children. When she's not writing she enjoys spending time with her family, playing tennis and reading angsty romance novels. She is currently working on her third novel.
Facebook | Goodreads
Buy the book at Amazon.