While my father was from Ireland, my mother from the Welsh Hills of Ohio, and I was born in New Jersey, the hometown of my heart is Gettysburg, Pennsylvania, where I went to high school and college.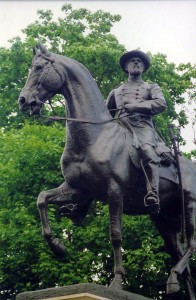 What I love most about Gettysburg is that it's a beautiful place that is not being ruined by getting built up. Quite the opposite, the government will buy a Stuckeys or a motel or a tourist tower in order to remove it and return the landscape to what it was like in the mid-nineteenth century at the time of the Battle of Gettysburg. I rejoice every time this happens as if it were a small personal revenge on "progress." (I'm kind of a Luddite. Also kind of a pantheist.) Oddly, I don't give a hoot about preserving historical authenticity; I just like the rolling fields rimmed with handmade stone fences, the trees and rustic buildings, the view of forested hills. Historical authenticity would stipulate that the fields be strewn with corpses, when instead they're strewn with a variety of monuments; I can live with this, although the Pennsylvania monument in particular is hideous. The others, not so bad. The statues of generals on horseback, great, because I love horses. BTW, if the horse has four feet on the ground, the general survived the battle unscathed; one foot off the ground, the general was wounded, and two feet off the ground, the general was killed, e.g. the Reynolds statue, one of the prettiest.
When I went to Gettysburg High School, history was taught by Colonel Sheads, the battlefield guide who gave President Kennedy's family the tour when JFK was in the White House. ("I got to sit by Jackie!" Colonel Sheads crowed to my class.) Between him and having seen the Electric Map about two dozen times with various family friends, I still know way more than most people about the Battle of Gettysburg. Sometime in high school also I memorized Lincoln's Gettysburg address. If life were a simple matter of cause and effect, I would have written historical novels about the Civil War, which tend to be big money-earners — but somehow that's not the way it worked out. To this day, the hardest kind of scene for me to write convincingly is a sword fight, because the more I learned about hand-to-hand combat while I was growing up in Gettysburg, the more I decided it was stupid.
But if the history didn't "take," maybe the ghost stories did. The Gettysburg area has always been rife with ghost stories. A popular teen amusement, before the park management closed the place at night, was to drive around the dark and winding battlefield roads, tell ghost stories, and scream every time a pallid stone monument loomed in the headlights.
My family moved to Gettysburg when I was thirteen because my father wanted to change careers. He and Mom bought and ran a small motel. My mother told me that the countryside around Gettysburg, with its rounded old Appalachian mountains, looked a lot like my father's native Ireland except that the hills (Dad called them "the paps") were forested. Because Dad supplemented our income with an afternoon newspaper route delivering The Gettysburg Times, he and I drove all over miles and miles of countryside, and I formed a closer bond with him than ever before. Some of the places we went were rural to an extreme. Dad drove a Volkswagen beetle, and I'll never forget the afternoon a pig crawled under it while he was stopped making a delivery and picking up some homemade scrapple, the Pennsylvania Dutch substitute for bacon. The pig all but lifted Dad's VW off the ground. We could not get moving until the pig was persuaded to decamp.
Because there are a college and a Lutheran Seminary in Gettysburg, both feeding the smart sons and daughters of professors into the public schools, I found myself no longer an oddball there, just another brain. And the public schools, provided with a large academic track (they tracked us back then), gave a best-effort education. Necessarily so; heck, David Eisenhower was in my high school class. (President Eisenhower had a nice farm near Gettysburg. I visited there a couple of times.) So I was lucky my parents had moved there, and even luckier that my violin teacher managed to swing a scholarship at Gettysburg College for me. My parents were planning to send me to a "state teacher's college; they could never have afforded Gettysburg. Being an English Literature major at Gettysburg College made a big difference in my becoming a writer.
Subsequently I lived most of my life within thirty miles of Gettysburg, and I have been back there many, many times. It doesn't change much except that tacky modern buildings keep disappearing and the National Park keeps getting bigger. (Grin.) I'm fortunate in my hometown for many reasons, one being that when I say I'm from Gettysburg, most people vaguely recognize the place name; wasn't the nation saved there?
About the Author:
Nancy Springer has passed the fifty-book milestone, having written that many novels for adults, young adults and children, in genres including mythic fantasy, contemporary fiction, magical realism, horror, and mystery — although she did not realize she wrote mystery until she won the Edgar Allan Poe Award from the Mystery Writers of America two years in succession. DARK LIE is her first venture into mass-market psychological suspense.
Born in Livingston, New Jersey, Nancy Springer moved with her family to Gettysburg, of Civil War fame, when she was thirteen. She spent the next forty-six years in Pennsylvania, raising two children (Jonathan, now 35, and Nora, 31), writing, horseback riding, fishing, and birdwatching. In 2007 she surprised her friends and herself by moving with her second husband to an isolated area of the Florida panhandle, where the birdwatching is spectacular and where, when fishing, she occasionally catches an alligator.
Find Nancy online at
http://us.penguingroup.com/nf/Author/AuthorPage/0,,1000015705,00.html
http://us.penguingroup.com/nf/Book/BookDisplay/0,,9780451238061,00.html Dark_Lie_Nancy_Springer
http://www.facebook.com/pages#!/NancySpringerNovelist
http://store.untreedreads.com/index.php?main_page=index&cPath=6_314
In this gripping psychological thriller — smart, chilling, and unrelenting — Nancy Springer establishes herself as an exciting new suspense writer with a distinctive voice and some surprises up her sleeve…

To their neighbors, Dorrie and Sam Clark seem a contented couple in America's heartland, with steady jobs, a suburban home, and community activities to keep them busy. But they're not quite what they appear to be. For plain, hard-working Sam hides a depth of devotion for his wife that no one would suspect. And Dorrie is living a dark lie — beset by physical ailments, alone within herself, and unknown to those around her, following the comings and goings of the sixteen-year-old daughter, Juliet, she gave up for adoption when she was hardly more than a child herself.

Then one day at the mall, Dorrie, horror-stricken, sees Juliet being abducted, forced into a van that drives away. Instinctively, Dorrie sends her own car speeding after them — an act of reckless courage that pits her against a clever, depraved killer, and draws Sam into a dogged, desperate search to save his wife. In a confrontation that unites mother and daughter in a terrifying struggle to survive, Dorrie must face and conquer her own secret, tormented past.