Long and Short Reviews welcomes Kari Lynn Dell, whose latest book Reckless in Texas, the first book in the Texas Rodeo series, releases August 2. Leave a comment or ask the author a question for a chance to win a print copy of the book (US only please).
Where's your go to place to write?
I live in my mother's backyard.
When my husband and I and our three-year-old son moved home to the family ranch in 2008, we took up residence in the bunkhouse, which was designed for one single man. With a grand total of 400 square feet, we were way ahead of the curve on the tiny house craze. We had a ten gallon hot water tank and ate all of our meals with my parents because we didn't have room for both appliances and a bed for our child.
That fall we dragged my grandfather's old wooden granary over and bolted it onto a concrete pad to make a living room, and reclaimed the kitchen by parking the kid's futon beside the couch. The next fall, we began a three-year process that bumped the south side out a dozen feet to add a porch and a second bedroom, which brings us to our current grand total of 1100 square feet.
Suffice to say, we are a very close family, whether we want to be or not. There is no place in this house I can go to escape the sound of the television. Or video games. Or my son's absolute favorite audiobook series, The Tapper Twins, which he has listened to so many times we can both quote whole chapters word for word.
During the school year, I do most of my writing at the kitchen table, starting at six-thirty in the morning after I've shoved husband and child out the door for the school bus run (twelve miles each way on gravel roads, so I get in a good forty-five minutes before hubby is even back to make himself breakfast). But during summer vacation…aiieeee!!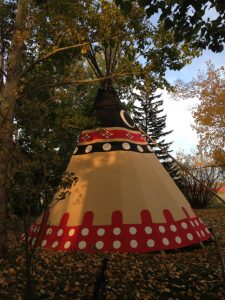 Thank the stars for my summer office, also known as my mother's tipi. Yep, an actual full-sized tipi, planted on the lawn between our two houses. Close enough that I can pick up the WiFi, but far enough from the couch that my son has to really want something before he wanders out to bother me.
And I have to really want that cookie before I hike all the way into the house to get it. Check out the office here.
I am the only writer I know whose office has been officially blessed. When this tipi was new and first erected, a friend came and performed a smudging ceremony, burning tobacco as an offering for good fortune and sweetgrass for cleansing. Then all of the people present made a handprint on the front door flap to symbolize their blessings.
All of the various design elements on a tipi have meaning. The dark band around the bottom symbolizes the earth, and the rounded bumps at its upper edge represent fasting or prayer places. The broad dark band at the top represents the sky, with a quarter moon. The smaller stripes can be rainbows, or the trails of spirit animals. The white dots in the stripes are stars.
The blank space between ground and sky was traditionally reserved for images of the tipi owner's vision painting, usually an animal. This space is the other world the tipi painter entered during his vision. As you can see, ours is empty.
Something about the tipi—the isolation, the ambiance, the lingering scent of sweetgrass—seems to make it easier to immerse myself in my fictional worlds. I wonder, sometimes, if my process of creation is so different than the visions of my ancestors. After all, we both set out on a quest to visit a place that doesn't exist in this physical realm. Then we come back and share what we found. And my family will tell you that my brain is most certainly occupying a separate plane than my body after a really intense writing session.
If what I do counts as a vision quest, what spirit animal should I paint on my tipi? A porcupine, perhaps, since I tend to get prickly when interrupted. Or maybe a black bear, burrowed in my cave.
On second (or is that third?) thought, it'd probably be a turtle. I'm happiest inside my shell. And on most days, that's about my speed.
Violet Jacobs is fearless. At least, that's what the cowboys she snatches from under the hooves of bucking horses think. Outside the ring, she's got plenty of worries rattling her bones: her young son, her mess of a love life, and lately, her family's struggling rodeo. When she takes business into her own hands and hires on a hotshot bullfighter, she expects to start a ruckus. She never expected Joe Cassidy. Rough and tumble, cocky and charming, Joe's everything a superstar should be—and it doesn't take a genius to figure out he's way out of Violet's league.

Joe came to Texas to escape a life spiraling out of control. He never planned on sticking around, and he certainly never expected to call this dry and dusty backwater home. But Violet is everything he never knew he was missing, and the deeper he's pulled into her beautiful mess of a family, the more he realizes this fierce rodeo girl may be offering him the one thing he never could find on his own.
About the Author: Kari Lynn Dell is a ranch-raised Montana cowgirl who attended her first rodeo at two weeks old and has existed in a state of horse-induced poverty ever since. She lives on the Blackfeet Reservation in her parents' bunkhouse along with her husband, her son, and Max the Cowdog, with a tipi on her lawn, Glacier National Park on her doorstep and Canada within spitting distance. Her debut novel, The Long Ride Home, was published in 2015. She also writes a ranch and rodeo humor column for several regional newspapers and a national agricultural publication.
Buy the book at Amazon, Books-A-Million, Barnes & Noble, Chapters, iBooks, or Indiebound.