Leave a comment to win a print copy of Untamed (the book directly preceding Undone in the Amoveo Legend Series). US and Canada only please. 
I can only pick five? Oh, fine but I have to tell you that it ain't easy but I'll do my best. You see my fave list was long before I became a published author and now it's really long.  It's harder to pick favorites since I've had the privilege of meeting so many fantastic writers but if I must, then I must. 🙂
Christine Feehan: She is the one who got me started on paranormal romance. I picked up Dark Prince and it was the first time I'd read any pnr but it sure as heck wasn't the last.  When I read it, I thought…Where have you been all my life? She writes gorgeous heroes who are dark, sexy and irresistible. In addition to her Carpathian series, I also adore her Ghostwalkers. Oh. MY. God. I've read every book in that series at least three times. The Norton twins go down as my all-time favorite heroes.
Lori Handeland: I found Lori's Nightcreature series when I was looking for more of Christine's books. I love her heroes but her heroines stand out as my favorites. They are smart, funny and tough. If you haven't read her Nightcretaures then you are missing out! Blue Moon is my fave.
Terry Spear: Not only is Terry a super fabulous lady, her werewolves are drool worthy! She's got a SEAL and Highlander werewolf series that will stop you in your tracks. I love that she incorporates nature into all of her books. Her werewolves are actual wolves and she does extensive research, which makes her stories remarkably true to life–even though werewolves are fictional. Although, when you read Terry's books…you wonder if perhaps they might actually exist.
Nely Cab: Nely is an up and coming author. Her YA paranormals are great. I read Creatura and was captivated by the world she created. Her young heroine is believable, relatable and memorable.
Elisabeth Staab: If you love vampires then you've gotta check out Elisabeth's work and start with Prince of Power. It's an interesting series because there are vamps and wizards—which is different from the traditional vamp lore. Dark and sexy heroes make her books a fantastic addition to your shelf!
These are just a few of my favorites but like most readers, my list could go on forever! How about you…which authors do you totally dig?
Dream on…
Sara
UNDONE BY SARA HUMPHREYS – IN STORES MAY 2013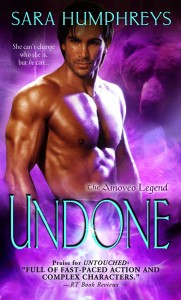 She's Far From Human…
With her secret race of shapeshifteres embroiled in civil war, all Marianna Coltari wants is to stay far from controversy. Even so, when her overprotective brother insists on hiring his human friend Pete as her bodyguard, Marianna is furious.
Does She Dare to Love One?
Like most retired cops, Pete Castro resents his new job as a bodyguard. It's even worse because he'll be babysitting a party girl like Marianna. But that's before he meets her for the first time and discovers his instincts on red alert. Would he kill to protect her?
Praise for Undone:
"Humphreys' skillful storytelling is so intriguing, you'll have a hard time putting this book down. 4 ½ Stars, Top Pick of the Month!" —RT Book Reviews
" Spellbinding… This fast-paced, jam-packed thrill ride will delight paranormal romance fans." —Publishers Weekly
"Sara Humphreys has truly created her own world." —Under the Covers
ABOUT THE AUTHOR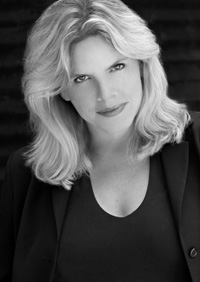 Sara Humphreys has been attracted to the fantasies of science fiction, paranormal, and romance since her adolescence when she had a mad crush on Captain Kirk. An actress and public speaker, Sara lives in Bronxville, NY, with her husband, who is very considerate of her double life, and four amazing boys. Look for a brand new paranormal romance series, Dead in the City, starting with Tall, Dark and Vampire this August, and the next Amoveo Legend book, Unclaimed, in December 2013! For more information about her books and to join her street team, please visit www.sarahumphreys.com or follow her on Twitter, @AuthorSara.
To purchase Undone: