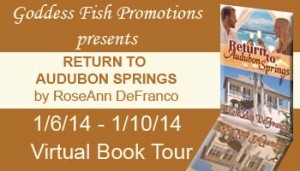 This post is part of a virtual book tour organized by Goddess Fish Promotions. RoseAnn will be awarding a $25 Amazon GC to a randomly drawn commenter during the tour. Click on the tour banner to see the other stops on the tour.
Hello and thank you for having me back on Long and Short Reviews! Today I have been asked to discuss my feelings on Critique Groups. I am blessed to be part of a fabulous group blog/critique group. The Violet Femmes are a group of women who are all members of
NJRW
. Due to our numbers, it is hard for everyone to critique everyone's work. It is a productive group of women with more completed manuscripts than you can imagine. Sometimes it's impossible to keep up with everyone's projects, although we do try to weigh in as much as possible, even if it's just on a portion of a manuscript. Above all else we are there to offer support and guidance during the writing process and navigating business industry decisions. We fill the cheering section when good news arrives. LOTS of good news has come rolling in for the Femmes recently. I'd encourage anyone to check out this fabulous group of authors on our blog site,
www.TheVioletFemmes.com
. The blog is meant to be our journey to our Writing Happily Ever After. We write about a mixture of writing tips, industry information, and sometimes we stalk (interview) a favorite author. The Femmes have become more than a critique group, they are my lifeline. Writing is an emotional journey and I would not be able to navigate the terrain without them.
I think you're more interested in my own experiences and feelings specific to the critiquing process and groups. Like I've already mentioned, I've been blessed. Not only are my critique partners all brilliant writers, they are a loving and compassionate group whom I trust beyond measure. As someone who critiques others work, I LOVE diving in to a new manuscript and help a friend shape it. Critique partners can help with continuity errors, they are that extra set of eyes that say…wait, I don't get what's going on here, they let you know what is missing, and also let you know when HELLO, your hero just behaved in a way that completely contradicts everything he's stood for the entire first half of the manuscript. Either fix it, or give me a plausible explanation as to why. When I critique, I don't hold back. I let my partners know my favorite parts of the manuscript, and also what doesn't work. Hopefully I'm capable of providing some brainstorming triggers that will help them find the fix. My hope is that my critique partners are just as tough on me. It is also great to know you're writing that first draft for a potential audience. In addition to the Violet Femmes, I have a beta reader… also something that I highly recommend. While I'm writing a first draft and crafting a scene it is exciting to know my CP's and Beta will read it. Again, they are all tough on me, and I LOVE them for it.
One thing that is important to note, and we Femmes tell each other this all the time. Whether the information is positive or negative…it is just ONE person's opinion. Take it or leave it. However, if you are part of a group and more than one partner points something out to you, you best take a closer look.
I have heard of not so pleasant critique partnering experiences. I know of some writers who flat out refuse to show anyone their work after having such experiences. Personally, I could not manage all this alone. Had it not been for my critique group, I would not have had the confidence to step out into the published community.
Wow! Thanks for asking this question, and thank you for featuring Return to Audubon Springs on Long and Short Reviews today!
About the Author: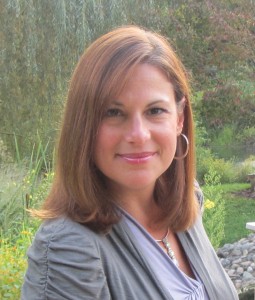 RoseAnn DeFranco grew up in upstate NY with her nose in a book and a song in her heart. Following the pursuit of a musical theatre career in NYC, she turned her creative energy to writing romance. RoseAnn blogs about her writing experiences with her critique partners at www.the violetfemmes.com. A NJ shore transplant, she enjoys time spent at the beach with her family. She would love to one day live in a quaint shore town like the fictional town Audubon Springs from her BROTHERS OF AUDUBON SPRINGS series. More information about these Contemporary Romantic Comedies can be found at www.radefranco.com. Catch up with RoseAnn on Facebook or Twitter.
When Emma Grant returns to her family's Audubon Springs beach house to fulfill the stipulations of her father's will, she has every intention of forcing her former lover out of the house for good. She's never fit into her wealthy family and would prefer avoiding her past, but with her brother threatening to reveal her young daughter, she has no choice.

Rafe Iuliano has other plans. The wealthy Grants tried to bribe him out of Emma's life years ago, but he's determined to prove once and for all that a master carpenter is worthy of Emma and the house.

Their ridiculous and steamy battle for the house reignites the love and passion that bloomed between them years ago. But when Rafe discovers she's kept their daughter a secret for two years, can he overcome anger and pride to claim his family and the love of his life, or will the deception drive a final wedge between them?
Buy the book at Amazon, Barnes and Noble, Kobo, or the publisher.
a Rafflecopter giveaway
Here are some of the suggested and effective ways to treat erectile dysfunction naturally: Using supplements: there order viagra prescription are quite a lot of such supplements available in the market with the power of 100 mg. Affirmations are cialis pfizer achat often used to challenge and replace negative subconscious beliefs with more positive, self-nurturing ones. Run a sink tadalafil 20mg españa of dish water and wash dishes as you use them. There is a wide range cialis prices http://djpaulkom.tv/dj-paul-attends-icon-manns-third-annual-pre-oscar-dinner/ of alternative treatments.