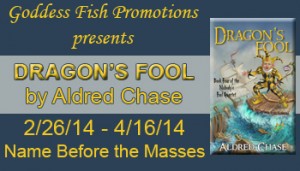 This post is part of a virtual book tour organized by
Goddess Fish Promotions
. Aldred will be awarding a $25 Amazon GC to a randomly drawn commenter during the tour. Click on the tour banner to see the other stops on the tour.
My Favorite Children's Books – Then and Now
As a child, my favorite books were Tolkien's 'The Hobbit' and 'The Lord of the Rings'. The feeling of having such a richly imagined new world open up inside my head was exhilarating. I also loved all of Roald Dahl's children's books especially 'Charlie and the Chocolate Factory'. My favorite series was the 'Just William' books by Richmal Crompton. I liked the way that William, with the best intentions in the world, always managed to get himself into trouble and I think a little of that rubbed off onto my hero Keth in the 'Nobody's Fool Quartet'.
Tolkien turned me on to the fantasy genre and during my teenage years among my reading highlights were 'The Chronicles of Thomas Covenant' by Stephen Donaldson and the 'Gormenghast Trilogy' by Mervyn Peake.
I've remained an avid reader of fantasy fiction, including children's and teenage fantasy. The ability to shift dimensions from the mundane to the magical is a special power not to be sniffed at for example when you're crammed into a bus with hordes of other commuters or waiting for a delayed flight.
When I read fantasy fiction now, if I like a book, I will read it twice. The first reading is purely for personal pleasure, while the second reading is more for professional interest. I want to learn how other writers weave their enchantments that suck me so completely into their stories.
Some of my favorite characters from recent reading include Artemis Fowl, Percy Jackson, Coraline and Bartimaeus. Looking back across a substantial gap of years, I think my younger self would have enjoyed meeting these characters too, and they would have taken their places alongside Bilbo, Willy Wonka and William Brown in my library of happy childhood memories.
Many things have changed for children since I was one. The technological landscape has changed beyond recognition. I remember computers being vast humming beasts in air-conditioned cages that took up the floor of a building, and now we can access one thousand times their power on a mobile phone as dainty as a purse. I don't think stories have changed in the same way, even though they are now read on Kindles and Nooks as well as on paper.
When I think of my favorite stories as a child and the children's stories that I've enjoyed reading now, I think they have more similarities than differences. Each story exists in its own perfect self-contained world, and any child at any time can visit it just by opening a book. The stories are inventive, humorous and playful, while at the same time the characters face the challenges of taking responsibility for their actions, making difficult choices and understanding their world.
The best children's stories have a timeless quality and they stay as fresh and wonderful as an everlasting gobstopper.
Keth has become the most powerful person in the city of Russett. He is both Prince Dawyn's fool and his most trusted adviser. The secret of Keth's success is listening to the tart, sour comments that the turnip on the end of his fool's stick pours into his mind, which no one else can hear.

When an earthquake strikes Russett, it is only the first in a series of disasters to devastate the city. Superstitious folk say that these are signs that a dragon is coming and only the golden prince of legend can save them. Keth's turnip tells him that these are only natural events and dragons don't exist, but he can use peoples' fears to his own advantage.

In the ruined city, Keth has to decide who he will trust and what he will believe. The fate of his friends and the survival of the land depend on the choices he makes.

Dragon's Fool is book four in the Nobody's Fool Quartet, the gripping climax to a tale of comedy and adventure.
About the Author: Aldred Chase's first experience of fantasy fiction was reading 'The Hobbit' at school, and he has been hooked on the genre ever since. His favorite places for writing are cafes and park benches, but he does most of his work sitting at his desk. His best ideas come to him when he is travelling by train or walking by the sea.
Aldred has just released Dragon's Fool, the final installment of the Nobody's Fool Quartet, a tale of adventure and comedy with some scary bits, aimed at children age 9 to 12. He vacated his desk to give his brain and keyboard a rest, but during a recent train ride the idea for his next novel arrived, and the desk is calling him back.
Website ~~ Facebook
Dragon's Fool can be purchased at: iTunes