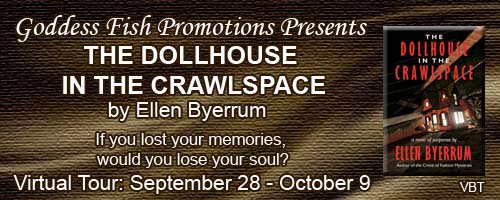 This post is part of a virtual book tour organized by
Goddess Fish Promotions
. Ellen Byerrum will be awarding a $25 Amazon or Barnes and Noble GC to a randomly drawn winner via rafflecopter during the tour. Click on the tour banner to see the other stops on the tour.
My Day Behind the Scenes
What is my writing day like? It depends on what part of the process I am in. Toward the end of a draft, I might work steadily for eight or ten hours, or more. So let's go to the start of a new book, where I tend to be out and about a bit more.
My day begins about 7:30 a.m. I pour myself out of bed and get ready for a water aerobics class at 8:30 a.m. at a regional indoor pool about two blocks from my home. After some Greek yogurt and possibly some coffee, I grab my gym bag and I'm off. I need exercise as much for my brain as for my body. A vigorous workout settles my mind, and I often come up with ideas for the book, or another book. I might overhear some memorable dialogue, come up with a connection, solve a story problem. I love to swim, I love the water, and I like it warm.
After the pool, I shower, dress, and put on makeup. I believe makeup is an act of public service. You're welcome. Also, I am not a person who can write in pajamas, though I understand there are many people who do, so I'm dressed before I start writing. I go home around 10 a.m. and fire up the computer, where I tend to my business, check in with Facebook, maybe Twitter, and deal with email. It's the usual procrastination, but it's important to check in with my readers and the writing world. I'll organize my writing and my thoughts and later probably fix a small lunch.
The rest of the day is spent on writing, with short breaks. I might work at home, but on this day I'll take my notes and my laptop and head for the library, which is about six blocks away. After being a reporter working in newsrooms for many years, I like working in different environments. I don't like being cooped up at home. Some writers are reputed to be able to write only while facing a blank wall to eliminate distractions. I'd feel as if I were being punished. I enjoy the library because I can take the occasional 15-minute break and check out the magazines. Mostly I enjoy being out of the house and not worrying about housework, or answering the phone, or being interrupted.
I can write on the keyboard, but I still like to write by hand, especially in the first draft. The brain-hand-pen-paper connection seems stronger to me and the ideas flow in a different way. A purer way. That's when the writing can surprise me. It's much more satisfying than complaining that writing is hard, which I tend do a lot.
After a few hours at the library, I'll walk to a coffee shop and continue writing or editing for another hour or so, until it's time to go home. Often my husband picks me up.
My husband Bob just said, "Don't forget napping!" Right. Naps are Heaven's little rewards for living. My brain is tired, so I often take a half-hour nap in the afternoon or early evening. I deserve a nap.
At night, I'll think about my work, possibly engage in a lively discussion with Bob over characters or plot or some fine point of the story. We'll watch some TV or a movie, or if it's a nice evening, we'll take a walk. Then I check my email again and write a few emails and blog posts.
Sounds glamorous, doesn't it? Nonstop glamour, that's the writing life.
If you lost your memories, would you lose your soul?

"In my memories, my eyes are always green."

After a devastating accident, a young woman finds herself recovering in a memory research facility. Her eyes are brown; her memories are broken. Years of her life are blank, yet she remembers being two very different women, one called Tennyson, the other Marissa. If she can't trust her memories or her own eyes, who can she trust? To save her sanity and her life, she begins a secret journal between the lines of Homer's Odyssey—and her own harrowing odyssey into madness and murder. Lost among her shattered memories, can she find her true self?
Enjoy an excerpt:
January is an empty page in the calendar. February never happened at all. I started to wake up in March, along with the forsythia bush that grows outside the bedroom of my suite at the Campus. Before that, time is a blur. Not just January and February. My entire life. Aside from the shadows in my dreams and an occasional voice, the bright yellow flowers of late March on stark brown stems are the first things I remember clearly, as if I had just been born. Every day the blossoms grow thicker and the green leaves push through bare stalks. It's the forsythia that told me to start living again. That and my nightmares. I started to look for the magnolias, the daffodils, the tulips. I remembered tulips. If they could erupt out of the dormant soil, maybe I could as well.
Giles insists it was the constant care of the superior medical staff at the Campus who tended to me after the accident who brought me back to the land of the living.
I was heavily medicated, he says, and I needed to recover from my physical injuries, as well as the injuries to my soul. There were hours and hours of physical and mental therapy. But my mind was still caught by the Fog. Slowly, Dr. Embry says, he's trying to wean me from the heavier drugs, though there are still the "maintenance" meds, which he insists are necessary. Pills that dull my brain and my senses, the pills I now ditch on a regular basis. Pills whose names I didn't recall or want to recall.
He holds the threat of more medication over my head. I want to throw something at him that would wipe that smug expression off his face.
About the Author: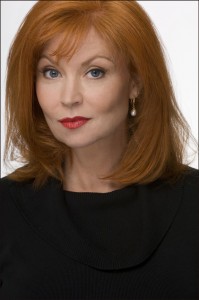 Ellen Byerrum is a novelist, playwright, reporter, former Washington D.C. journalist, and a graduate of private investigator school in Virginia. The Dollhouse in the Crawlspace is her first suspense thriller, which introduces Tennyson Claxton, a woman with two sets of memories from two very different women.
Ellen also writes the Crime of Fashion mysteries, which star a savvy, stylish female sleuth named Lacey Smithsonian, a reluctant fashion reporter in Washington D.C. ("The City Fashion Forgot").Two of the COF books, Killer Hair and Hostile Makeover, were filmed for the Lifetime Movie Network and can occasionally be seen on odd dates and odd times in the middle of the night. The latest book in that series is Lethal Black Dress, but there will be more to come.
She has also penned a middle grade mystery, The Children Didn't See Anything. She occasionally writes a newsletter that contains her latest publishing information.
Website | Twitter | Facebook | Facebook Author Page
Buy the book at Amazon.