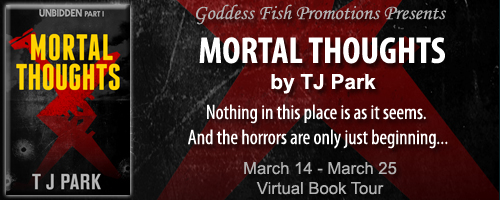 This post is part of a virtual book tour organized by
Goddess Fish Promotions
.
The author will be awarding an eCopy of Mortal Thoughts to 3 randomly drawn winners via rafflecopter during the tour. Click on the tour banner to see the other stops on the tour.
THE SHORT SHIFTY: SOME BRIEF NOTES ON AGENTS – by TJ Park
Writers inhabit their characters – that's what they say anyway – so today this writer is briefly going to inhabit the role of a literary agent. Let's call him Shifty.
Why does Shifty read some submissions and not others? Why does Shifty sign up some new writers and not others? Why does Shifty fire some writers off his books and retain others? The answer is obvious: Shifty is an art lover who wants to surround himself in artists – his favorite artists are the ones who get discovered 50 years after they die in poverty. That's a literary device by the way called sarcasm. Shifty, in fact, is not interested in art. Oh, he can fake it when required, gush when needed, but Shifty isn't in the business of art, he's in the business of business, and for you to get even a minute of Shifty's attention you have to bring more to the table than a fetish for posthumous fame. You have to bring to the table the promise of making Shifty money. Sure Shifty loves money. It's all he thinks about. He would marry and make love to money all day long if he could but aside from a romantic and sexual love of money, it's also a practical necessity for Shifty. Rent must be paid. Depressed employees must be paid. Money goes out so it must come back in and that's where you come in – or don't. When a submission for representation comes in, Shifty isn't looking for a fresh, new and uncompromising voice – nope, he's looking at your potential as an artist to pay his rent, pay for the stationary and the fumigation job he needs to do soon because of the vermin (roaches and playwrights). So be honest – ask yourself if your work can help Shifty become the slum landlord he's always wanted to be. Can he turn your "voice" into a holiday at Bora Bora in one of those chalets right on the water? Because these are Shifty's criteria for taking on a new client. The truth is you cost Shifty money. As soon as he signs you up money is being invested. It doesn't matter if it's a few phone calls, a review of a contract – it all adds up. Shifty will swallow those costs for a while – sometimes a long while – but someday Shifty needs to make good on his investment. Shifty wants his pay day and then he wants another pay day. And if these pay days ever stop – if the return on his investment ever ceases for a span of time that makes Shifty think that the money tree has died then what was once represented can easily be unrepresented. I want to shrug off Shifty now and have a shower but Shifty has revealed his heart to us.
I hope this short article helps on your journey to find and keep your own Shifty agent.
The heist is cursed from the start. Doug Mulcahy and his gang hijack a mining plane and a fortune in black opals – gemstones with a rep for being unlucky. Following a brutal shootout on a remote airfield, the hijackers flee in the crippled plane only to crash-land soon after. Shaken and battered, they stagger through the outback until they stumble upon a strange little house and an ethereal woman. Taking the woman hostage, the thieves wait for her husband to return with his truck. But it all goes to hell when a rogue gang member forces himself onto the woman. The house is drenched with blood, the husband returns, and the men realise nothing in this place is as it seems. And the horrors are only just beginning…
Enjoy an excerpt:
Doug Mulcahy always wanted another smoke before he'd finished the last one, more to feel a cigarette between his lips than nicotine in his lungs. An oral fixation, his ex-wife used to call it, usually earning herself a smack. The only oral fixation he ever admitted to suffering was how to shut her smart mouth.
Gripping the wheel with both hands, searching for the turn, he saw a black snake standing on its tail in the distance down the road, swaying like a charmer's trick in the midday rising heat.
Getting closer, the snake became a pair of black, stretch denim jeans, long blonde hair, a backpack – and the potential for female company. But then sharper focus revealed scrawny shoulders wider than the hips, a lack of arse and an unfeminine stride.
The snake stuck out a thumb.
"Good fucking luck," growled the man seated beside Doug.
The truck didn't slow. In the rear-view Doug saw the hitchhiker hawk and spit in their direction, never breaking stride.
Enjoy the walk, smartarse.
A sign ahead showed their destination writ large in faded letters: Mirribindi Aerodrome. As Doug slowed for the turn, an oncoming white Ford Falcon hurtled past back toward town. Sporting an ostentatious bullbar and radio antennas like fishing poles, it was the kind of vehicle endemic in country areas, favoured by the landed gentry. Its tyres kicked up a stone which cracked hard against Doug's windscreen.
Doug thought he disguised his reaction, but his passenger chuckled.
Prick.
Both knew he'd never enjoyed the loud, sudden bangs that punctuated their line of work.
About the Author: TJ Park is an Australian novelist and screenwriter. He was raised on a steady diet of Stephen King novels, British science-fiction television, and the cinema of John Carpenter and Sergio Leone. Not much else is known about him. That's just the way he likes it.
Buy the book at HarperCollins, Barnes and Noble, or Amazon (only $0.99 at Amazon and Barnes and Noble).