A special Long and Short Reviews welcome to Vanessa Vale whose latest book Their Kidnapped Bride was recently released. Enter the Rafflecopter below to win a $25 Amazon gift card.
Morality & Erotica
People read erotica for the heat level. If they didn't want to read about sexy escapades of their hero and heroine, they'd read sweet stories. Just like in real life, everyone has different values for when to have sex, whether it be a one night stand or after three dates or when 'just know' it's the right time or even waiting until marriage. Some people read erotica that matches this personal value. For example, some don't like one night stands or hook ups in books. Others can 'buy in' to a sex scene if the hero and heroine have connected enough for it to be genuine.
As a historic western author, the values of the time period I write were stricter than modern day. Extramarital relations were far from the norm and if a woman participated in such activities, she was branded a harlot or not virtuous. A reasonable alternative would be a widow. In all of my stories, the hero and heroine get married. There's no 'official' hanky panky before marriage.
Why?
I feel that during this time an honorable man would wait until marriage for sex. He may not want to do so (neither the heroine, for that matter), but they recognize a legal union is an expectation prior to consummation. It's this honor that makes a man really, really hot and makes the sex scenes that much hotter because what they do together (and it's pretty dang panty melting) is because of the freedom found of the confines of marriage.
What do you think?
Emma James felt secure in her life. Money, social standing and the protection of her step-brother. Or so she thought. When she discovers his dark secrets, he turns on her and sells her to a western brothel to keep her quiet. There, she's forced to work or participate in an auction. A virgin auction…and she's the prize.

One look at Emma James and Whitmore Kane and Ian Stewart know she would belong to them. Marriage was the only way to truly claim her…so they bid and bid well. As their bride, they return to the Bridgewater Ranch and teach her the ways to please not one husband, but two. But danger has tracked Ian around the world and threatens their newfound relationship. Together, can they fight the demons of the past while forging a future?

This is the first book in the Bridgewater Ménage Series, where you'll meet all of the men in Kane and Ian's army regiment and discover their unusual beliefs on marriage. Read the entire series to follow along as the men, two or three at a time, claim their brides. Bridgewater: Where ménage meets marriage.
Enjoy an excerpt:
"You are a virgin," she stated.
I blushed furiously, my cheeks hot.
"Yes, I can see by your reaction to that word alone that you are," she replied, going over to her desk, sitting down at the chair beside it. Her back was straight and she adjusted her full skirts. She might be a Madame, but she had the mannerisms of a lady.
I looked down at the pale blue morning dress I'd donned just this morning. I thought back, realizing Thomas must have laced my coffee with the laudanum. I took it black, so the bitter taste would have been well masked. The last I remember was eating a piece of toast with marmalade in the dining room.
"I suppose virginity is quite a commodity in your line of work. You are a Madame, are you not?" I countered, wanting to confirm her profession. I doubted she arranged for governesses.
She nodded once. "I am. Unlike your Mr. James, I offer you two choices."
I arched a brow as I waited to hear them. My options, which I doubted were going to be to my liking, might be better heard sitting down, so I returned to sit at the end of the velvet covered chaise on which I awoke.
"You may work here to pay off your debt. As you are innocent, you will be quite popular, I assure you. You are also quite lovely, which will make your long-term appeal guaranteed. This is the finest brothel between Kansas City and San Francisco and we cater to more unusual requests. The other girls will teach you all that you need to know above and beyond basic fucking with regards to meeting the men's needs."
My mouth fell open at her base language, but I supposed it was relevant to her profession and part of her everyday conversation.
I glanced down at my hands in my lap trying to collect my thoughts. A dull throb filled my head, the lingering after effects of Thomas's deviousness, it made clear thinking difficult. "And…the other choice?"
"You can pay off your debt in one evening. Tonight, in fact."
This sounded appealing, but I knew there would be a high personal price. She might be selling carnal pleasures, but this was all business.
"Oh?" I queried, very nervous about what she would say.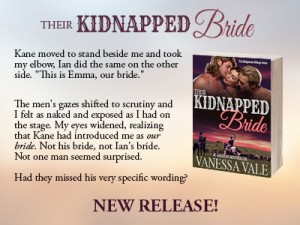 About the Author: #1 Amazon Bestseller in Erotic Western & Erotic Historical!
Vanessa Vale writes escapist fantasy (aka erotic romance) in the form of historical westerns for Blushing Books. Everyone loves a cowboy–at least she does! A cowboy who knows what he wants and isn't afraid to take it. Oh yeah.
She lives in the West where she has lots of subject matter to drool over…
Website | Facebook | Twitter | Goodreads
Buy the book at
Amazon
.