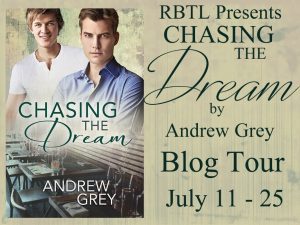 This post is part of a virtual book tour organized by the publisher. Please welcome Andrew Grey as he joins us as he celebrates the release of his newest book Chasing the Dream.
Meeting Cade from Chasing the Dream
I love writing characters with big hearts and I think Cade is one of those people. He doesn't have an easy life. His family struggles to make ends meet, his brother has challenges, and he's working two jobs. But he's still willing to try to help others. As an author I like writing big hearted characters, but as a person I hope and pray that there are truly big hearted people out there. I like to think that I'm one of them, but I know I'm not. I know this because I write about them and because I have been blessed by knowing a few truly big hearted people in my life. I really hope you love this story and Cade. And I hope you encounter someone in your life with a heart as big as his.
Born with a silver spoon in his mouth, Brian Paulson has lived a life of luxury and ease. If he's been left lonely because of his family's pursuit of wealth and their own happiness, he figures it's a small price to pay for what he sees as most important: money.

Cade McAllister has never had it easy. He works two jobs to support himself, his mother, and his special-needs brother. They don't have much, but to Cade, love and taking care of the people who are important to him mean more than material possessions. When Cade is mugged in the park, he can't afford to lose what little he has, and he's grateful for Brian's intervention.

Cade is given a chance to return the favor when Brian's grandfather passes away and Brian's assets are frozen. Cade offers Brian a place to stay and helps him find work, and the two men grow closer as they learn the good and the bad of the very different worlds they come from. Just as Brian is starting to see there's more to life than what money can buy, a clause in his grandfather's will could send their relationship up in smoke.

Enjoy an Excerpt:

Brian's mouth was dry and tasted like dirt. He cracked his eyes open and tried to move. Damn, his back ached, and his leg felt wonky. It took him a minute to realize he was lying on his sofa, head buried in a pillow, and that his leg was twisted up in the cushions. He slowly extricated himself and went to stand, instantly wishing he hadn't moved at all.

"Sorry, Mr. Brian, did I wake you? I try not to."

"It's okay, Maria." He groaned and slowly sat up, holding his aching head. He kept his eyes closed.

"You need this," she told him, and Brian cracked his eyes open enough to take the bottle of water she offered. Like manna from heaven, he opened it and drank half, throat burning for a second before the fire was quenched.

Most of the mess from the party had been cleaned up, tucked away in large black bags sitting by the door. The vacuum had been brought out but set aside, unused for now. Brian didn't think he could stand the sound without puking and was grateful she'd been quiet. He managed to stand and shuffled to his bedroom, which was clean and the bed made. He flopped down on it, closing his eyes and letting his hangover do its worst.

He didn't remember closing the door, but Maria must have, and then the muffled hum of the vacuum reached his ears. He grabbed a pillow off the bed and dragged it over his head, waiting for the sound to end.

"Mr. Brian," he heard a few minutes later once it had quieted.

"Yeah?"

"I'm all done," Maria said quietly. "I take out trash."

"Thank you." He reached for the water and drank the rest of it. At least that made him feel better. Slowly he got up off the bed and went into the bathroom, where he took some painkillers and stared at his scraggly face in the mirror. He needed to clean up and get himself presentable, but first he needed more water. He drank a glass and then cleaned up before leaving the room.

"I'm sorry about your grandfather," Maria said from the front door as she got ready to leave.

He wasn't sure what to say. He bit back the biting sharp comment about his elder relation that was on the tip of his tongue. Instead he merely said thank you to the middle-aged Latino woman, and heard the door close behind her. Thank God for her. The place had been cleaned and put back to normal. He lowered himself back onto the straightened and fluffed cushions and pillows of the sofa his interior designer had picked out for him.

Up until that moment, the alcohol had done its job, and he hadn't been able to remember, but now his grandfather's death came rushing back. More than anything he wanted another drink, but that wasn't a good idea. So instead he went in search of his phone. He found it and noticed a number of missed calls and texts. They all seemed to be about the same thing, some sort of family meeting his uncle was trying to call together at four o'clock that day. Brian decided to bite the bullet and actually return his father's call.

About the Author: Andrew grew up in western Michigan with a father who loved to tell stories and a mother who loved to read them. Since then he has lived throughout the country and traveled throughout the world. He has a master's degree from the University of Wisconsin-Milwaukee and works in information systems for a large corporation.

Andrew's hobbies include collecting antiques, gardening, and leaving his dirty dishes anywhere but in the sink (particularly when writing) He considers himself blessed with an accepting family, fantastic friends, and the world's most supportive and loving partner. Andrew currently lives in beautiful, historic Carlisle, Pennsylvania.
Amazon Author Page | Barnes and Noble Page | Dreamspinner Press | iBooks Page | Facebook | Facebook Group  | Goodreads | Twitter | Website
Buy the book at Amazon, Barnes and Noble, or Dreamspinner Press.