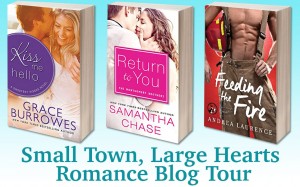 This post is part of a virtual book tour organized by the publisher. Enter to win a small town contemporary romance prize pack including titles from Grace Burrowes, Sharon Sala, Andrea Laurence, and Samantha Chase.
What can you tell us about the small town setting of your upcoming romance?
Samantha Chase (author of RETURN TO YOU): The south shore of Long Island had always been my heroine Selena's home. Born and raised minutes from the beach, she always dreamed that it would be where she'd find love, raise a family and live happily ever after. The small coastal town really hadn't been part of James Montgomery's plan for his own life, after meeting Selena, it's suddenly a very appealing part of his future.
Grace Burrowes (author of KISS ME HELLO): Damson Valley lies in rural Maryland, about an hour away from both Washington, DC, and Baltimore. The Appalachian Mountains give the town a protected, bucolic feel, despite the proximity of big city lights. My hero attorney MacKenzie Knightley loved growing up with his brothers on a farm right outside Damson Valley, and was all too happy to go into practice with both James and Trent. The Knightley farm is now owned by foster mom Sidonie Lindstrom, who has moved away from Baltimore to give her foster son a better start in life. Sid has no patience for small town life, though before too long, the scenery does catch her interest…
Andrea Laurence (author of FEEDING THE FIRE): If you're willing to turn your car off the highway and venture from the beaten path, you might be lucky enough to run across a town like Rosewood, Alabama. Steeped in southern charm and the traditional values of God, Family and Football (although not always in that order), Rosewood is like a time capsule preserving everything modern cities have lost. Here, you'll find homemade pies, perfectly brewed sweet tea, and beauty parlors filled with lively gossip. It's the kind of town where everybody knows everybody – and everybody knows your business whether you like it or not! Thanks for stopping by. Sit a spell and tell us what you know.
What is the most romantic spot in town?
Grace Burrowes: The most romantic spots in Damson Valley aren't in the town itself, they're in the surrounding countryside. Mac and Sid watch the moonrise from a blanket in the middle of a field, they enjoy some quiet time on the swing on Sid's porch, they have a lovely meal on Mac's back terrace. The great outdoors are for love when a couple lives in the country!
What is the heroine's favorite memory of the town? Your hero's?
Samantha Chase: For Selena, her favorite memory is of the time she spent with her grandmother and how they used to volunteer in the community and with their church. They enjoyed gardening and touring the local arboretum and parks. As for James, he considered himself and outcast but he looks at the time he lived in town as one of the only times in his life that he felt accepted. The friends he'd made and the people he worked for embraced him in ways he never thought his family did.
Is there a big party or a community get together for your small town?
Andrea Laurence: Rosewood has several big events throughout the year. They can turn anything into a party. Christmas, the Fourth of July, Halloween… you name it! One of their biggest events is the county fair. It comes in September and everyone enjoys taking their turns on the Tilt-a-Whirl and entering the bake-off. There's a year of bragging rights hanging on that event! There's the parade, and of course, the Miss Rosewood Pageant. Every teenage girl in town aspires to sit on that throne.
Keep an eye out for our movies in the square starting next summer!
About the Authors and Books
Samantha Chase: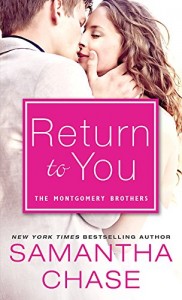 New York Times and USA Today Bestseller Samantha Chase released her debut novel, Jordan's Return, in November 2011. Although she waited until she was in her 40's to publish for the first time, writing has been a lifelong passion. Her motivation to take that step was her students: teaching creative writing to elementary age students all the way up through high school and encouraging those students to follow their writing dreams gave Samantha the confidence to take that step as well.
When she's not working on a new story, she spends her time reading contemporary romances, playing way too many games of Scrabble or Solitaire on Facebook and spending time with her husband of 25 years and their two sons in North Carolina.
RETURN TO YOU releases March 3, 2015. You can preorder the title here: http://amzn.to/1EV1EpC .
Grace Burrowes: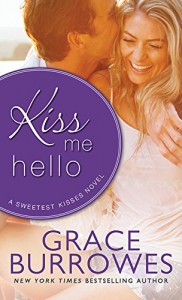 New York Times and USA Today bestselling author Grace Burrowes' bestsellers include The Heir, The Soldier, Lady Maggie's Secret Scandal, Lady Sophie's Christmas Wish and Lady Eve's Indiscretion. The Heir was a Publishers Weekly Best Book of 2010, The Soldier was a PW Best Spring Romance of 2011, Lady Sophie's Christmas Wish won Best Historical Romance of the Year in 2011 from RT Reviewers' Choice Awards, Lady Louisa's Christmas Knight was a Library Journal Best Book of 2012, and The Bridegroom Wore Plaid was a PW Best Book of 2012. Her Regency romances have received extensive praise, including starred reviews from Publishers Weekly and Booklist. Grace is branching out into short stories and Scotland-set Victorian romance with Sourcebooks. She is a practicing family law attorney and lives in rural Maryland.
KISS ME HELLO releases March 3, 2015. You can preorder the title here: http://amzn.to/1GzO387 .
Andrea Laurence: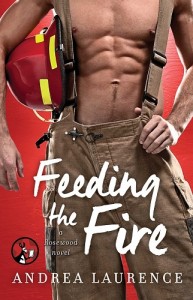 Andrea Laurence has been a lover of reading and writing stories since she learned to read at a young age. She always dreamed of seeing her work in print and is thrilled to finally be able to share her special blend of sensuality and dry, sarcastic humor with the world. A dedicated West Coast girl transplanted into the Deep South, she's working on her own "happily ever after" with her boyfriend and their collection of animals including a Siberian Husky that sheds like nobody's business.
FEEDING THE FIRE releases March 16, 2015. You can preorder the title here: http://amzn.to/1ADp431 .