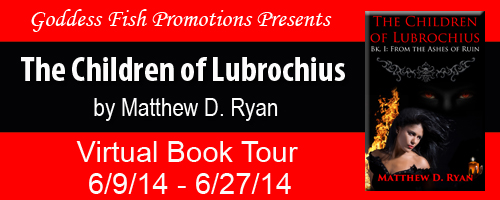 This post is part of a virtual book tour organized by Goddess Fish Promotions. For a limited time, get a 50% off coupon for this book at Smashwords. Click here: https://www.smashwords.com/books/view/415779 and then use coupon code: LX23U to receive 50% off. Coupon expires June 28, 2014.
Matthew will award a $20 Amazon GC to a randomly drawn winner via the Rafflecopter at the end of this post. Click on the tour banner to see the other stops on the tour. Remember, the more you comment, the better your chances to win.
Give a warm welcome to Matthew, who answered a few of our prying questions.
What inspired you to start writing?

One day while sitting down in front of the TV by myself, flicking through channels and minding my own business, there was a flash of light and a sprinkling of glittering powder. I opened my eyes against the glare and what did I see but the Writing Fairy sitting casually atop the television set looking down at me with sparkling green eyes and a mischievous smile. "You!" she said. "You are going to be a writer!" With that, she waved her wand and I felt an enchantment settle upon me. Immediately, I was filled with the writing spirit and I got to work. 😉
How long have you been writing?
I have been writing creatively off and on since I was eight years old. I didn't really commit to it as a vocation until 2006 when I published a non-fiction account of my own personal struggle with mental illness. Since then, I have wavered a couple of times, but have always come back to this calling.
What advice would you give a new writer just starting out?

Write as much as you can. Read as much as you can. Have a back-up plan. Don't quit your day job until you've made it. And if you are going the traditional route, start with submitting short stories to magazines and ezines. Build a following and go from there.
Do you ever suffer from writer's block? If so, what do you do about it?

Yes and no. It's not so much writer's block where I don't have any idea what to write, it's writer's burnout where the thought of continuing to pound out ideas on the keyboard strikes me as actually painful. I can still write, if I choose, but I don't enjoy it. In such a situation, I'll likely take some time off. Usually just a couple days or so; then I get back to work on it. Sometimes I try to muscle my way through it and continue writing despite the burnout, but that doesn't always work out well.
How do you develop your plot and characters?

My inspiration for each comes from a variety of sources. First, I've been reading fantasy novels for the past thirty some years. I've also been playing fantasy RPG games like Advanced Dungeons and Dragons for just about as long. I also get input from movies I see and many other experiences in life. Anyway, that gives me my raw material. I brainstorm a rough plot using such material. From there, I write a brief outline of the plot. I reflect on it a bit and flesh it out some. Then, I write up brief character sheets for all the characters I'll need in the story. These sheets include information like name, occupation, place of birth, parents' names, parents' occupations, style of dress, personality, philosophical outlook, and whatever else I think of that seems important. Sometimes these characters are inspired by real people I've actually met. Other times they are complete fictions. I have not always followed this pattern, but I have for my last couple books.
What comes first, the plot or characters?

For me it's the plot. Characters are critical, of course, and sometimes plots can be generated by the characters, but for the most part, I develop the plot first. The prequel, Drasmyr, for example, was written virtually stream-of-consciousness. I invented characters as I needed them, but I always knew the direction the plot was going in. And it turned out fine. In this second book, I went all the way plotting beforehand: I started with an outline, fleshed it out some, then I wrote up some character sheets for the main actors. At no time did I feel anything I planned to be set in stone so I had flexibility as I wrote, and that worked out nicely.
Are you working on anything at the present you would like to tell us about?

I'm working on Book II: The Sceptre of Morgulan. This continues the story of the struggle between Coragan of Esperia and the evil sorceress Korina Bolaris. Korina has done some indirect political maneuvers to get Coragan and the rest of his allies "out of the way." Meanwhile, she intends to acquire the mystical Sceptre of Morgulan, a weapon of immense power and use it for her own ends. Coragan and the others are tied up by her unjust legal machinations which they have to unravel before they, too, can make a play for the same dread device.
What are you reading now?

Patrick Rothfuss' The Wise Man's Fear. It's a good book. I'm enjoying it as much as the one that preceded it: The Name of the Wind.
How do you come up with the titles to your books?

Mostly I take items from the story itself and use them as a title. The names of these items often consist of words I have just mashed together until they sound cool. The prequel, for example, was entitled Drasmyr after the head vampire, which is intended to be reminiscent of Dracula. This current book and the rest are going to be taken from other items within the story. Book I is The Children of Lubrochius. The titles that will tentatively follow Book I are The Sceptre of Morgulan, The Citadel, and The Blood Pools of Shorai. All good stuff.
When did you first consider yourself a writer?

When I published Drasmyr in 2012. It was self-published, but it marked a transition of consciousness in which my views toward my writing changed. I had to start taking myself more seriously with respect to my craft. I accepted that this is my vocation, so I figured I had to start viewing myself as an author. This, of course, led to the purchase of bookmarks, business cards, and other writerly paraphernalia; I had to get to work.
Describe your writing space.

Complete utter chaos. I have a computer desk with several shelves at which my desktop computer sits. There are a couple other smaller desks around. The desks are covered with notebooks and loose sheets of paper—some written on, some not. The shelves are covered with empty water and soda bottles, notecards, postage address stamps, un-used envelopes, a few boxes of bookmarks, and a number of cups holding pens and pencils. There's also a number of post-its stuck on shelves, supposedly with information I should pay attention to, but which I rarely take notice of.
Do you have a favorite quote or saying?

"Condemn me, then. Howl my sins to the heavens, and shriek my crimes to the wind. I am evil, my love. Your pronouncements mean nothing."—Lucian val Drasmyr, from Drasmyr.
The vampire, Lucian val Drasmyr, has been defeated, but not destroyed: Now he serves another evil: Korina Bolaris, a young and gifted sorceress bent on subverting the power structure of Drisdak. Only Coragan of Esperia can hope to stop them. But is even he prepared to face the dark cult who claims her as their own: the Children of Lubrochius?
Now enjoy an excerpt:
Across from Ambrisia, Coragan placed his hands on the table and got right down to business. "Your note said someone's life is in danger?" he asked.
"Possibly," Regecon answered, leaning back in his chair. "We have another missing person issue. At this point, we don't know if she is alive or dead or what."
"Who is it?" Coragan asked.
"My student, Marissa," Ambrisia interjected. "She disappeared a little over three weeks ago."
Coragan lifted both eyebrows. "Three weeks?"
"The vampire …" Galladrin offered.
"She disappeared during the day," Ambrisia said. "Our best diviners are working on the problem—"
"Your diviners are always working on the problem," Coragan said. "Why is it that your magic never seems to solve the missing person issues. All it does is create questions, and I'm the one who has to sort out the knots."
"In this case, the vampire, although most probably not the cause of the disappearance is definitely a culprit in a number of complications," Ambrisia explained. "As you know, a vampire generates an aura of black time that interferes with divination. This aura surrounds the vampire as it moves and disrupts attempts to access the temporal continuum in which it operates creating pockets of inaccessible time as far as divination is concerned. The stronger the vampire, the stronger the aura. Lucian spent nearly a week besieging our guild house. And, as we feared, there is a great deal of temporal distortion caused by his aura."
"So, once again your magic is rendered useless and you must fall back on more mundane methods. Namely, me," Coragan said.
Matthew D. Ryan is a published author living in upstate New York on the shores of Lake Champlain. Mr. Ryan has a background in philosophy, mathematics, and computer science. He has a black belt in the martial arts and studies yoga. He has been deeply involved in the fantasy genre for most of his life as a reader, writer, and game designer. He is the operator of the web-site matthewdryan.com which features his blog, "A Toast to Dragons,"a blog dedicated to fantasy literature, and, to a lesser extent, sci-fi. Mr. Ryan says he receives his inspiration from his many years as an avid role-player and fantasy book reader. He has spent many long hours devising adventures and story-lines for games, so it was a natural shift moving into fantasy writing.

Mr. Ryan is the author of the exciting dark fantasy novel, Drasmyr,, its sequel, The Children of Lubrochius, and a growing number of short stories. His first novel, Drasmyr, has consistently earned reviews in the four and five star range and serves as the prequel to his upcoming series: From the Ashes of Ruin. In addition to Drasmyr and The Children of Lubrochius, Mr. Ryan has published several short stories on-line, including: "Haladryn and the Minotaur," "The River's Eye," and "Escape."

Links to the Author on the Internet

Website: http://matthewdryan.com

Smashwords Page: http://www.smashwords.com/profile/view/matthewdryan

Facebook Page: http://www.facebook.com/profile.php?id=100000038781652

Amazon Author Central Page: http://www.amazon.com/author/matthewdryan

Goodreads Page: http://www.goodreads.com/author/show/579148.Matthew_D_Ryan

The prequel to "The Children of Lubrochius" is "Drasmyr" and is free pretty much everywhere! Here are the buy links:

• Smashwords (ebook) https://www.smashwords.com/books/view/131156

• Barnes and Noble (ebook) http://www.barnesandnoble.com/w/drasmyr-matthew-ryan/1109505934?ean=2940033064731

• Amazon (ebook) http://www.amazon.com/Drasmyr-Ashes-Ruin-Matthew-Ryan-ebook/dp/B008M2I0WI/ref=la_B008NY99CK_1_1?s=books&ie=UTF8&qid=1393872828&sr=1-1

• Sony (ebook) https://ebookstore.sony.com/ebook/matthew-d-ryan/drasmyr-prequel-from-the-ashes-of-ruin/_/R-400000000000000665030

• Kobo (ebook) http://store.kobobooks.com/en-US/ebook/drasmyr-prequel-from-the-ashes-of-ruin

• Diesel (ebook) http://www.diesel-ebooks.com/item/SW00000131156/Ryan-Matthew-Drasmyr/1.html

• Lulu.com (hardcover) http://www.lulu.com/shop/matthew-d-ryan/drasmyr/hardcover/product-20712659.html