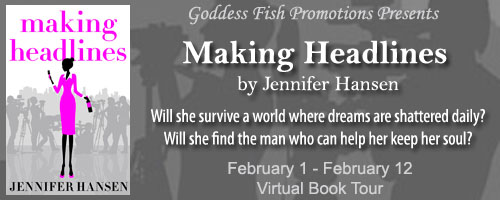 This post is part of a virtual book tour organized by Goddess Fish Promotions. Jennifer will be awarding an eCopy of Making Headlines to 3 randomly drawn winners via rafflecopter during the tour. Click on the tour banner to see the other stops on the tour.
HOW I HANDLED THE RESEARCH FOR MY BOOK, MAKING HEADLINES
As my fictional novel, MAKING HEADLINES, is based on the life of a television reporter and newsreader, and I actually worked in those roles in real life for twenty years myself, I didn't need to do much research about the television industry.
There was however, an aspect of the book that did require a little investigation. And that's because the main character, Rachel Bentley, is haunted by a stalker. Now, I don't want to give away any spoilers here, but suffice to say, I didn't want the reader to have any idea about the stalker's physical appearance before he is finally revealed towards the end of the book. So how do you make someone a threatening menace when you don't actually see them?
Of course, emails and phone calls can be traced. But letters can't. Some of the first people to read the book in my Writers Group questioned why the police weren't doing more to help track down Rachel's stalker when he was writing such threatening letters? Well, I DID interview a number of police to clarify this and it's true – hand written letters are one of the hardest pieces of evidence to track back to the original writer. If the writer uses gloves and there are no fingerprints – which is also unlikely after several people will probably have handled the letters – and no genuine postal return address, there's actually nothing the police can do. A stalker could quite realistically post dozens of letters from any one of forty post boxes in the city (in Melbourne) – as it would be impossible to monitor all of them with surveillance cameras.
I visited the St Kilda Police Station on Chapel Street, and also talked to the Victoria Police Media Officers to confirm this and both gave me the same feedback. It's only when a physical act of violence occurs that they would dedicate resources to an investigation.
So there you have it. When you read my book and if it does cross your mind that the police should be doing more – take heart – I've looked into it thoroughly, and they couldn't. Well, not until the situation becomes a little more serious. Which it does… But hey, no spoilers. You'll have to read the book to find out what I'm talking about!
Working as a TV reporter has its challenges, but when Rachael Bentley decides to aim high and become a newsreader, she faces a whole new minefield of explosive scenarios.

Rachel's path sees her pitched against egos in the newsroom, office politics and corrupt politicians, not to mention rampant sexism, and a mystery stalker. Juggling a messy personal life doesn't help, nor does the emotional impact of reporting on life's tragedies and when it all takes a toll and Rachel starts partying too hard, she finds herself making the headlines instead of reading them.

Will she survive a world where dreams are shattered daily and will she find the man who can help her keep her soul?
Enjoy an excerpt:
'Then whack! He slams that cricket bat smack down on your desk, missing your hand by a whisker!' Julia slapped her hands under Rachel's chin.
Rachel jumped, vibrations ringing in her ears. 'And this is the man you think could be our new boss?' she said, spinning her chair around to switch on her computer. As she reached for a notebook a growing unease began to fester. Her fellow reporter had an uncanny knack of being spot-on with rumours.
'Yep,' grinned Julia, leaning back in her chair. 'That's Helmut Becker for you. Bit of a nut job, but they say he gets results. And it is all about the ratings after all.'
Beyond their desks the usual pandemonium reigned. Early-morning rush hour — TV monitors blaring, phones ringing and people shouting, and Rachel didn't want the glue that held it together leaving. She stared towards the news director's office. 'I wish I could change Tony's mind.' It was like the plates beneath her feet were shifting. Too much change, too soon.
'Fat chance. The media release is already out. And stop looking like that. Anyone'd think you had a boss-crush.'
Rachel turned back to Julia. 'Don't be ridiculous. I'm just sad he's leaving. I mean, he gave me my big break and has always been so supportive. Are you sure this Helmut character is taking over?'
'That's the word on the office grapevine. It's a hundred per cent gossip guaranteed.'
'Damn. Just when I thought I had a career plan mapped out, a bat-wielding crazy guy comes along …' She paused as a striking man with shoulder-length dirty-blond hair strode past their desks towards the edit suites at the back of the newsroom.
'And don't get hooked on him either.' Julia rolled her eyes. 'That's the new head editor, Mitch. Really rates himself, and hates working with juniors, so steer clear.'
'You crack me up,' said Rachel, shaking her head. 'You know I'm taken.' She turned back to her computer, inhaling deeply. The editor had left a scent in his wake and it wasn't aftershave. It was like he'd just shaken the surf from his hair after riding a wave into work. An absurd thought. Who'd go surfing in the middle of autumn? She snuck another look as he walked away, taking in his strong physique. As if feeling her eyes graze the back of his neck, he turned, giving a lopsided grin as he caught her out.
Embarrassed, she smiled back stupidly and sucked in her breath. Damn, he was good looking. She wondered what he was doing at work so early. Surely as head editor he could take his pick of the shifts and leave the early stints for the juniors? She shook her head. She had to stop this. No flirting. That's what had landed her in enough trouble already.
About the Author:JENNIFER HANSEN is best known to TV audiences as the former co-host of Channel Ten's 5pm news. These days Jennifer works in radio as part of Smooth FM's breakfast show where she reads the news and chats with Mike Perso about all things Melbourne. In between media gigs, Jennifer went back to 'school' – taking up the 'Professional Writing and Editing' course at RMIT. That has helped her complete her first novel and two screenplays. Occasionally she remembers to look after her family – including husband Neighbours actor Alan Fletcher (aka Dr Karl Kennedy) and their two children, Veronica and Tom.
Website | Twitter
Buy the book at Barnes and Noble or Amazon.