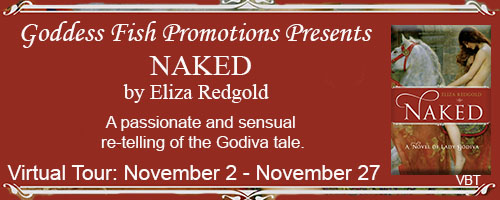 This post is part of a virtual book tour organized by
Goddess Fish Promotions
. Eliza Redgold will be awarding a $20 Amazon or Barnes and Noble GC to a randomly drawn winner via rafflecopter during the tour. Click on the tour banner to see the other stops on the tour.
This blog post comes to us from Eliza Redgold, author, academic and unashamed romantic. Her new novel Naked: A Novel of Lady Godiva was released by St Martin's Press in 2015.
Make what You Believe by Eliza Redgold
Fairy tales have never been more popular. For all their enchantment, fairy tales are often dismissed as mere children's entertainment. Fairy tales are much more than that – and they're an inspiring way to improve our writing too.
Fairy tales provide us with a timeless blueprint for behaving our way to happiness and success. Fairy tales have told us for centuries that when we honor what's on the inside, rather than what's on the outside, magic happens. The princess kisses the frog – lo, he is a handsome prince. Beneath Cinderella's rags is the greatest beauty in the land – the shoe fits. When Beauty loves the Beast, the spell is broken at last. The message of these tales is just as relevant as ever, encouraging us to aim high and to have faith in what we can achieve. The message of fairy tales is make-believe: you will make what you believe.
If you're looking for a writing exercise to make your stories magical and believable, you can't go past fairy tales. Tapping into these timeless tales is a great way to access our beliefs, hopes and dreams and bring them to our writing.
Writing Exercise: Find Your Fairy Tale Ending

• What's your favourite fairy tale?
• Who are your favourite characters?
• What emotions does it raise in you?
• How does it inspire you?
• How would you rewrite it – from beginning to end?
Play with a fairy tale – and make what you believe.
We know her name. We know of her naked ride. We don't know her true story.
We all know the legend of Lady Godiva, who famously rode naked through the streets of Coventry, covered only by her long, flowing hair. So the story goes, she begged her husband Lord Leofric of Mercia to lift a high tax on her people, who would starve if forced to pay. Lord Leofric demanded a forfeit: that Godiva ride naked on horseback through the town. There are various endings to Godiva's ride, that all the people of Coventry closed their doors and refused to look upon their liege lady (except for 'peeping Tom') and that her husband, in remorse, lifted the tax. Naked is an original version of Godiva's tale with a twist that may be closer to the truth: by the end of his life Leofric had fallen deeply in love with Lady Godiva. A tale of legendary courage and extraordinary passion, Naked brings an epic story new voice.
Enjoy an excerpt:
If the rider heard he made no sign. Clad in a silver helmet and armored in brown leather, he galloped under the arches, my warning ignored. His great black horse circled the courtyard, raising dust as he halted in front of the steps.
For a moment he didn't move. Nor did I, except to tighten my fingers on the handle of my blade.
He lifted off his helmet.
A pair of piercing eyes met mine.
This is not Thurkill.
The knowledge flashed into my brain. The man in front of me was tall and strong. Many years younger than my father, perhaps thirty years of age, his face a tanned brown. His hair, tawny as an owl wing, fell to the studded collar of his armor, its leather stretched across his shoulders.
He spoke. "You are Godiva."
Hawk high I lifted my head. "I am. Who are you? Why have you come to my lands?"
Dirt swirled in the air as his horse hoofed the ground. River deep turned his gaze as he took me in, lingering on the thick braid that fell over my shoulder to brush to my thigh.
"Well?" A flame flickered though me, hotter than fear. A flame I'd never known.
"Who are you?"
About the Author: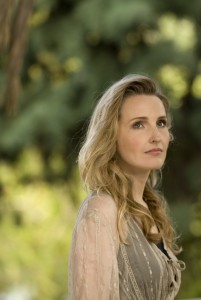 ELIZA REDGOLD is an author, academic and unashamed romantic. She writes historical fiction (St Martin's Press) and romance (Harlequin).
NAKED: A Novel of Lady Godiva was released internationally by St Martin's Press New York in 2015. Her 'Romance your Senses' series of contemporary romances are published by Harlequin. They include Black Diamonds, Hide and Seek and Wild Flower. Eliza is also contracted to Harlequin Historical for two upcoming Victorian historical romances. Look out for Enticing Benedict Cole in November 2015.
Eliza Redgold is based upon the old, Gaelic meaning of her name, Dr Elizabeth Reid Boyd. English folklore has it that if you help a fairy, you will be rewarded with red gold. She has presented academic papers on women and romance and is a contributor to the forthcoming Encyclopedia of Romance Fiction. She was born in Irvine, Scotland on Marymass Day and currently lives in Australia.
Twitter | Facebook | Pinterest | Website
Buy the book at
Amazon
or
Barnes and Noble
.