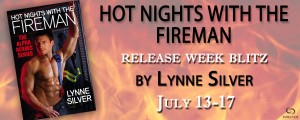 This post is part of a virtual book tour organized by the publisher.
Lynne Silver's Top 5 Books of All time (as if a reader could narrow a billion down to 5)
1. The Betsy-Tacy Series by Maud Hart Lovelace. This is the original YA historical. It's set in small town Minnesota in the 1900s. I loved Little House on the Prairie, but it was always so dire. Betsy-Tacy is set 40 years later and 1 state north of Little House, but it might as well be a world apart. Betsy lives a life of gaiety and fun. Seriously- pick these books up. Skip the elementary school years and start with ¬Heaven to Betsy. Remember to also read the related Emily of Deep Valley. This is a classic romance novel.
2. Anything in Kresley Cole's Immortals After Dark Series. I have some favorites (Demon from the Dark. Malkom Slaine sigh) This series has kick-ass heroines and drool-worthy heroes.
3. Heart of Obsidian by Nalini Singh- I love the whole series, but this is my standout. Oh, Kaleb Krychek, you sexy cold-ass alpha…
4. The Harry Potter series. Hate the movies. Love the books. Love 'em. Obsessively.
5. The Scarlet Pimpernel by Baroness Orczy. This might be considered the first romance novel I ever read. Oh, Percy Blakeney…you clever clever man.
Everyone in Washington, DC, knows that when the heat is on, you call Valerie Wainright. This brilliant, brassy PR maven can spin any hot scandal, and she's never let a client ruffle her feathers. Yet when she agrees to teach DC's bravest how to handle a media frenzy, she faces an entirely different kind of fire. Keeping things all business and no pleasure is far harder than she expected.

After steamy photos ignite the Internet, firefighter Jason Moore instantly goes from hero to bad boy. While he couldn't care less about an online rep, he cares a lot about his job and saving lives. If Valerie can help clear his name, he'll do what she says-even if it means forcing himself to keep his hands off her. But beneath Valerie's cool cover, Jason feels a smoldering desire that lights his own. And this is one inferno he'll definitely want to stoke .
About the Author: Romance author, Lynne Silver, writes the popular Coded for Love series and other hot contemporary romance novels, such as Love, Technically. Before writing romance, she wrote fiction of a different sort, drafting press releases for technology corporations. Washington DC is her home (non) state, where she resides with her husband and two sons.
Website | Twitter | Facebook
Buy the book at Amazon, Barnes and Noble, iTunes, or Kobo.