Long and Short Reviews welcomes Lynn Raye Harris,whose latest release Hot and Bothered will be released August 18. Enter the Rafflecopter to win a signed copy of Hot Volume 1, which contains the first 3 books in the Hostile Operations Team series.
She's currently working on Book 10 in the HOT series – Chase "Fiddler" Daniels' story. She's also working on Book 11 (Book 2 in the HOT SEALs) which is Remy Marchand's story.
"The order could change if one of those stories grabs me more than the other and takes off!" she warned.
Around the age of 5, Lynn wanted to draw pictures of horses, but her drawing skills sucked, so instead she told stories about them. She always knew she wanted to be a writer when she grew up.
"When I was a kid, a teacher once accused me of copying a story because she thought it was too sophisticated for a young girl to write. I burst into tears and she knew she'd made a mistake. But that's the moment when I thought I might actually be good enough to write books for a job some day. And it turned out to be true! But, I was pretty sure horse stories wouldn't cut it," she admitted. "So one day I walked into the bookstore and realized how big the romance section was. I hadn't read one in years but I bought several that day–and fell in love with them all over again!"
For Lynn, characterization is the most important element of good writing.
"Your characters have to be real people, not cardboard cutouts," she explained. "A good grasp of grammar is also helpful, though a great copy editor can help you with any rough spots. A sense of story is number two. Elmore Leonard says to leave out the boring parts when writing. He's right, and that's where sense of story comes in. You can learn those things, thankfully."
I asked her to describe her writing space.
"I have a great office with bookshelves and a big desk with two monitors. There's a cozy chaise lounge in one corner where I can sit and look out the window. But I just as often sit with my laptop on the couch or in bed and work. It just depends on how I'm feeling that day. Some days I don't want the desk. Some days I do."
When she's not writing, she enjoys riding her horse.
"I recently bought a horse and returned to the show ring after a couple of decades' absence — and I'm loving it!" she told me. "It's a new discipline for me — Saddleseat — but it's fun."
"Where are you from and what do you love best about your hometown?" I asked.
"I'm a military brat, but I was born and raised in the South. I am most definitely a Southerner! I love the South, and particularly Alabama where I live now, for many reasons. Sweet tea, barbecue, front porches, and Southern politeness. Kids still say 'yes sir/ma'am' and 'no sir/ma'am' more often than not."
Lynn told me she used to be a dyed-in-the-wool print girl, but she's fallen in love with her e-reader. She loves being able to change the font size, the built in light, and the ability to carry hundreds of books with her wherever she goes.
"What are the best and worst pieces of writing advice you ever received?" I wondered.
"The best was that there is no right or wrong way to write a book. Everyone has their own process, and it's not wrong. The worst? Get rid of as many instances of the word 'was' as possible. That's just silly! Was is a perfectly legitimate word. Some writers confuse it with passive voice, but it's not. Passive voice is when the subject of the sentence is acted upon, not when the subject is doing something. In fact, the first line of HOT & BOTHERED states that the heroine was jogging. I wrote 'jogged' originally, but my editor pointed out something about time and tense agreements, etc, that meant the most correct version was 'was jogging'. I changed it and I haven't looked back."
Finally we asked, "What advice would you give a new writer just starting out?"
"Write the kind of stories you love to read. Don't give up. Don't expect perfection on the first try–or even the twentieth! Writing is a skill like any other. It takes practice. You wouldn't take a piano lesson tomorrow and expect to play a Bach Concerto next month, so don't expect to write a book and publish it right away either. Takes time to learn your craft. And the readers will still be there when you do, so slow down and get it right. It's a marathon, not a sprint."
When a rogue CIA operative offers Emily Royal a chance to clear her name and help her country, she leaps at the opportunity–even though it means leaving behind HOT agent Ryan "Flash" Gordon. They can't be together, but they can have one night.

One night with stunning consequences…
About the Author: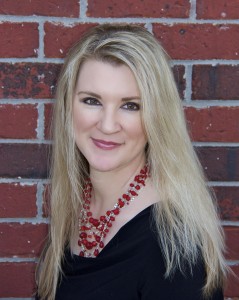 New York Times and USA Today bestselling author Lynn Raye Harris burst onto the scene when she won a writing contest held by Harlequin. A former finalist for the Romance Writers of America's Golden Heart Award and the National Readers Choice Award, Lynn lives in Alabama with her handsome former military husband and two crazy cats. Lynn writes about hot military heroes, sizzling international billionaires, and the women who dare to tame them. Her books have been called "exceptional and emotional," "intense," and "sizzling."
Website | Facebook | Twitter
a Rafflecopter giveaway