Long and Short Reviews welcomes Linn B. Halton. The author will be giving away a signed paperback copy of A Little Sugar, A Lot of Love. To enter Tweet a link to the post including: #ALittleSugarALotofLove
To finish at midnight GMT 7 days after the date the post goes live. International. Anyone can enter and no purchase necessary.
Luck, Coincidence or Fate? Or Is There Another Explanation?
The first time I sat down in front of a tarot card reader/psychic medium for the first time, it was on a girls' night out and we were having a laugh. I'd even taken off my wedding ring, which says a lot about my expectations. But virtually the first thing she said to me stopped me in my tracks.
'Your coccyx bone is misaligned.' She'd told me, in a matter-of-fact way as she scanned the cards. Whaaat???
Now most people don't even know they have one and I only knew about it because I'd recently given birth and had an emergency Caesarean section. After an x-ray this was pointed out to me as an aside and it wasn't something I'd ever mentioned to anyone. OK – she had my attention and wedding ring, or no wedding, this lady didn't need clues!
It was the start of a long and on-going fascination with tarot readings and psychic mediums. It took a long time for me to realise why I was so fascinated, though, and it stemmed back to my early childhood. It was difficult to acknowledge that virtually all of my earliest memories were linked to spirit activity around me. In fact, it wasn't until my husband and I began witnessing the same thing that I was (finally) able to say that I believe in the existence of life after death. Seeing is believing, but until someone you trust sees the same thing at the same time, it's human nature to look for reasons not to believe what you've experienced!
We've lived in so many houses over the years (fourteen and counting). Everything from an old hunting lodge, to new-build homes, and yes, some of them have had spirit activity. But what I've found is that it's as likely to happen in a brand new home, as it is a 250-year-old cottage.
So when I write stories about life, relationships and the pursuit of true love, there will invariably be some, even quite small, references to the way our loves who have passed over continue to help us along the path we are destined to follow.
You know that moment of inspiration, that idea that suddenly pops into your head when you have a problem? Or that coincidence that was a turning point in your life? Or that exceptionally good luck that came from nowhere? You've felt it too. You might not see spirits, but you've felt the karmic love. It's the first step …
Life isn't all love and cupcakes …

Katie has had her fair share of bad luck, but when she finally realises her dream of opening a bakery it seems things can only get better.

But the reality of running a business hits Katie hard and whilst her partner, Steve, tries to help she can't help but feel that the situation is driving them further apart. Could Katie be set to lose her relationship and her dream job?

Then, one winter's day, a man walks into her shop – and, in the space of that moment, the course of Katie's life is changed.
But nobody finds happiness in the blink of an eye. Sometimes it takes two Christmases, three birthdays and a wwhole lot of cake to get there …

A story about life, loss and self-discovery.
About the Author: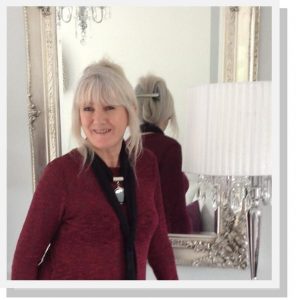 Bristol-born Linn B Halton lives on the edge of the small market town of Cinderford, in the Forest of Dean, in the UK.
"I'm a hopeless romantic, self-confessed chocaholic, and lover of coffee. For me, life is about family, friends, and writing. Oh, and the occasional glass of White Grenache…"
An Amazon UK Top 100 best-selling author with A Cottage in the Country in November 2015, Linn's novels have been short-listed in the UK's Festival of Romance and the eFestival of Words Book Awards. Linn won the 2013 UK Festival of Romance: Innovation in Romantic Fiction award.
Website | Twitter | Facebook
Buy the book at Amazon.