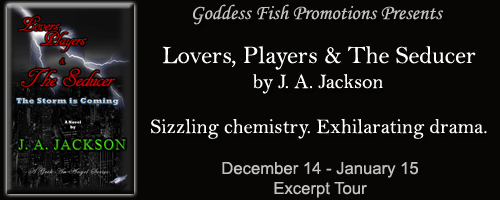 This post is part of a virtual book tour organized by
Goddess Fish Promotions
. The author will be awarding a $10 Amazon GC to a randomly drawn winner via rafflecopter during the tour. Click on the tour banner to see the other stops on the tour.
Nicholas La Cour loves money. In the game of betrayer and betrayed he thinks his sister Lacey is the prefect target for his manipulative schemes to keep his financial ruin a secret.

Gorgeous Lacey La Cour lost her hopeful and playful spirit after being dumped by her childhood sweetheart. Now an adult, she is strong and independent.

Determined to find the answer to his money problems, Nicholas discovers his best friend Kienan Egan is strangely attracted to his sister Lacey.

Does his sister's love life hold the answers to all of his problems?

Does Nicholas have the prefect plan?

A vengeful seduction is swept into play as tragic forces are unleashed in a dangerous game of deception and greed unlocking doors to the past.

Will Lacey discover her brother's deception before it's too late?

When it's all said and done it's all about the well-heed things in life, family, friendships, affairs, revenge, and romance.
Enjoy an exclusive excerpt:
The San Jose Concert Area lights suddenly dimmed and time seemed to stand still. She saw the man that she saw earlier.
Lacey tilted her head and adjusted her eyes to catch another glimpse of him. All of a sudden the air felt strange around her. She listened and could have sworn that she heard the ticking sound that the hands of a clock make. Then she felt a cold wind against her neck. I must be hallucinating, she thought. She looked up and the man stood just by the isle, he refused to come closer.
The man glowed like a star against the midnight sky.
The man stood there and stared at her. The fathomless depths of the man's eyes caught hers and it seemed his face summoned a smile.
Her eyes grew as wide as saucers as she gasped as a shiver ran down her spine. Her thoughts raced. Was it really her father she thought, no it couldn't be, her father was dead.
About the Author: J.A. Jackson is the pseudonym for an author, who loves to write deliciously sultry adult romantic, suspenseful, entertaining novels with a unique twist. She lives in an enchanted little house she calls home in the Northern California foothills.
She spent over ten years working in the non-profit sector where she wrote grants, press releases and contributed many stories to their newsletter. She was their Newsletter editor for over ten years. She loves growing roses, a good pot of hot tea, chocolate, magical stories, suspense stories, ghost stories, and reading Jane Austen again and again in her past time.
Amazon Author Page | Blog | Facebook | Twitter
Buy the book at Amazon or Barnes and Noble.
Books by J. A. Jackson & Links
A Geek an Angel Series
The Deceiver
Amazon
The Proposition
Amazon
The Grand Hotel
Amazon
Lovers, Players, & The Seducer
Amazon
Stand A Lone Books:
The Mistress of Desire & The Orchid Lover
When A Taker Dreams
Lovers, Players, & The Seducer
Part II
Revenge!
Coming December 2015