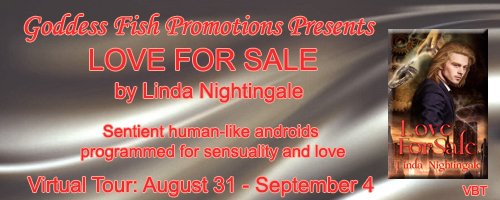 This post is part of a virtual book tour organized by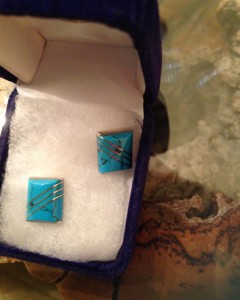 Goddess Fish Promotions
. Linda Nightingale will be awarding a sterling Silver and genuine turquoise earrings valued at $45 as well as Author-signed swag (US/Canada ONLY, a international winner will receive a choice of one digital book of Linda's) to a randomly drawn winner via rafflecopter during the tour. Click on the tour banner to see the other stops on the tour.
Hi Christian. Thanks for the interview for the readers of LASR.

Good afternoon. I hope you are well.
Very well, thank you. I know your time is limited. Shall we begin?
How does it feel to look human and yet not be human?
That is a difficult question to answer since I am what I am and have never been human. How does it feel to be human and not artificial intelligence? It has never occurred to me to envy humans. I don't look at someone and think, "I wish I could be that man." I like what I am. I'm content to be me. Each of the Special Editions is unique. Most of my programming was in place before March requested the final enhancements. So, I am simply Christian Aguillard, sentient android.
How does it feel being owned by someone?
I'm not a slave. I never really think of being owned. March is the best woman a man could ever love. That my love for her is reinforced by emotions encoded into my brain doesn't bother her. I'm not concerned either. In fact, the moment I saw her, without any special programming, I fell in love.
How much did you cost?
I hesitate to discuss that. As March's ex-husband said to her in a fit of rage, "How dare you…pay as much as a mansion in River Oaks for that thing!" I didn't appreciate being called a thing, and I doubt that price comparison was accurate. I believe $100,000 would be closer to the actual price of a Special Edition.
Could you leave if you wanted to?
(Long pause) I'm not quite like the others. My independent streak almost cost me my life. If the situation required, I believe I could. I can't imagine any circumstances that would make me want to leave March.
Can you taste food?
My olfactory senses are perfect, but since we do not eat, I cannot taste food. I can relish the scent, however. I would love to taste lobster or a fine red wine.
How do you conduct yourself when out to eat with people looking on?
Most people don't watch what their companions eat and drink. I order a meal and wine, stir it around on my plate and pretend to sip. I compliment the food and wine. This does present another difficulty. In the end, of course, the fact that I don't eat or drink becomes noticeable. I'm not quite certain why my creator didn't build in those abilities.
What about sleep? Do you power down, like C3PO?
In a manner of speaking. We have a Sleep Mode. Our sensors remain at full power, but we do need to recharge occasionally. This doesn't mean that I must be plugged in, but simply "rest", more or less, as you do.
So you can have normal sex with March?
(He laughs softly) Better than normal. We are programmed to be sensual as well as to love. We have certain programs called Sexbot Mode. I am capable of continuing the act until my partner is satiated. Before we were released for very discreet purchases, we were beta tested with volunteers. I've never had any complaints.
Then you believe you are superior to man?
In certain respects, yes. Like the bedroom. I move and think faster, see and hear better, and can read certain data that man is incapable of sensing.
I understand you were programmed for a special job?
I am a rocket scientist. (He grins) Currently, I am employed by a firm that contracts with NASA—one of three of March's requests: a British accent, sensuality, and aerospace engineer.
Anything you wish to tell everyone about being an android?
Some people might think we are creepy, that having a robot lover would be a strange, cold, even disgusting experience. I can assure this isn't the case. If you hadn't been told I wasn't human, you'd never know. Would you?
Like Asimov's Three Laws of Robotics, we are programmed with certain fail safes. We aren't supposed to harm humans, and we are to obey orders from humans. We can protect ourselves, but not if that means harming or disobeying humans.
Thank you, Christian, for your candor. I wish you and March the best.
Thank you for allowing me to be your guest today.
March Morgan still believes in true love, but her faith in finding her soul mate is slowly vanishing. She's been married but never in love. So, it is a miracle to find that fantasy exists on the last page of a glossy women's journal. Mayfair Electronics, Ltd., in black and white, offers Love for Sale. The London firm has engineered sentient androids indistinguishable from human. She flies to England and meets the man she has been searching for her entire life.

Christian requires no programming to love March at first sight. He's handsome, cultured…absolutely perfect…and a little different from the other androids. He has an unexpected independent streak.

March signs on the dotted line, buying her dream man. They return to Houston, but soon her past and his future threaten their Happily Ever After—indeed their lives.
Enjoy an excerpt:
At a light touch on her shoulder, she spun. He stood inches from her, the airspace between them electric charged. "Liz was here, and in my bedroom! Why? Were you doing her in my bed?"
"No." He had the decency to look stunned, his eyes widening and darkening. "She was teaching me to dance. The closet doors are mirrors."
March resisted the urge to slap his perfect face. "Why? You aren't going to be a stripper."
He shrugged. "You don't trust me."
"I don't trust her." March's face felt hard and cold. God, how she hated the emotions seething in her. She was almost physically ill.
"She cannot tempt me." He shook his head slowly, his eyes glittering blue. "Don't you understand I am attuned to you alone?"
"You weren't supposed to be able to get angry." She was unraveling, like a ball of yarn thrown across a room. "You did."
Her heart shattered as he turned and walked away. Grief winded her. At the door, he glanced over his shoulder, again shaking his head. He was stunningly handsome, looked sad and hurt, but there was no apology in his intense gaze. Hands fisted at her sides, she tried to control the storm of fear, anger, resentment and pain.
"Where the hell are you going?" Her voice came brusque, short.
"For a walk to let you think and cool down." Light and shadow chiseled his face, and her breaking heart skipped a beat. "I am not going to Liz. I have learned all I need to know from her. I shall never see her again."
"You can't walk out. It is impossible for you. You are faulty in some circuit somewhere. I'm going to return you."
The most beautiful man in the world froze with his hand on the door. "Please don't. This is a misunderstanding." He blew out a long breath. "However, if that is what you want, I must advise you that Mayfair Electronics, 21 Dover Street, London, W1S 4LT will accept return of a flawed unit for a full refund."
"Stop! You sound like a robot." Her fisted hands struck the air.
He didn't flinch. "I am a robot. That's why this is an inane conversation."
About the Author: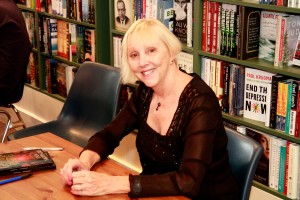 Something of a gypsy (actually nothing quite so romantic!) born in South Carolina, Linda has lived in England, Canada, Miami, Ft. Lauderdale, Atlanta and Houston. She's seen a lot of this country from the windshield of a truck pulling a horse trailer, having bred, trained and showed Andalusian horses for many years.
Linda has won several writing awards, including the Georgia Romance Writers Magnolia Award. She is the mother of two wonderful sons, a retired legal assistant, member of the Houston Symphony League, and enjoys events with her car club. Among her favorite things are her snazzy black convertible and her parlor grand piano. She loves to dress up and host formal dinner parties.
Twitter | Facebook
Check out her
website
for a free continuing vampire story and her
blog
for lots of interesting guests & prizes.
Buy the book at The Wild Rose Press.