Long and Short Reviews welcomes Tory Richards who is celebrating the recent release of Ruthless, the first book in her Nomad Outlaws Trilogy. As a special gift, Tory is giving all of our readers a free copy of Phantom Riders MC – Hawk, the first book in her Phantom Riders Trilogy. See below for details.
Love at First Sight
Do you believe in love at first sight? I believe in lust at first sight, but love, that's a whole other emotion. It takes time, work; compromise and the ability to overlook flaws, we all have them, to grow to love someone. When I first met Earl, at a church dance no less, I felt an instant connection. As if we'd known each other in another life. Okay, I see you rolling your eyes out there, but it's true. There was just something about him, and I knew he was going to be an important person in my life.
Our relationship grew slowly, which is probably why we had seventeen years together before he passed. We dated and got to know each other, traveled, met each other's families and friends, and in time our feelings grew into love. The kind of love that can destroy you when that other person is gone from you. I remember telling him once that I knew he was going to hurt me, and he did. Not in the physical sense, but when he passed away. This March will be six years.
Love at first sight? I'm sure exists. Some of my characters fall into instant love. But not the characters in RUTHLESS. I wouldn't even say it's instant lust, although there is a strong attraction between them. I think it's more about survival for them. RUTHLESS is my newest MC romance release, and book 1 of my Nomad Outlaws Trilogy. It's a standalone, and does NOT end in a cliffhanger.
Four years ago Rebel ruined Ginger by claiming her to keep them both alive, and then she disappeared. Bike Week at Daytona Beach brings them back together. He's a dangerous nomad. A ruthless killer. But he's her addiction, and she's his. Can they keep the past where it belongs and move forward, or is it too late?
Enjoy an Excerpt
I grabbed Ginger by the hand and pulled her out of the room, down the hall and to the bathroom. Her resistance was futile, her fear unimportant. I knew what I had to do, and if she were smart, she'd realize it, too. If she wanted to live. I opened the bathroom door and yanked her inside, thanking f**k that I found it empty. It was filthy, but better than nothing, and it had a shower that everyone used when they felt the need to be clean, which wasn't often.
Ginger spun around when I shut the door, the look of a trapped animal in her pretty blues. I ignored her growing terror, steeling myself for what I had to do. Even behind closed doors I had to make it real, had to be convincing that I was an unfeeling bastard. I saw her swallow, could see her tits rising and falling rapidly as the fear of the unknown overwhelmed her. She was expecting the worst, preparing herself to do whatever she had to do to survive.
"Take off your clothes." I kept my tone harsh, indifferent to her growing panic.
She shook her head vigorously and stepped back, slamming hard against the cracked porcelain sink. A nervous cry escaped her, and her eyes were wild as she took in her surroundings and realized that there was no escape. Her gaze touched on the door behind me before meeting my eyes.
"Please‒"
"Take off your f**king clothes," I said in an uncaring, demanding tone. "You're filthy, and not in a way that gets my dick hard. Now undress." I removed my cut and the t-shirt beneath it. "In fact, I think I'll join you." Her eyes nearly popped out of her head at that. "If you're not undressed by the time I'm out of my clothes, you won't like the consequences." I kicked off my boots as my hands went to the front of my pants.
About the Author: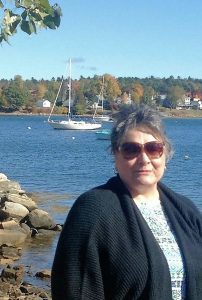 Tory Richards is a fun-loving grandma who writes smut with a plot. Born in 1955 in the small town of Milo, Maine, she's lived most of her life in Florida, where she went to school, married, and raised her daughter. For many years life got in the way of her dreams. She's been published since 2005, and has since retired from Disney to focus on family, friends, travel and writing.
Website | Amazon Author Page | Smashwords Author Page | Barnes and Noble Author Page | iBooks Author Page | Facebook | Twitter | Goodreads
Buy the book at Amazon.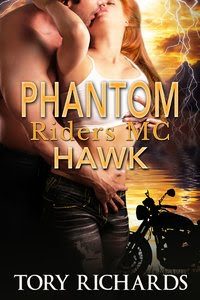 Giveaway!
I would like to gift all of you with an ebook copy of Phantom Riders MC – Hawk, book 1 in the Phantom Riders MC Trilogy. The other two books in the trilogy are: No Mercy and What He Wants. If you have any trouble please contact me. Thanks and enjoy!
Promotional price: $0.00 / Coupon Code: AB29P / Expires: February 25, 2018