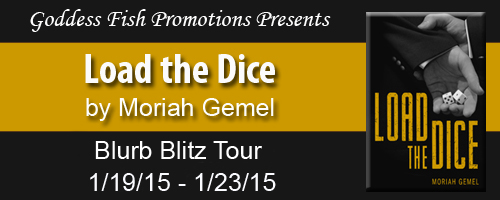 This post is part of a virtual book tour organized by
Goddess Fish Promotions
. Moriah will be awarding a $25 Interlude Press GC to a randomly drawn commenter. Click on the tour banner to see the other stops on the tour. This book was first available online as an episodic, serialized novel—it is now available in its entirety!
Eric left the BDSM scene years ago because he couldn't find the right partner, opting instead to meet men in quiet coffee shops and piano bars. But when his friend invites him to a posh hook-up party, he meets first time sub Jamie, who he convinces to detail his sexual fantasies during a passionate night together.

The pair soon embark on a relationship that introduces Jamie to the BDSM scene, and plays out his fantasies one by one. But as they approach the final fantasy, will Eric be able to walk away?
Enjoy an excerpt:
"Are you willing to submit to me, Jamie?"
Jamie visibly shivers, his mouth dropping open a little bit at Eric's tone. He's shifting into Dominant mode now, drawing his body up taller, wider, lifting his chin and letting the power he keeps in reserve flow through him. He's not holding back now—he's completely in charge, and he wants to make sure Jamie can feel it, even if he can't see a thing.
"Yes," Jamie whispers, with barely a breath.
"And do you understand that if at any time you don't feel safe, if you feel we're not acting sanely, or if you stop consenting, that you have every right to stop play?" It's the core tenant of BDSM. SSC: Safe, Sane, and Consensual. If play isn't all of those things, it's not okay unless expressly agreed upon ahead of time—and that's crossing into hardcore territory that isn't for beginners. It's best if they stick to the basics for now.
Jamie nods his head and agrees again, faintly and barely coherent. But it's enough.
"Good." Eric leans down and kisses him, light and teasing, barely brushing their lips. Jamie whimpers and opens his mouth in invitation, but Eric doesn't take it.
"You have to earn that, Jamie," he says, pulling back. Jamie breathes in shakily, and Eric hums, pleased. "Don't worry, it's your first time. We'll go easy." Eric steps back, pushing the box out of the way with his foot. "I want you on your knees."
About the Author:

Moriah Gemel has developed a dedicated following for her realistic, sexually-charged stories over twelve years in online fan communities. Passionate about a realistic depiction of BDSM, her goal is to both entertain and educate readers about the BDSM community.
She is married and has a young son.
Website | Facebook | Twitter | Goodreads | Google+
Buy the book at Amazon.