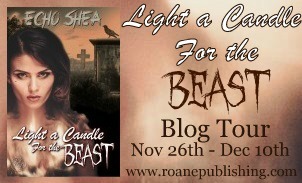 Congratulations to Echo Shea on the release of
Light a Candle for the Beast
. This post is part of a virtual book tour organized by the publisher. One randomly drawn winner will receive a $10 Amazon Gift Card and ecopy of Light a Candle for the Beast. Click on the tour banner to see the other stops on the tour.
If you've ever been caught in a riptide, pulled down into the water, then you know me. Or, more accurately, what I'm like when I'm angry.

Delia was beautiful, smart, and kind. He wasn't. He said he loved her, but he didn't know what love was. He was manipulative and cruel — more than a thief. A beast.

All she wanted was a rose…

These are the words on my sister's grave. Her sadness, her obsession, forever a reminder I didn't–couldn't save her.

I'm not vindictive or cruel. I'm simply as the river–my memory is winding and my reach is long. I watched him steal her beauty, her essence. Watched him become a beast. He thought he'd get away with it, thought he'd go free.

I lay a rose upon my sister's grave.

Light a candle for the beast.
Enjoy an exclusive excerpt:
Silence casts a pall over the graveyard in the late twilight of evening as I glance down at the graves of row upon row of my ancestors. I've only known a few of them, my mother, father, and both of my sisters.
Errol, the crow that follows me day and night, and holds me to the land, preens its feathers as it sits atop my sister's headstone.
"Delia Belle Adjour 1654-1734 All she wanted was a rose."
I stare at it for a moment before laying the cut long-stem rose on her grave. I've thought so many times, I should use white roses for purity, for the childlike state she lived in during the time she was on this earth, but I can't do it. Red is vibrant, dark, and passionate.
"I've always liked red," she says from where she stands behind me.
At any other time, I might've jumped and screamed, clutched at her, begging her not to go again. But, not this time. I know she's nothing more than the ghost of herself when she was at her best, before the incident that left her scarred and broken.
About the Author:Echo Shea is an Urban Fantasy writer. Known for fast-paced and sometimes chilling prose, she hunkers down at her desk with characters that not only enchant, but excite her. There's something so freeing about writing beyond what seems possible.
Who says there's not something more hiding in these Maryland woods?
Website ~ Blog ~ Facebook ~ Twitter ~ Facebook Author Page ~ Pinterest ~ Smashwords Author Page ~ Goodreads Author Page
Buy the book at  
Roane Publishing
Amazon
Amazon (UK)
a Rafflecopter giveaway