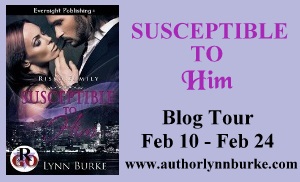 This post is part of virtual book tour organized by the author. One randomly chosen winner will receive an ecopy of
Susceptible to Him
, Heart Wine Charms, and a $10 Amazon Gift Card via Rafflecopter. Click on the tour banner to see the other stops on the tour.
Letter from author Lynn Burke, to her Main Character, Lia Risso
Lia,
One day you whispered in my brain, and although I'd never written contemporary romance, I took up my pen and scribbled your dictated words onto paper. You came to life in that first scene, and I adored you—your no-nonsense sass. Your Italian temper. Your love for your family. Seems strange, but it was as if I'd known you my whole life, and we 'clicked.'
Ryan Walsh is a lucky man to have found you. Or rather, that your best friend set the two of you up on Valentine's Day. Speaking of Gwen, I understand her desire to set you free from the hauntings of your past and the a$$hole ex-fiance who broke your heart. On Valentine's Day. Finding a friend in life such as her is rare.
And on the Ryan front…and what a mighty fine front *clears throat* and back he has…the boy has baggage same as you. Walls. Reservations. While scaling and knocking down some of those will come easy, some of the heavier burdens will not. My advice is communicate your feelings, and listen to his. Encourage and love unconditional. These two things are the most important in making a relationship last.
Thank you for introducing me to your three brothers. I'm looking forward to getting to know them better. While I scribble down their own stories, I hope you'll stop in on occasion to let me know how things are going with you and Ryan.
Finally, best of luck! Looking forward to chatting with you again soon.
Sincerely,
Lynn Burke
Lia Risso walked in on her fiancé and three other women on Valentine's Day. Two celibate years later, her roommate creates a profile for Lia on a dating website—without her knowledge—and sets up a date. On Valentine's Day.

Ryan Walsh, a self-made millionaire and libertine, refuses to commit to any one woman. Tossed from foster home to foster home as a child, Ryan is on guard against becoming vulnerable ever again.

One dinner…one night of dancing and flirting with the attraction between them, puts both Lia and Ryan in danger of heart break.

They have a choice—open themselves to the possibility of hurt or walk away, never knowing what might have been.
Enjoy an excerpt:
My nerve endings stirred as the subtle scent of sandalwood wafted across the table time and again. What man used sandalwood-scented soap anymore? By the cut of his suit and the Rolex on his wrist, Ryan Walsh had money. And plenty of it. Why no expensive cologne? The chick-lure nectar of the gods his type bathed in?
He grinned again, and heat filled the empty place only Mr. Pink had seen or stroked in two years. Ryan's attention drifted to my lips and lingered as our waiter took his time pouring our wine.
I forced myself to breathe as my treasonous nipples pebbled, begging for attention.
Damnation. I do not want this.
He was too friggin' sexy for his own good. And by his suggestive grin and the twinkle in his eyes, he knew it too.
"Are you ready to order, Lia?" Ryan asked, his focus staying on my face instead of dipping downward like most men's did.
Praying my voice didn't betray my arousal, I turned my attention the waiter. "I'll have the shrimp Fra Diavlo."
"And for you, sir?"
Ryan spouted off a few words in Italian, never once breaking eye contact with me.
My lips twitched. Papa would be impressed.
When the waiter ambled away, a smile—a real smile, not the cocky, you-know-you-want-me ones he had offered until then—revealed straight, white teeth. "So."
His low voice caressed my ears, and I pressed my thighs together. Thank God I hadn't shaved. No doubt he had little trouble getting women into his bed. Or their bed. Or against a wall.
Holy shit.
About the Author: Lynn Burke is a full time mother, voracious gardener, and scribbler of spicy romance stories. A country bumpkin turned Bay Stater, she enjoys her chowdah and Dunkin Donuts when not trying to escape the reality of city life.
Her current work, the Risso Family Novellas, revolves around four siblings from Boston's North End.
Website | Facebook | Twitter | Goodreads
Buy the book at Amazon.