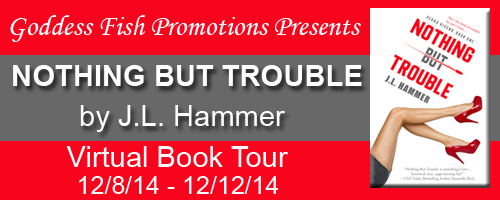 This post is part of a virtual book tour organized by
Goddess Fish Promotions
. The author will be awarding a $10 Amazon or B/N GC to a randomly drawn winner via rafflecopter during the tour. Click on the tour banner to see the other stops on the tour.
Let's get the lowdown on the research for NOTHING BUT TROUBLE by J.L. Hammer
As an author I'm often asked how I research my novels. Every book is different; some settings and topics I can only research online while others I get to experience firsthand. In NOTHING BUT TROUBLE (Vegas Vixens series) my heroine Frankie works at a gentlemen's club in Las Vegas. I wanted it to feel authentic so I decided to apply for a night job, and I happened to get a position waiting tables at a very naughty club. I smelled like coconut for a month, and the tips were great. Okay, I'm kidding. No way would I work at a gentlemen's club. I'd do a face plant just trying to walk in stilettos.
The Internet is an amazing tool and an author's best friend in the research department. You can go almost anywhere from the safety of your own office. YouTube videos and reviews from magazines aimed toward male readers gave me the inside scoop that I needed on the down and dirty of gentlemen's clubs. As a mother of two teenagers, I had to do this on the sly. The last thing I wanted was for my fifteen-year-old son to ask me why I was watching pole dancing.
Now, when I started writing NOTHING BUT TROUBLE I actually was on vacation in Dolores, Colorado, the town where Frankie meets Sheriff Wes Malone. I fell in love with the area and had to capture it in a novel. While I was camping with my family, a thunderstorm struck, rattled our 5th wheel, and rain pounded on our aluminum roof. I used that experience (and how freaked out I was) and placed my heroine in a thunderstorm that left her stranded in Dolores. In reality I was stuck in a 5th wheel with a husband, two kids, and a nervous dog. Frankie gets handcuffed by a sexy sheriff who's dripping wet only wearing a towel. Hmmm. Aren't romance novels just what us girls need?
With an angry loan shark hot on her heels, Frankie Delenski flees a Vegas gentlemen's club with one thought in mind: hide before she's nothing more than a chalk outline. Now on the run…she finds herself stranded in a sleepy Colorado town during a storm. Her only salvation becomes the suspicious and gorgeous deputy sheriff determined to arrest her…

From the get-go, Wes Malone must restrain his lust for this stunning, unpredictable woman in a sequined bra and rely on his instincts as a cop. As he sifts through the haze of lies, the truth about her predicament is like a sucker punch to the gut. She's in serious danger and getting involved with her means nothing but sweet, irresistible trouble…
Enjoy an excerpt:
She took a moment to study the virile man before her. The strippers worked their clients into a mouth-drooling frenzy by a few shakes of their hips and a little lip-gnawing. If Frankie could work her charms on Deputy Malone, he would be at her beck and call. A strange thrill zinged through her.
With a sexy strut, she approached, giving him her best heated look. She brushed the tips of her polished nails across his chest. Hopefully, he hadn't noticed the mud smeared across her hands or her missing pinky nail. His dark brows lifted and his expression was…amused.
Determination squared Frankie's shoulders. With a thrust, she pushed out her well-padded female attributes.
"Can't we just forget about all this? Couldn't you just help me get my car out of the ditch and then let me go on my way?"
She tried to purr, but it sounded more like she needed a throat lozenge.
"Are you hungry?" he asked.
About the Author: J.L. Hammer is a California girl and enjoys the small-town life with her husband and two children. She loves to write fast-paced novels filled with suspense, romantic tension, and gripping action. She is a member of the International Thriller Writers and the Romance Writers of America. When she isn't writing or lost in the pages of a good book, she loves to travel. Some of her favorite places are France, the U.K., Fiji, the big island of Hawaii, and New Zealand.
Buy the book at the publisher
Website | Twitter | Facebook