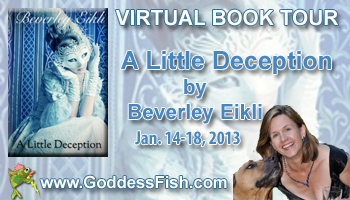 This post is part of a virtual book tour organized by Goddess Fish Promotions. Beverley will be awarding an e-copy of her backlist – Lady Sarah's Redemption or Lady Farquhar's Butterfly at each stop plus one randomly drawn commenter during the tour will be awarded a $25 Amazon Gift card. Click on the tour banner above to see the other stops on the tour.
Lessons I learned from my Villains
By Beverley EikliA truly villainous villain is the icing on the cake when I'm in the mood to read "that" kind of story. Of course I love to see virtue triumph over evil, but only after I've been taken on a page-turning roller-coaster ride through the story's seamier side before bursting out into the sunshine to enjoy the final 'Aaaw' Happy Ever After.
So, now that you know my position regarding villains, I'd like to say hello, everyone, and thank you Long and Short Reviews for having me here, today. I write Historical Romantic Intrigues as Beverley Eikli and erotic Romance as Beverley Oakley and my seven books are published by a variety of publishers. Most contain a villain or two and either a mystery to solve or a rollicking adventure that sweeps up the heroine. It's really only the heat level that distinguishes my Oakley and Eikli books from each other.
Today I'd like to talk about my Regency Romantic Intrigue, A Little Deception. It was shortlisted for a 2011 Australian Romance Readers Award, however, after I got my rights back a short while ago I rewrote and edited it. I even changed the ending so the villain gets what she really deserves.
Talking of being shortlisted, to my utter delight, I woke up on Friday to the news that my raunchy Regency Romp, Rake's Honour (under my Beverley Oakley name) has been shortlisted for a 2012 Australian Romance Readers' Award in the historical section. I have no expectation of winning. It's enough to be named up there with some of my favourite authors like Anna Campbell, Sophia James, Lucinda Brant and Alison Stuart.
So, that's two years running I've been shortlisted with two very different books – except that both have utterly repugnant villains.
In Rake's Honour it's Lord Slyther, the foul-breathed, wart-covered and gout-ridden suitor of my feisty heroine, Fanny. Believe me, the prospect of a lifetime of Lord Slyther is a strong incentive for Fanny to take risks a carefully nurtured heroine wouldn't normally consider.
In A Little Deception my villain is Helena, the exquisitely beautiful, vengeful sister-in-law of my proud and determined heroine, Rose. Helena has, both literally and metaphorically, an axe to grind as she rails over the unfairness of life. She's married to Rose's brother who's a complete milksop – albeit besotted – so when Helena sees Rose achieve happiness after accidentally tricking the rakish hero, Lord Rampton, into marriage while pretending to be her married sister-in-law, Helena, the fur flies.
Rose's charade is completely justified since Helena gambled away the family fortune and was stoned on opium the night she was supposed to petition gorgeous Lord Rampton for more time to pay the debt. So when Rampton decides to rescue the inevitably bored and unsatisfied 'Lady' Rampton (who, of course, is actually virginal Miss Rose Chesterfield) with some artful seduction, he gets more than he bargained for.
Anyway, let's just say that Helena is less than delighted at the turn of affairs. Especially after Lord Rampton turns out to be even more besotted with his new bride than Charles is with Helena. This is when Helena really steps into the role of villainess as she devises ever more ingenious – and totally ruthless – ways of blackening Rose's name in the eyes of her husband and the world.
I think the biggest lesson my villains have taught me is that life's too short to not experience the fun of creating at least one dastardly villain in one's literary history.
Of course, just as every romance has to have a Happy Ever After, there must be a balance between good and evil. Redemption is a theme that runs through many of my books but usually it's the redemption of the hero or heroine rather than the villain.
I know it can sometimes appear that I'm more in love with my villains than my hero or heroine but by the end of my story everyone gets exactly what they deserve. I've been dishing out justice since I was a gap-toothed seven-year-old entertaining my younger sisters with readings from The School for Witches, the first book I ever penned. No television at our beach cottage in South Australia meant the long summer holidays were spent reading and playing games of Beetle.
I guess you could say A Little Deception is a legacy of those happy, long-ago times.
Thank you for dropping by. If you have a favourite villain in literature, I'd love to hear who, and why.
About the Author: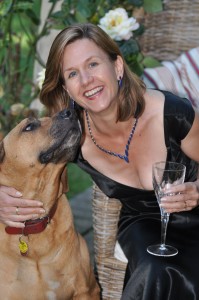 Beverley Oakley wrote her first romance when she was seventeen. However, drowning the heroine on the last page (p550!) was, she discovered, not in the spirit of the genre so her romance-writing career ground to a halt and she became a journalist.
After throwing in her secure job on South Australia's metropolitan daily The Advertiser to manage a luxury safari lodge in the Okavango Delta, in Botswana, Beverley discovered a new world of romance and adventure in a thatched cottage in the middle of a mopane forest with the handsome Norwegian bush pilot she met around a camp fire.
Eighteen years later, after exploring the world in the back of Cessna 404s and CASA 212s as an airborne geophysical survey operator during low-level sorties over the French Guyanese jungle and Greenland's ice cap, Beverley is back in Australia living a more conventional life with her husband and two daughters in a pretty country town an hour north of Melbourne. She writes Regency Historical Intrigue as Beverley Eikli and erotic historicals as Beverley Oakley.
Buy A Little Deception – http://www.amazon.com/A-Little-Deception-ebook/dp/B009HKKCKM/ref=tmm_kin_title_0
Website: http://www.beverleyoakley.com/Beverley_Oakley/Welcome.html
Amazon Profile: http://www.amazon.com/Beverley-Eikli/e/B0034Q44E0/ref=ntt_athr_dp_pel_1
Facebook: https://www.facebook.com/beverley.eikli
Twitter: @BeverleyOakley.com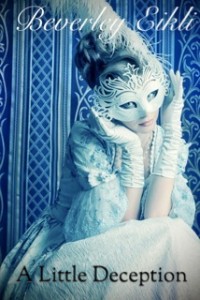 A one-night charade to save the family sugar plantation wins loyal and determined Rose Chesterfield more than she bargained for – marriage to the deliciously notorious rake, Viscount Rampton.

"A love match!" proclaims London's catch of the season who happily admits he has been hoist on his own petard.

But when his new wife is implicated in the theft of several diamond necklaces he wonders if her deception goes beyond trapping him into marriage. Is she the innocent she claims, or a scheming fortune hunter with a penchant for money, mischief and men?