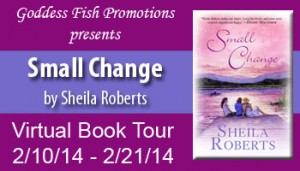 This post is part of a virtual book tour organized by
Goddess Fish Promotions
. Sheila will be awarding a copy of Small Change and a $25 Visa gift card to a randomly drawn commenter during the tour (US ONLY). Click on the tour banner to see the other stops on the tour.
Lessons I learned from my heroines
The three friends in my book SMALL CHANGE have problems. Money problems. Well, and love problems, too. These women have a lot to learn about money… and love. And in writing their stories I found there was a lot I could learn.
From Rachel I learned that parental guilt spending is not a healthy pursuit. Rachel is divorced and on a tight budget. Still, it's so hard to say no when her kids ask for money or a treat. Her rotten ex-husband always seems to come up with money to make visits to him fun while here she is at home trying to make her salary and child support money stretch and feeling like a meanie every time she has to say no. Have you ever been motivated by parental guilt to spend money you shouldn't? I think we all have at some time or other. But as I wrote Rachel's story this truth was reinforced to me: love is about more than giving people things, it's about what we give of ourselves, the time we spend and what we do together that really counts.
Tiffany is probably my favorite character. She's a shopaholic, and I can identity with her more than I like to admit. Tiffany has trouble resisting a sale. And spending gives her a buzz. (Can anyone identify with that?) It also makes up for the void left in her life after she lost a baby. But all this spending isn't helping the family budget. And it sure isn't helping her relationship with her husband. Ah, it's so easy to rationalize buying those goodies. I know. I can find a reason to buy anything. I know we'll use this a lot … My closet needs updating … I'd be crazy not to get this while it's on sale. I wonder where Tiffany got these ideas. Oh, yeah. Me. I've always been the queen of the rationalizers when it comes to spending money. But, as with Tiffany, my spending habits got out of control and I had to reel myself in. Tiffany is going to learn that a bargain is not a bargain if you can't afford it. And that's something I remind myself a lot these days.
From Jess I learned that a girl should never give up on her dreams. Jess's whole life turns sideways when her husband's job at the bank dries up. She never entered the work force before and even sticking a toe in the water is terrifying. But Jess finds a way to make a little extra money and make her dreams come true.
From all three women I learned that girlfriend power is the best tool for dealing with life's problems. Just as my three characters banded together to help each other through their financial and romantic crises, my girlfriends and I have helped support each other in making life changes. It's so much easier to resist pulling out your charge card and spending like you're in Congress when you have a girlfriend alongside you asking, "Is this in your budget?"
One last thing my characters taught me: when you make enough small changes in your life they can add up to a big difference. We can set goals and achieve them, and the best way to get from here to there is one step at a time.
I hope, if you read this book and there are some life changes you need to make that Rachel, Tiffany, and Jess will inspire you to make the kind of lifestyle changes that will add up to a big difference.
About the Author: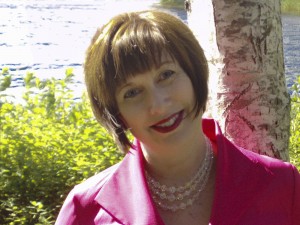 Sheila Roberts lives in the Pacific Northwest. She's happily married and has three children.
Writing since 1989, Sheila's books have been printed in several different languages and have been chosen for book clubs such as Doubleday as well as for Readers Digest Condensed books. Her best-selling novel ON STRIKE FOR CHRISTMAS was made into a movie and appeared on the Lifetime Movie Network, and her novel THE NINE LIVES OF CHRISTMAS has just been optioned for film. Her novel ANGEL LANE was named one of Amazon's Top Ten Romances for 2009.
When she's not making public appearances or playing with her friends, she can be found writing about those things near and dear to women's hearts: family, friends, and chocolate.
website: http://www.sheilasplace.com
find me on Facebook as Sheila Roberts, author
Twitter: _Sheila_Roberts
Take a trip to the charming little town of Heart Lake, and meet three best friends you'll never forget. . . .

Rachel, Jessica, and Tiffany have major money problems. Tiffany's whipped out the plastic one too many times, and now a mountain of debt has come crashing down on her. Jessica's husband has lost his job, thrusting this longtime stay-at-home mom out into the cold, cruel workforce. And Rachel's divorce transformed her from an upper-middle-class mom to a strapped-for-cash divorcée. So the three women start a financial support group called the Small Change Club—vowing to bring balance back to their checkbooks…and, in turn, their lives. Along the way they learn some valuable lessons—that friendship is an investment that keeps on growing and that sometimes love, like a loose coin, can be found in the most unexpected places…

"Roberts's trademark humor and memorable characters wrestling with real-life issues add up to a novel that will make readers smile and wish for more."—BookPage
Buy the book at Amazon.