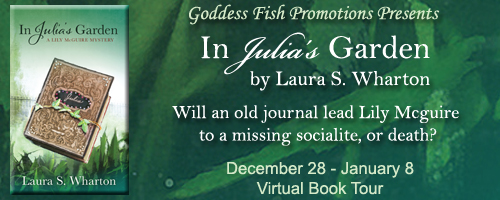 This post is part of a virtual book tour organized by
Goddess Fish Promotions
. Laura Wharton will be awarding a copy of In Julia's Garden (U.S.) to a randomly drawn winner via rafflecopter during the tour. Click on the tour banner to see the other stops on the tour.
Laura S. Wharton on Character Creation
Characters can make or break a story. That's why it's crucial for writers to develop believable, fallible, realistic characters for readers to love—or hate. In the case of my newest mystery,
In Julia's Garden
, I created Lily McGuire, my leading lady, as a snarky middle-aged professional with a serious chip on her shoulder. She has her faults (not too trusting of men, misanthropic, oh, and did I mention snarky?), but she has strengths, too. She cares deeply about what she does, and as the story progresses, she realizes that it's okay to be ask someone—a man, no less—for help. She sees that staying closed off to others is keeping her stagnant both in her job and life. And Lily learns to let go (at least a little bit) of the bitterness she justifiably feels toward her ex-husband so she can make room for the good in her life…and possibly a new love interest.
On the flip side of the character coin is Ignatious Pell, the bad boy of my first novel, The Pirate's Bastard. Ignatious Pell was the first mate of the pirate Stede Bonnet. He knows Stede's secrets. Long after Stede is captured and eventually killed in Charleston, Pell seeks out Stede's bastard son and threatens him with blackmail based on his dead pirate father's secrets. Readers often write me to tell me they loved him—or rather, loved to hate him best of all because he is so cunning. He's also compassionate, and has his failings that make him real.
One of the most important aspects of character development is deciding how the characters will grow over the course or the story. Some of the growth I can plan for through outlining plots. Other times, the characters take over and "become" who they are supposed to be. I've had male characters become females, and they are stronger that way. Who knows how Lily will grow over the life of this new Lily McGuire series? Not me! (At least not yet.)
Lily McGuire has her plants and her work as a landscape architect. What she doesn't have (a man to date or an adventure to have) is just fine with her, thank you very much. Yet her world turns as chaotic as the grand old mansion's garden she is restoring when a stranger presents her with the gardening journal of a 1940s socialite-gone-missing. Snarky and somewhat misanthropic, Lily must search its pages for clues to the young beauty's disappearance and a potentially deadly mystery, despite the warning that she should tread carefully: the journal was the cause of Lily's best friend's death.
Enjoy an excerpt:
"Why did you use the word, 'kill'?"
"Huh?" Jack leaned forward and put his arms on my desk.
"You said you didn't think there was anything in here worth killing for. Macy wasn't killed, Jack. She died of a heart attack, according to Dr. Tesh. Mr. Evans used the word, 'die'…you are the only one who used the word, 'kill.' Why?"
"Didn't you know? Julia Norton vanished. Her disappearance was never solved, and she was presumed dead. I got curious and perhaps a little nervous for you when I thought you might have something that could have led to Julia's disappearance and possibly to Macy's death. As I said, though, I didn't find anything mysterious or titillating in there." Jack pushed himself out of the chair and walked to the door.
"Jack, how do you know Julia Norton went missing?"
"I researched it online," he responded, pointing at my computer. "It's all there: archived newspaper stories and a page or two from a magazine featuring a socialite's column about her. That's what I was doing this morning. I was researching. Seems Julia was a popular young lady. Very popular. She came from a good family whose fortunes dwindled during the Great Depression. When the war began, her family did what it could for the war effort, and her father was rewarded handsomely by the city of Columbia for his ability to put people back to work making parts for airplanes. As the war came to a close, the family's finances stabilized, but Julia went into a tailspin over something. One article said she began turning down invitations to big parties after the boys came home. Another reported that rumors about a secret marriage made her go into hiding. Anyway, there wasn't anything about that in the journal. Just notes about parties when she was young, plants she liked…stuff like that was in the pages that I did manage to get through. Like I said, I couldn't keep my eyes open for the whole thing." Jack stood up and slung his backpack over his shoulder. "I don't think there's anything to worry about, Lily. Anyway, I've got your back, just in case."
About the Author:
Referred to as the American P.D. James, Laura S. Wharton is the author of sea adventure/suspense/mystery novels for adults and mysteries for children. Award-winning adult titles include Deceived: A Sam McClellan Tale, The Pirate's Bastard, and Leaving Lukens. Wharton also is the author of four mysteries for children, including the popular award-winning Mystery at the Lake House series, and others. Most of her books involve adventure, fun, a little history, and sailboats. (She is a recovering sailor who could backslide at any moment!)
Buy the book for only $0.99 Amazon.