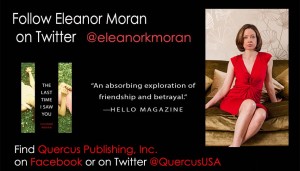 This post is part of a virtual book tour organized by
Quercus Publishing
.
Leave a comment for a chance to win a print copy of the book.
Do you ever suffer from writer's block? If so, what do you do about it?
I often indulge writer's block in the first half of a book. I start wondering why anyone ever paid me for a book, stuffing chocolate, watching The Good Wife on playback and feeling desperately guilty.
Then I realize how soon it is I have to deliver, and it's like Clarke Kent going into the phone booth. I write like a maniac, 1000 words a day, 6 days a week, and then, miraculously there's a draft.
There are a couple of things I do when I'm groaning about finding the muse. Alexandra Solokoff has a great blog and e-book about writing, Screenwriting Tips for Authors, and I find her incredibly concise and focusing. She recommends thinking about the characters who haunt you, and why they haunt you. This often makes me go back to books I love, like The Time Traveler Wife or The Girls Guide to Hunting and Fishing, to connect with wonderfully written, complex characters.
What is the most embarrassing thing your mother ever did to you?
My mum always dressed me in thrift store clothes, long before vintage became slang for cool. I was the schoolgirl fashion forgot. She'd also turn up to school in T-shirts saying things like "Nuclear Power No Thanks" and I'd cringe! I love her dearly.
What is one thing your readers would be most surprised to learn about you?
Quite how many self help books I've read? I love uber coach Martha Beck's work. I adore Brene Brown, her Ted talk on The Power of Vulnerability was a game changer for me. Tosha Silver, a crazy, brilliant astrologer lady in San Francisco. If I lived in the US again (I lived briefly in LA) I'd never get any work done!
What's the weirdest thing you've ever done in the name of research?
I spoke to a US cop about the protocol around suspected vehicular suicide and exhuming bodies for this book. I felt quite creeped out! I'm also a TV drama executive, and I've sat in on a murder trial for a legal show I made, Lawless. Seeing the accused in the dock gave me nightmares.
If you were stranded on a desert island and were only allowed to have five modern conveniences with you, what would they be?
my Ipad – if I could have my Entertainment Weekly app I'd be happy. It's like my 5th limb. I'd have to have a kettle – I drink way too much tea. Am I allowed a phone? These are BORING! A bookshelf full of books I love – Rebecca, Eat, Pray, Love. A fridge, so I could have a cool glass of white wine.
When Olivia Berrington gets the call to tell her that her best friend from college has been killed in a car crash in New York, her life is turned upside down. Her relationship with Sally was an exhilarating roller coaster, until a shocking betrayal drove them apart. But if Sally really had turned her back, why is her little girl named after Olivia?

As questions mount about the fatal accident, Olivia is forced to go back and unravel their tangled history. But as Sally's secrets start to spill out, Olivia's left asking herself if the past is best kept buried.
About the Author: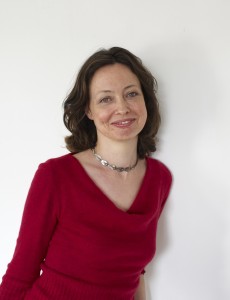 Eleanor Moran is the author of three previous novels: Stick or Twist, Mr Almost Right and Breakfast in Bed, which is currently being developed for television. Eleanor also works as a television drama executive and her TV credits includeRome, MI5, Spooks, Being Human and a biopic of Enid Blyton, Enid, starring Helena Bonham Carter. Eleanor grew up in North London, where she still lives.
Social Media Links:
Twitter: @EleanorKMoran
Eleanor Moran's Website: http://www.eleanormoran.co.uk/
Facebook: https://www.facebook.com/EleanorMoranBooks