Enter the Rafflecopter below for your chance to win a $100 Amazon/BN GC and more!
Leave a comment on THIS POST for a chance to win an additional prize – a digital copy of THE PREDICATES OF FATE
The Predicates of Fate: Robots and Time Travel Make for a Quick Summer Read
Ah, summer. The time when you just want to grab a fun book for a quick beach read. There's nothing like sitting outdoors with a cool drink and a great story. The main character in my book, "The Predicates of Fate", starts off just like that (except a crossword puzzle is his diversion of choice) when he's suddenly confronted by some nasty aliens and a rift in time.
One of the joys of the written word is its ability to take you away to wonderful new worlds where imagination is limitless. My debut novel fits that mold: it has time travel, space ships, robot uprisings, distant worlds, martial arts and swordplay. And jokes. Don't forget the jokes.
I wrote this book to be something that would have entertained me; it's the kind of science fiction book I would have loved…had I not written it myself. Among the points going for it:
Not very long
Not very expensive (i.e., it's cheap!)
Fast-paced with lots of action
Contains some big sci-fi ideas
As a life-long sci-fi fan, I wrote the book both as an entry into the genre I love but also as somewhat of a parody, purposefully using many of the tropes commonly seen in speculative fiction, but not in a mean way. I poke fun lovingly.
So if you find yourself at the beach this summer with a hole in your reading schedule, give "The Predicates of Fate" a shot. Just like our main character, you'll be thrust into a future robot war. Figuratively, of course. I hope.
"The Predicates of Fate" is sure to thrill and amuse fans of adventure sci-fi comedy like Red Dwarf, Futurama and The Hitchhiker's Guide to the Galaxy.
Get it today from:
A journey through space and time forces a gang of outcasts to stop an evil robot plan to annihilate all sentient life in the galaxy. Along the way, they inadvertently stumble upon the secret nature of time and destiny…or do they?
About the Author: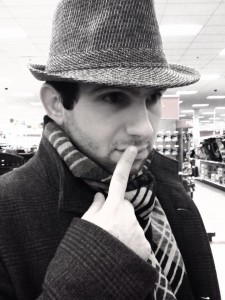 V.A. Hezaran lives outside Montreal, Quebec, Canada, with his wife and dog, and holds a bachelor's degree in Computer Engineering from McGill University. In his 33 years on this planet, he has absorbed an inordinate amount of sci fi, both good and bad, and decided to give it a shot himself.
When not reading, or watching TV or movies ranging in quality from the truly excellent to the highly dubious, he enjoys exploring science fiction and fantasy worlds of his own devising, of which there are many more to come.
Publisher ~ Blog ~ Facebook ~ Twitter