Enter the Rafflecopter below for your chance to win a $100 Amazon/BN GC and more!
Leave a comment on THIS POST for a chance to win an additional prize – A digital copy of Gypsy Witch
This scene takes place at the Sacramento Sheriff's Department annual summer picnic.
An impromptu softball game had started, and Ben could see that both their kids, Gina and Tom, were playing. He could also see that the division chiefs were supervising.
"Wait here," Elena said, walking over to the softball diamond. Ben watched the sway of her lush hips while trying to calm his mind. An uncomfortable silence fell between the two men as she talked with a couple of the parents.
She came back and reported, "We're golden for at least two hours. Detective Ramos and her husband said that they'd watch the kids until four." She looked from face to face, grinning. "So how about it?"
Ben shifted from one foot to the other. The idea of sharing Elena still bothered him, but this was Jake, who'd been his friend for years. They'd partnered when Polly was alive—after she'd been shot, Ben had taken a leave of absence and Jake had been reassigned. Otherwise they'd still be partners, he reckoned. They'd always gotten along. But they'd never shared the same woman. The closest they'd come to something like that was going to the same titty bar.
He eyed Jake, then Elena. They wore identical shit-eating grins.
"Okay, I guess. What do we do first?"
"My house is closest," Elena said, laughing. She bounced across the lawn to Jake's car, hips swinging, tits jumping, hair flying. Sexual energy jumped off her like popcorn in a microwave.
The men followed at a slower pace. Jake asked Ben, "Does she happen to be on the Pill?"
"Oh, yeah. Nothing to worry about."
Jake closed his eyes and looked ecstatic. "Have I died and gone to heaven?"
Ben laughed. "Maybe. Uh, by the way, I know you see a lot of women… Have you been tested lately?"
"Oh, for sure. I test regularly. Nothing to worry about over here."
After opening the passenger side door for Elena, Jake jumped into the driver's seat without bothering to open the driver's door of the convertible. He peeled out of the parking lot with a screech of tires. Ben slouched in the back seat. "Jeez, keep it quieter. Do you want the entire sheriff's department knowing what we're doing?"
"Who cares?" Elena asked breezily.
"If anything, they're envious. What would you rather be doing—playing softball or fucking the sexiest woman in Sacramento?" Jake asked.
Elena grinned at Jake, acknowledging the compliment, then turned to shift her attention to Ben. "I'm gonna bang your brains out, big boy. You're gonna regret you ever broke up with me, and one other thing…" She leaned closer. "You're never gonna do it again."
Ben felt his eyes widen. This sounded dangerously close to commitment.
She leaned back. "Not until I say so. It ain't over until I say it's over. Get the picture?"
Jake whistled through his teeth as he parked outside Elena's cottage. "The lady's getting feisty."
She got out of the car and Ben quickly followed, taking the opportunity to slap Elena's rump. "Yeah, and I know just what to do about that."
She giggled as she ran up the path, jumped over the stairs to the porch and unlocked the door.
Inside, the cottage was unlit and dim. Ben grabbed her and hustled her into her bedroom while Jake followed. Once there, both men started ripping at her clothes. Jake knelt to unbutton her denim shorts while Ben pulled her tie-dyed T-shirt over her head, revealing a leopard-print bra. He deftly unsnapped the center catch, and her breasts bounced free. Her big, dark areolas crinkled in the cottage's cooler air, the nipples pointing.
He tumbled her onto the bed and nested his face between her lush mounds, feeling as though he'd been away from home for a long, long time. Too damn long, and at that moment he knew with certainty that he had to do something…anything…everything to keep Elena in his life.
The Sacramento Sheriff's Department is no place for airy-fairy wimps, and Ben McCullough is the toughest of the tough. He tells himself he's bedding luscious Elena Lautari only because she's a babe, not because she's a card-carrying member of the Northern California Church of Wicca. Ben thinks she's a feather away from an arrest for fraud, since she makes a living telling fortunes and making charms for the lovelorn. He can't see her as a lifelong mate even though she's more than a match for him in the sack, and losing her is unthinkable.

But Elena is the real deal, a modern witch of much power and even more restraint. When her daughter, Gina, steals her mother's spell book and uses it to shatter the fabric of existence and release an ancient evil, Elena must put reality back in place—even if she loses Ben in the process.

Will Ben and Elena's fragile love be lost with the revelation of her magic?

Maybe, but there are others ready to heal her battered heart. When Ben's partner attempts to claim Elena, will Ben move aside or move in?
About the Author: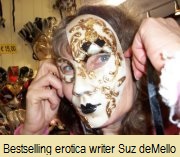 Best-selling, award-winning author Suz deMello, a.k.a Sue Swift, has written seventeen romance novels in several subgenres, including erotica, comedy, historical, paranormal, mystery and suspense, plus a number of short stories and non-fiction articles on writing. A freelance editor, she's held the positions of managing editor and senior editor, working for such firms Total-E-Bound, Liquid Silver Books and Ai Press. She also takes private clients.
Her books have been favorably reviewed in Publishers Weekly, Kirkus and Booklist, won a contest or two, attained the finals of the RITA and hit several bestseller lists.
A former trial attorney, her passion is world travel. She's left the US over a dozen times, including lengthy stints working overseas. She's now writing a vampire tale and planning her next trip.
–Find her books at http://www.suzdemello.com
–For editing services, email her at suzdemello@gmail.com
–Befriend her on http://www.suzdemello.com and visit her group page
–She tweets her reading picks @ReadThis4fun and @Suzdemello
—Pinterest
—Goodreads
— Her current blog
Buy the book at Ellora's Cave.