Enter the Rafflecopter below for your chance to win a $100 Amazon/BN GC and more!
Leave a comment on THIS POST for a chance to win an additional prize – 2 readers will receive their choice of Waiting for Rain or Saving Alexander.
Memories of Summer
I remember when I was a kid, and summer to me meant long days spent by the pool, in the dry South African heat. We were fortunate enough to have our own swimming pool, one that my dad religiously had to clean every weekend. It was also part of this religion to catch him unawares and ensure that one of his three daughters managed to push him into said pool as he walked around it with his long pool cleaner brush. It got to the stage where he would expect it and urge us to get it over and done with. He was such a sport about it.
Summer was bathing suits, flip flops, lots of sun screen as the African heat was pretty dangerous as is any direct sunshine if exposed too much, and ice cream, a drink called a Brown Cow which was Coke and milk mixed together (I know, sounds awful, but so delicious when it's hot) or a Coke Float, which was Coke with ice cream on top. Superb. It was lazy days spent doing nothing but splashing around, playing volleyball, showing off what we had to the young lads in the neighbourhood and having a good time.
South African summers were long, bright, hot days, warm, sultry nights and what we called 'braais' and what everyone else calls BBQ's. It was much the same thing – a man standing over hot coals turning meat into charcoaled, sometimes burnt, offerings, cold salads, jacket potatoes and ice cold beer or wine. It was putting the stereo on loud, belting out the 70's and 80's songs that made my childhood so memorable and dancing around the pool side, slightly inebriated, before falling into the crisp, cool water and doing a few lengths just to show people you were fine, you could do it.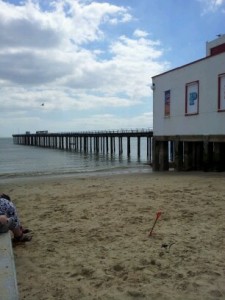 I have really good memories of those times and while now my summers in England might be less warm, certainly don't have the swimming pool and are few and far between to what they used to be due to the capricious nature of the English weather, I still think summer is one of my favourite times. Where I am we have the sea, the cold North Sea admittedly, but only fifteen minutes away and I can get to see the waves crashing onto the pebbled beach. I can walk the beaches, play arcade games on the old, majestic piers jutting out into the ocean and eat pickled shrimp and whelks from a side stall van. I can also man watch. Especially in London- where you can see gorgeous guys of all types and looks walking around in tight tee shirts, miniscule shorts and sunglasses that make them look all mysterious. Ahhh, summer. Bring- It -On
Punishing himself for a horrific past that is not his fault, bestselling author Alexander Montgomery seeks redemption and love—and perhaps he will find it.

Famous author though he may be, Alexander Montgomery is not someone you take home to meet your mother. Seriously flawed, damaged by a horrific past, he's trying hard to claw his way back to normality. But how can anyone respect what he truly is? His therapy involves regular sessions at Study in Scarlet, an exclusive S&M club.

Then comes Sage. Tall, with black hair and blue eyes, an up-and-coming actor with impossible charm and boy-next-door good looks, he's the perfect choice to play the leading man in a TV adaptation of Alex's latest best-seller. Even more, he is a man you introduce to your family. Which Alex would do—if he weren't taken by another man who offers the punishments Alex prays will wipe away the past and make him the person he wants to be. Yet, perhaps there is another path to redemption. If only the solution would reach out and touch him.
About the Author: Susan Mac Nicol was born in Leeds, Yorkshire, in the United Kingdom. At the age of eight, her family moved to Johannesburg, South Africa, where she stayed for nearly thirty years before arriving back in the UK in December 2000. The first year Sue was back in the UK, it snowed on her birthday, as it did the day she was born in 19*coughs* and she swears this was England welcoming her back.
Sue's career has mostly been in the financial services area and she specialises in what she calls 'boring' compliance and regulatory work. That's why she escapes into the world of writing and fantasy where she chats to her characters ad nauseum and is overjoyed when they reply. It beats the monotony of legalese, contracts and legislation and let's face it, writing hot scenes between men can only be rewarding.
Sue is a PAN member of Romance Writers of America and is a member of the Romantic Novelists Association in the UK. She is also a member of a rather unique writing group called the Talliston Writers Circle, whose 'creator' is a man who is both a Bard and a Shaman. It makes for a really interesting evening and dinner conversation. She lives in the quaint village of Bocking in Essex, set in the countryside and not far from the sea should she get the yen to eat oysters.
Website ~ Blog ~ Facebook ~ Twitter
Buy the book at
Amazon