Enter the Rafflecopter below for your chance to win a $100 Amazon/BN GC and more!
Leave a comment on THIS POST for a chance to win an additional prize -A digital copy of Lord Devere's Ward by Sue Swift.
From Lord Devere's Ward by Sue Swift
The afternoon warmth heated Kate's skin where her bonnet did not shade her. The thin, low-cut muslin dress did little to protect her shoulders from the brilliant summer sunshine. She dashed through the maze at Hampton Court, laughing and breathless as she eluded the rest of the party. Quinn had promised a special prize for whoever reached the center of the maze first. Whatever you want, he had said, winking at Pauline when she wanted to know what the surprise would be. Kate was determined to be the recipient of the treat.
She wondered if she would dare to demand a kiss from Quinn.
Extending her left hand, she kept touching the side of the hedge. She had read that if the searcher kept to the left, always to the left, she or he would inevitably reach the center of the maze.
…
Quinn, armed in advance with a plan of the maze, now waited in the center for his quarry. Having seen the determined glint in his Kate's eyes, he knew she would find her way to the heart of the maze first.
He sat on a stone bench and wondered what she'd ask of him. He counted himself fortunate that Fashion now favored loose trousers rather than skin-tight, knitted pantaloons. The clear evidence of his emotions at the picnic had been disguised by his pants.
Kate had been subtly but outrageously flirtatious the entire day. Her pink sprigged muslin appeared to be worn over dampened, clinging petticoats. She met his eyes constantly, then let her dusky lashes sweep her flushed cheeks. She had even brushed against him once or twice as they toured Hampton Court Palace.
How on earth had she learned such wiles? And from where?
His breath caught in his throat as Kate appeared at the gap in the hedge, then entered the center of the maze.
They were alone. A butterfly fluttered 'round the silk flowers on Kate's bonnet. She untied the ribbon beneath her chin, then sat next to him on the narrow bench.
She smiled at Quinn. "I believe I've won your prize, my lord."
"So what shall you demand of me, sweet Kate?"
She tipped her head to one side and regarded him, still flirting with her eyes, her smile. He could tell she was nervous, yet expectant. He did not know if he should encourage her.
"I'm not quite sure yet." She touched the tip of her tongue to her upper lip. "What do you have to give me, my lord?"
His voice rasped in his throat. "Quinn. Please, call me Quinn."
"My lord Quinn," she said, with just a trace of mocking good humor in her tone.
"Kate," he said, taking her chin gently between his long, strong fingers. She quivered slightly but did not pull away as he stroked her cheek. Her response rippled through her body as he drew her into his arms.
Yes. The first kiss was as sweet as he had known it would be. For a few moments, he forgot why he had denied his desire, and hers, for so long.
As he touched his lips to hers, it was as though a spark flashed between them, igniting their emotions. Their mouths caressed and danced. When his tongue sought admission, she did not refuse him entry. He groaned as his embrace tightened, pulling her onto his lap. She reached up, touching his shoulders, tentatively at first, then with more confidence as their kiss deepened. Her arms wound around his neck as he held her close. He could feel her breasts, barely confined by the flimsy muslin, pressing against his chest. Her heartbeat was quick as a rabbit's, and knowing she was excited aroused him all the more.
When they finally parted he regarded her with amazement. "My darling Kate. Where did you learn to kiss like that?"
She chuckled as she wriggled on his lap. He groaned as she unwittingly rubbed her backside against his erection. Good God, how he wanted her.
"Are you all right, Quinn?"
"I'm fine, sweetling, but let's move you back onto the bench for now."
Orphaned Kate Scoville is trapped in a tower prison by her scheming uncle, who plans to wed her to his loathsome son in order to gain control of her fortune.

Plucky and resourceful, Lady Kate escapes to London to ask for help from her guardian. She's sure the elderly Earl of Devere will help her in her plight.

Kate is astounded to find that the Earl has died, and his son has become her guardian.

Quinn, the present Earl, remembers Kate from his childhood as an awkward child he loved to taunt and tease.

But now his ward has grown into a beautiful young woman. Though honor prevents Quinn from making Kate his, their attraction is irresistible…

Will Kate tempt Quinn into abandoning honor? Will the wicked uncle trap Kate, compromise her and steal her fortune?
About the Author: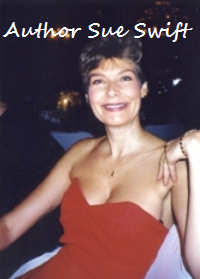 Best-selling, award-winning author Sue Swift, a.k.a. Suz deMello, has written seventeen romance novels in several subgenres, including erotica, comedy, historical, paranormal, mystery and suspense, plus a number of short stories and non-fiction articles on writing. A freelance editor, she's held the positions of managing editor and senior editor, working for such firms Total-E-Bound, Liquid Silver Books and Ai Press. She also takes private clients.
Her books have been favorably reviewed in Publishers Weekly, Kirkus and Booklist, won a contest or two, attained the finals of the RITA and hit several bestseller lists.
A former trial attorney, her passion is world travel. She's left the US over a dozen times, including lengthy stints working overseas. She's now writing a vampire tale and planning her next trip.
Website ~ Blog ~ Facebook ~ Twitter
Buy the book at Amazon.