Enter the Rafflecopter below for your chance to win a $100 Amazon/BN GC and more!
True Beach Lover
Want to know the difference between a true beach lover and someone who visits the beach?
A true beach lover lays out a towel, jabs an umbrella in the sand and she's set for the day. A beach visitor carefully spreads out a blanket warning everyone else not to step on it or get sand on it. They sit at the edge of the blanket and inch their way on. Chairs are set up to maximize ocean view and shade from the tent that looks like a small wedding reception could happen under it.
A true beach lover opens a cooler and pulls out a drink or a sandwich. A beach visitor has everything packed in Tupperware and methodically opens and closes containers, lest a few grains of sand sneak into the food. (Give me some grit in my lemonade and I know I'm loving the day at the beach)
A true beach lover wades into the water and muscles through the breakers (I do put my hair back first otherwise I'd never be able to see). A beach visitor stands at the edge, getting used to the temperature, then minces in, eventually getting slammed by a breaker.
The only thing I have in common with the beach visitor is my obsession with sunblock. Skin cancer is a scary thing, people. Reapply every 2 hours or when coming out of the water. Seriously!
The pool is the perfect place for people who want to swim, feel the heat of summer, read a book, and feel all the comforts of home.
I want to get sand in my suit and salt water in my eyes. I want to know I've been somewhere else than my living room.
And that's why the beach is the perfect place for the Idol series (Idol Urges, Idol Wishes). If you allow yourself, you can be transported to a different world at the beach. The sand and the water create a magical combination of excitement and relaxation. And if you've read my books you know what can happen with a little magic.
It's been a while since single mother, Samantha Johnson, has had a man in her life or in her bed. She long ago accepted her vibrator as her only companion. But her daughter is grown and her best friend is hounding her to go on a blind date with the sexy accountant Charlie Lewis. Reluctantly, Samantha agrees, expecting the night to end in disappointment. An accidental encounter with a magic tiki idol turns the evening into a hot and steamy success, twiceover. Which leaves her wondering, does Charlie only want her because of the idol's spell, or does Samantha still have a little magic of her own?
About the Author: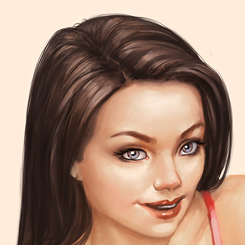 Ruby works her poor fingers to the bone at her keyboard every day. When she does take a break, you can find her stretched out on a beach chair in the Hamptons, traipsing through ancient Celtic ruins or catching the latest Broadway show.
Website ~ Blog ~ Facebook ~ Twitter
Buy the book at Amazon