Enter the Rafflecopter below for your chance to win a $100 Amazon/BN GC and more!
Leave a comment on THIS POST for a chance to win an additional prize – To enter a drawing for an ebook of Duchess in Waiting, under Comments share your favorite summer activity (include email).
A Celebration of Summer: The Mullet Fry
Mullet, a schooling fish that weighs about a pound, is plentiful in the Gulf of Mexico and its coastal bays and river. There are many ways to prepare mullet – baking, drying, smoking, currying, pickling, or in a stew. The Mullet Fry, however, is an iconic summer celebration along the Gulf Coast.
A Mullet Fry is not just a fish fry. It's a spontaneous party that begins when the mullet are spotted schooling and continues into the night. While mullet can be bought from a seafood shop or defrosted from the freezer, mullet fresh-caught in cast nets or a gill net is the absolute best.
In the old days, nets were made of twine, but today nylon mesh is the net of choice because it weighs less and wears better. Weights are attached to the edges of the net to make it sink quickly to the bottom to trap the fish. Some couples buy matching nets to share the fun and avoid altercations. (My net, one of a handmade pair, is eight feet wide.)
When the call goes out that mullet are schooling nearby, fishermen grab their nets, gather the family and neighbors, and head for the water. Using the largest size net they can handle (ranging from 6' – 14'), fishermen walk out hip-deep into the shallow bay waters or cast their nets from a boat or pier. Tossing the net to open in a wide circle takes a lot of practice but pays off with a good catch.
Like a barbecue, a Mullet Fry is an outdoor event with ice-cold beer as the drink of choice. While the fishermen are out and the children swim and play, the cooks prepare the side dishes (potato salad, baked beans, and cole slaw), make iced tea, and set up the tables. When the fishermen come in, their catch is cleaned, filleted, and washed – saving the heads and guts for the crab traps.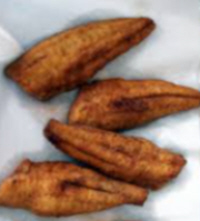 The cooks begin their work by drying the fillets with paper towels, dipping them in mustard, then dredging them in seasoned cornmeal. The fillets are tossed into baskets in cast-iron deep fryers two-thirds full of cooking oil using a propane burner that keeps the oil at the high temperature needed for quick frying. The mullet cooks in a few minutes. The cooked fillets are drained on paper towels then served with lemon, tartar sauce, remoulade, hush puppies, the side dishes, and cold beer. A mullet fry brings families and neighbors together where a good time is had by all!
Note: Visit RitaBay.com for my potato salad, hush puppies, and tartar sauce/remoulade recipes.
Lady Ellen Hammond languished for years at Madame Foret's Academy for Young Ladies while her fiancé and guardian, the Duke of Ralston, enjoyed a rake's life in London. When she must return to England to escape the violence of the Revolution, she decides that the life of a long-suffering duchess-in-waiting is not for her.

Posing as a valet, Devon Townsley, the Duke of Ralston, accompanies Robert Montclair to Paris to rescue Ellen and her English friends. Unprepared to settle down, he wants to discover if his fiancée will make a suitable duchess. He has his doubts when he must rescue her from captivity in a brothel.

Determined to settle her business in London and travel the world, Ellen finds romance and passion with Rob's aggravating valet, Tobias Stanford. When sparks ignite between the two and burst into a passionate affair, Devon reconsiders his commitment to living a rake's life. He discovers, however, that his deceit has a high price.
About the Author: Rita Bay has worked as a registered nurse, educator, and school system administrator. She lives outside Atlanta and on the Gulf Coast where she happily writes historical romances, shapeshifter and vampire tales, humorous erotic mythology novellas, and the occasional contemporary. Check out her webpage/blog (http://ritabay.com) for more info about Rita and her stories, as well as posts about Western European and Western history and culture.
Website ~ Facebook
Buy the book at
Amazon
.
NOTE: To enter a drawing for an ebook of Duchess in Waiting, under Comments share your favorite summer activity (include email).