Enter the Rafflecopter below for your chance to win a $100 Amazon/BN GC and more!
Leave a comment on THIS POST for a chance to win an additional prize – A $6.99 gift card from Uncial Press
The Door into Summer, Sixty Years Later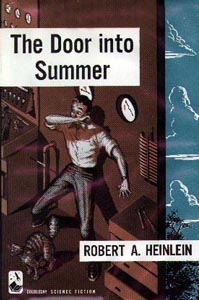 Where are you going this summer? Me, I've taken a trip in time—first into my own past, when I first read Robert A. Heinlein's The Door into Summer, then to 1954, when it was published, then to the future 1970 and the farther future 2000, as Heinlein imagined them. What a vacation from now—my head is spinning!
TDiS is classic SF by a writer often hailed as the greatest of the great in that genre. Personally, I'm not a huge Heinlein fan; his later books are too talky and pushily philosophical for my taste, and while I loved some of his earlier work—including this book—when I read it fifty years ago, there's just too much about it that makes me cringe now. But Heinlein does one thing to perfection: he shows how a good writer gives readers information they need without bombarding them with huge, dull chunks of it.
In 1970 (or so the 1954 author speculated) people could go into "cold sleep" and wake years later, the same age physically—but rich, because their investments would have been making money for them. Engineer and inventor Dan Davis does just this, with a little help from his double-crossing girlfriend and his business partner. When he wakes in 2000 he finds that these two have also sabotaged his money, so he's broke. How can he get revenge? Well, if there were such a thing as time-travel—real time-travel, into the past—there might be a way…
It's a good story—entertaining, mind-stretching, at least temporarily (no pun intended) convincing, and one of its important characters is a cat, always a plus in my view. How well has it aged? In some ways, maybe as well as any story set in the future can age over sixty years.
From a 2014 perspective, Heinlein's early-1950s guesses are sometimes amusingly wrong, sometimes amazingly accurate. In his imagined 2000, there are no personal computers, no cell phones. But there are phone cards, something that amounts to an ATM (facilitated by a "cybernet"), and a substance called Sticktite that's very close to Velcro. In his 1970 world, not much is said about clothing, but when he wants to dress 21st century characters in what would seem outlandish to 1954 readers, he has a doctor wearing "cerise bell-bottoms"—a style that would be quite normal in the 1970s that I remember. There are robotic floor cleaners and driverless cars, and as the book ends the hero's just designed a waterbed, unheard of in 1954. Heinlein obviously put plenty of thought into what the future might bring, and he was right oftener than chance or wild speculation would dictate.
But in other ways, the book is wincingly dated, with hints of casual racism and much more than a little blatant sexism. Some 2014 readers may find these things so offensive that their enjoyment of the story is spoiled; but I remember 1954 well enough to recognize that Heinlein was no worse than his contemporaries in these regards and actually better than many of them.
No, overall I don't like The Door into Summer as well as I did in 1962. This time around, though, I've noticed something I didn't see and certainly didn't appreciate then. The author trusts me to pick up information I need from hints he gives; he doesn't back up a truck and dump it on me. He doesn't tell us there are machines that accept parking fees, he doesn't explain that cars on busy thoroughfares are controlled and guided by an electronic system. Few readers in 1954 would have imagined such possibilities, but here's all his narrator says: "I dropped money into the parking attendant, set the bug on arterial west, and… tried to relax. Los Angeles traffic was too fast and too slashingly murderous for me to be really happy under automatic control…."
In 1954, the info-dump was practically a stock device in science fiction, making many stories from that time almost too clunky to read these days. Robert A. Heinlein was one of the first SF authors to respect his readers enough to abandon that device. For this, I honor him.
A Glimmer of Guile isn't your ordinary fantasy-quest tale. Mary Patterson Thornburg weaves a fascinating story that's part fantasy, part adventure, part coming-of-age, part romance, and all exciting.
About the Author: Mary Patterson Thornburg lives in Montana with her husband, Thomas, and their three cats, who search nine months of the year for "the door into summer."
Website ~ Facebook ~ Publisher
Buy the book at Amazon