Enter the Rafflecopter below for your chance to win a $100 Amazon/BN GC and more!
Leave a comment on THIS POST for a chance to win an additional prize – A book giveaway or a $25 gift certificate (winner's choice)
Sealed with a Kiss
If that title has a vague ring of familiarity that's no accident. It not so coincidentally bears the name of a song from the mists of my youth. And when doing this blog though it may be begging the season by a month (or more) the summer beckons in the distance as old memories flood back and come to mind and my not so hidden roots as a closet romantic beckon!
I have the good fortune to spend many summers on Massachusetts's luxuriant Cape Cod coast. Each year the CC populace grows by ten-fold as between five and six million visitors cross one of the two aged bridges that span a man-made body of water known as the Cape Cod Canal. But in addition to being a spectacular spot of natural beauty it is also an area filled with beauty, romance, and the thrill of youth.
As a child on the south coast my experiences were physically and emotionally stimulating… things like sun and surf and often massive waves that crashed on the pristine sand. Massive at least to one who was only three feet tall. As I grew into my "formative" years my family and I continued to visit and experience the magic.
Slowly, I found my feelings transformed from something far less visual into something far more visceral. Shells and surf gave way to a magic that stimulated me in ways I found both new and strangely exciting. Like so many young people who grew up in summer locales I began to see the subtle changes in those I'd spent so many sun-drenched days with.
It's difficult to pinpoint the exact day, week, and month when I suddenly came to the realization that one of my best summer pals had grown in ways that animated, excited, and terrified me. It began during the summer of our twelfth year. Maybe in some subtle ways the year before—but when Joey— short for Josephine—appeared that year on the first day of our summer long vacation I felt a lump in my throat and my heart quicken. Clichés yes, but none the less just as true. All I know is that when I saw her that June morning something changed.
I'd had all the stirrings and emotional turmoil inherent in any adolescent experiencing the conflicts and ecstasy that accompanies puberty but it wasn't till I saw Joey, silhouetted as she stood awaiting me at our front door that the emotion truly took hold.
That summer was a roller coaster for me… and though we never discussed it I'm sure it was for her, too. Suddenly, simple things became complicated. I noticed an electricity when our hands would touch or our eyes would find and linger on each others.
The smell of the tide and fresh-cut grass were exchanged for the subtle fragrance of her sweet fragrance when she was close. Things which a year or two before had seemed commonplace became scripted so as not to touch or get too close to each other while wanting desperately to do so.
Summer friendships begin on the 4th of July and end on Labor Day or at least that had been the way of it for the years prior to our emergence as young men and women. Others populated our sun and surf-drenched summer world but from my first encounter with Joey that summer neither of us paid attention to the others.
On Labor Day weekend the families who populated our little Cape Cod side street traditionally held a farewell cookout. That year while neither of us spoke of it, as if scripted Joey and I drifted away from the others to take a walk on the soft sand, knowing it would be our last for an interminable winter.
Suddenly, I felt her hand in mine and as the moon rose into a clear star filled sky I turned toward her. Her hazel eyes dropped behind thick lashes and I put my arms around her clumsily.
We heard out parents calling but as I turned to head back up the beach she gently pulled me close and kissed me. It was soft, innocent, and clumsy. Someone once suggested that no one ever forgets their first kiss. After a summer of watching her and waiting it was the most tender and sweetest I can ever recall….
Later that year my parents told that Joey's father had been transferred to Texas. She wrote me a brief note and signed it "Love." Perhaps it was real, perhaps not…but it was the summer of a lifetime, filled with angst and doubt and wanting to grow and explore so much more. A summer sealed with a kiss.
War hero Eric Montgomery returns from Iraq, hoping to revive his family's Cape Cod marina and marry his childhood sweetheart. When his wife and unborn child die in a tragic auto accident Eric's dreams are shattered. He spends long months grieving, losing himself in alcohol, isolation, and anger. Then Ashley Fitzhugh, a young woman he's met only once, appears on his doorstep one stormy night. Eric is annoyed at first, but soon finds himself caring for his visitor and her young daughter–seeing in them a chance to rebuild the life he lost. When threatening phone calls, mysterious strangers, and covert agents invade their peaceful lives, Eric must decide: Is Ashley the answer to a prayer? Or part of the nightmare he can never escape?
About the Author: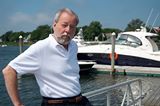 Dedicated author, college faculty member and recent President of one of the Northeast's most respected writing organizations, Kevin Symmons has been interested in the occult, music, the sea and writing since childhood. He's taken those youthful fascinations and crafted romance thrillers and women's fiction that will keep you turning pages late into the night. Meticulously researched, Rite of Passage is a paranormal romantic thriller from the award-winning Wild Rose Press . Rite of Passage is an Amazon best-seller and was a finalist in the 2013 RomCon Readers Crown award. His latest release, Out of the Storm, another Amazon best-seller from TWRP is a contemporary romantic thriller filled with mystery, plot twists, and vivid characterizations. His novels have regularly garnered dozens of 5-star reviews. His newest effort, Solo, now available in Kindle and print format at Amazon, is a sweeping women's fiction work that brings to light the tragic problem of domestic violence in contemporary America. Kevin is a sought after public speaker and panelist on writing and publishing. His other works include a screenplay collaboration with award-winning screenwriter and playwright Barry Brodsky. Kevin is currently at work on his next novel, Chrysalis, a new adult romance set near his Cape Cod home.
Website ~ Facebook ~ Twitter
Buy the book at Amazon