Enter the Rafflecopter below for your chance to win a $100 Amazon/BN GC and more!
Leave a comment on THIS POST for a chance to win an additional prize -An autographed print copy of Mistress of The Moons
Summer's Heroes
Creating characters is a writer's joy and falling in love with the heroes of their stories is a given. Let me give you a quick glimpse of the heroes of summer. Just a quick look since there's more than a sun sign to astrologically define a hero. The sun gives a picture of the inner nature of these heroes. Summer begins on June 21st and ends on September 20th, giving the writer three heroes to explore. The men of summer are born under the signs of Cancer, Leo or Virgo.
The Cancer Hero
He may seem quiet and even shy but he was born in a cardinal sign. Beneath the shell he wears lurks an alpha male. Water is his element and the moon lights his way. Think of moonlit walks along the ocean shore or the banks of a river or a lake. He loves good food and can overindulge especially when offered rich desserts. He's a home lover and has a passion for antiques. In fact, he tends to cling to the old things in his life. The Cancer hero is a willing listener who drinks emotions, yours and his. Just be warned, if you're not sure about taking a chance on this hero, he'll find ways to erode your doubts.
The Leo Hero
He may come across as flamboyant but the Leo hero is born under a fire sign. He thrives on drama and excitement and loves crowds and people. Sometimes life seems like a party to this man. Being stage center is his delight but he doesn't mind sharing the spotlight. He was born under a fixed sign that adds a streak of stubbornness to his nature. He can leave a woman breathless and will gladly share his enthusiasm for life. This hero can be a bit boastful believing all he has is the "best, but true or false he can charm the disbeliever. Once he gains her attention he'll persist. This makes refusal impossible.
The Virgo Hero
With his attention to all details he may seem to be a bit of a nerd. Counting all the trees and not seeing the expanse of the forest is one of his traits. Born under an earth sigh, there's a sensual aura surrounding the Virgo hero. He's content to remain in the background applauding those at stage center. He's witty in a subtle way and this trait is a great part of his nature. In love, he's slow to attach since he needs to examine every nuance. His heart once given is like the solid earth. Then his sensual nature comes to the fore. To the Virgo hero, life is a jigsaw puzzle and he strives to make each part fit.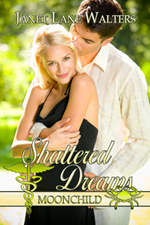 Torn apart years ago by lies and threats, Rafe Marshall returns to town and confronts Manon Lockley. She has been told he died on the night he stood her up for their senior prom. When she faints, Rafe catches her and realizes he hasn't stopped loving her. Manon carries anger and now grief that wasn't real. Rafe wants her in his life, but she doesn't want to talk about what happened in the past. She can't be sure if her father or someone else told lies about Rafe and she doesn't want to know. Can Rafe persuade her to listen? Not without a battle.

About the Author: Janet Lane Walters was born in Wilkensburg, Pa July 17, 1936 reported to be the hottest day of the summer. She has been a published author since 1968 beginning with short stories and moving into novels when an editor told her a short story sounded like a synopsis for a novel. In the 1970s and 1980s she published 4 sweet nurse romance novels. Then she returned to school to earn a BS in Nursing and a BA in English. Returning to work as a nurse to help put four children through college she put her writing career on hold. In 1993 she retired from nursing and began writing again. A new nurse romance followed in print. Then she discovered electronic publishing and since 1998 has been electronically published.

Janet calls herself an eclectic writer since she moved from genre to genre. There are mysteries featuring Katheine Miller a former nurse who seems to stumble over bodies wherever she goes. Using her interest in Astrology, she has several series that use Astrology as a premise for the stories. Once she earned enough money to travel to Ireland by casting charts for people. She has many books in the romance genre, some of them are contemporary and are nurse romance, others fall into the fantasy or paranormal forms of romance. Interested in reincarnation, she has used this as a jumping point for at least two novels. Two of her novels deal with alternate worlds using a love affair with Ancient Egypt.

Under her other name J.L. Walters she has written a YA fantasy series called Affinities. She has also written a non-fiction book when her co-author Jane Toombs that won the EPIC Award in 2003 for best Non-fiction. During her career she has received other awards and has a number of great reviews.

Besides her four adult children, she has seven grandchildren. Five of them are the models for the YA series. The other two arrived too late to play a large role in the series. Four of her grandchhildren are bi-racial and 3 are Chinese so the eclectic even invades her family. She has been married to the same man for more than 50 years. He's a psychiatrist who refuses to cure her obsession for writing.

Website ~ Blog ~ Twitter