Enter the Rafflecopter below for your chance to win a $100 Amazon/BN GC and more!
Leave a comment on THIS POST for a chance to win an additional prize -one $5 Starbucks Gift Card and a signed swag pack with the cover art from Stealing His Heart to one random commenter. Open to all 18+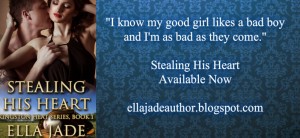 Do you like your baseball players hot and dirty?
Is there any other way? I don't think so either. Have you met my players yet this summer? Stealing His Heart is the first book in my Kingston Heat Series. If you're looking for a sexy, southern hero with a dirty mouth I may have just the thing for you to pass the time on these long, hot summer nights.
WARNING… Pax will steal your heart.
"Baby, I have a filthy mind, and you're on it constantly." Pax squeezed her against his side as they walked. "If you could see the things I see in my head when it comes to the two of us, you'd be blushing all the time."
Paxton Hughes has got to be one of my naughtiest heroes. When I created him I wanted him to have that raw charm that would not only make a girl swoon but make her drop her panties too. He's hot, charming, athletic and know how to treat his girl. Who would say no to all of that?
The cool thing about writing this kind of man is developing his transformation when he meets the right woman. Paxton changes for the heroine, Sophia, but in a good way. She never asks him to change but as their relationship grows he becomes more of a man a girl would be proud to call hers.
Don't worry… although his character evolves throughout the book he never loses that sexy edge that makes him yummy. He stays true to that bad boy persona so many of us have grown to love in our romance heroes.
I hope you'll consider adding Stealing His Heart to your TBR pile.
Will the bad-boy pitcher strike out when it comes to love?

Shy music teacher Sophia Ballis has sworn off men. After a bad experience with a college jock she decided it was better to be alone than to get burned again. She focused on her education and now her new job at a local private school.

Professional baseball pitcher Paxton Hughes is a player both on and off the field. He's signed to the Kingston Crushers to bring home the coveted championship title. Nothing can get in his way. Serious relationships don't mix with a life on the road and he never loses focus on the game. One-night stands are his specialty for a reason.

While out jogging one spring morning, the two collide, setting their course in motion. Pax is immediately drawn to the unassuming beauty. Sophia is aware of his reputation and decides one night of meaningless sex with the attractive Texas charmer is just what she needs to get over her self-imposed dry spell. Pax has more than a one-night stand on his mind, but will his bad-boy persona and demanding schedule ruin any chances of a happily ever after?

Content Warning: contains explicit sex and adult content
About the Author: Ella Jade has been writing for as long as she can remember. As a child, she often had a notebook and pen with her, and now as an adult, the laptop is never far. The plots and dialogue have always played out in her head, but she never knew what to do with them. That all changed when she discovered the eBook industry. She started penning novels at a rapid pace and now she can't be stopped.
Ella resides in New Jersey with her husband and two young boys. When she's not chasing after her kids, she's busy writing, attending PTO meetings, kickboxing, and scrapbooking. She hopes you'll get lost in her words.
She loves connecting with readers. You can find her here…
Website ~ Facebook
Buy the book at Amazon.