Enter the Rafflecopter below for your chance to win a $100 Amazon/BN GC and more!
Leave a comment on THIS POST for a chance to win an additional prize – a digital copy of one of Blair's 3 novels:
– Delighting In Your Company
– A Memory of Roses
– Sonata. (3 winners, each will receive one of these books)
Oh Deer!
With my partner, I run a B&B on Canada's scenic west coast. We have an acre of flower beds and park like lawns, and a view of the sea through tall cedars. Our property is bordered by a deep heavily treed ravine. It is beautiful at every time of the year, but in summertime it is spectacular.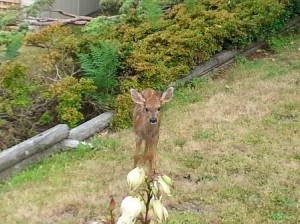 There are so many things I love about summer here, but most of all I love the deer who have made a permanent home for themselves in our ravine. They are frequent visitors. Over the years they have become incredibly tame. We talk to them and their eyes meet ours and their long brown ears move like antennae to catch the sound of our voices. They are totally unafraid of us. We've become accustomed to their napping on our lawn or in the middle of our flower beds. But this summer one went farther. She had her baby in front of our garden swing. As soon as the wobbly fawn could stand she nudged him toward the ravine—so perhaps she was just caught short. But the next day she was back to show him off to us, a beautiful little spotted creature who danced and bounced around her. She was accompanied by another female and for the next week we noticed she and her companion always kept the fawn protectively between them. As his spots began to disappear, he was allowed more freedom. Mother came without Auntie and the fawn was allowed to gamble and prance quite freely.
Some of our neighbors have erected high fences to keep the deer out. We'll never do that. Yes, they do eat my Wisteria blooms and they love tulips, and they've even occasionally taken the tops off all our geraniums. We figure it's a small price to pay for their company.
They say spring is a time of renewal, but for me it is summer, when the fawns come to visit.
What more could a girl ask for?…

When Amalie Ansett visits her elderly cousin on the small Caribbean island of St. Clements, the last thing she's looking for is romance. Just out of a disastrous marriage, she's ready to swear off men forever. That is until she meets local plantation owner, Jonathan Evans. He's tall, good looking, intelligent and incredibly sexy. What more could a girl ask for?

An unsolved murder …

Then Amalie discovers the man she loves is a ghost. Only she can see and hear him. Perhaps he's real to her because Amalie is the image of her distant ancestor, Jonathan's bride from an earlier time. Jonathan was murdered two hundred years ago and has no knowledge of who killed him or why.

A perilous trip to the past…

When Jonathan asks her to help him by returning with him to his past, Amalie is torn. If she helps him solve the mystery surrounding his death, she could lose him forever. If she doesn't, she'll be stuck with a ghost for a lover.

And a love that crosses the boundaries of time….

To save Jonathan, Amalie agrees to travel with him back in time to the Caribbean of the 1800's, when sugar reigned supreme and the slave trade was making fortunes for wealthy planters and ship owners. Her adventures there include a slave uprising, murder, deceit and an enduring love that crosses the boundaries of time.
About the Author:I started to write soon after I found my first pencil. But I began to write for publication about 30 years ago — professional books. I wrote six of them, all still in print and still in use. Only lately have I turned to fiction. I'd have done it a lot sooner if I'd had any idea how much fun it was!
I've lived in many different places. The US — Certain cities call to me. I love San Francisco and Seattle and the wonderful Oregon Coast. Australia — among the most open welcoming people in the world, and a wide open young country with incredible land and sea scapes, with amazing animal and bird life right out of science fiction. Canada — HOME. The place where I belong.
I travel a lot. I usually spend the month of October in Europe, Greece or Italy, and the winter in a little house I built many years ago on a small non-touristy Caribbean Island. I have worked and studied in many places — Hungary, Australia the US and Canada, and have spoken in most of the States and Provinces as well as Taiwan and various cities in Europe. I enjoy being surrounded by cultures other than my own. I enjoy my own as well — but variety is indeed the spice of my life.
I keep busy — and I love my life. I love meeting the people who come here to the west coast of Canada and stay in my B&B. I love traveling after the tourist season is over. And I love writing.
My interests?? Music, especially opera, reading everything in print, and Writing. And walking on the beach and swimming. At one point I had hoped to swim in every major sea and ocean. I've realized that may not be possible in one lifetime — but trying has been fun!
Website ~ Blog ~ Facebook
Buy the book at Amazon