Enter the Rafflecopter below for your chance to win a $100 Amazon/BN GC and more!
Ah, summer.
The season of relaxation, vacation, and sunburns. Or, if you're me, work, commuting to work, and sunburns.
I'm not much of a singer, so I'll forgo a personal rendition of Olaf's song from "Frozen" and dive right into my own ode to the season.
Summer brings to mind the sun, the breeze, the flipflops, the beach, and the fog (if you're in the San Francisco Bay Area). This year the weather patterns brought us a taste of the tropics, which I found quite distasteful, as we had all the heat and humidity of the land of eternal summer and none of the tranquility.
Yes, I'm talking about Hawaii, and okay, it's not technically the land of eternal summer. But it is what I think about the most when I think about summer and all that comes with it.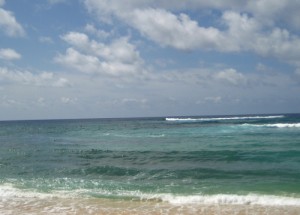 I went once, in the month of March, to Kauai. It took a whole lot of saving up and winding down, but those seven days are some of the best in my memory bank. It's that feeling you get when something just clicks with you, to the point where you carry it with you for the rest of your life. Hawaii runs on different time, and I took to it like a rooster to the Lihue underbrush.
Of course, circumstances change like the tide. I haven't been able to go back since that trip, and I probably won't for a long time.
Someday I'll be writing from my private condo in paradise in between dips in the ocean. Until then, I'll content myself with memories and mai tais—and Nom Nom Paleo's Slow Cooker Kalua Pig.
If you're in Hawaii, go to a luau. If you're at a luau, try every bit of kalua pork you can. And if you can't go to Hawaii but want a taste of it yourself, grab your slow cooker!
Nom Nom Paleo's Slow Cooker Kalua Pig
5 lb Boston butt roast
3 slices bacon
1 ½ tbsp Alaea Red Hawaiian coarse (1 tbsp fine) sea salt
5 peeled garlic cloves
Try using smoked bacon or smoked salt, or adding 1 tbsp liquid smoke for a more authentic slow-roasted flavor.
Line your slow cooker with the bacon.
Trim fat from pork if desired, but keep at least ¼ inch to keep it moist.
Cut or pull the roast horizontally about halfway open to tuck in the garlic cloves. Sprinkle salt inside and out until pork is evenly coated.
Place the roast in your cooker on top of the bacon, skin side up. Cover with the lid and cook on low for about 16 hours, 12-14 for smaller roasts.
(Note: Get it going and then get out of the house. See a summer blockbuster or three, because staying inside and smelling this slice of heaven for so long probably qualifies as torture in some parts of the world.)
When done, remove roast from the cooker and shred with two forks. Adjust seasoning with the cooking liquid, and enjoy!
Personally, my Hawaiian summer picnic menu features kalua pork on Hawaiian buns with potato salad, pickled vegetables, and a chilled Moscato d'Asti. Throw in a no-bake coconut cream pie (because it's hot, and who wants to be baking when you're in the tropics?) and you've brought paradise to your table.
Aloha~!
Callum Lewis is down on his luck, back to stripping to make ends meet after losing his job. One night at the club, he meets eyes with a handsome and mysterious stranger who leaves him greatly unsettled. Their paths continue to cross until Callum is forced to confront the strange man, but the answers that come do nothing to calm Callums mind.

His name is Levin, he is more than a thousand years old, and Callum is his destined mate.

Half Past Forever is a FREE read, available now!
About the Author:A. Morell has been writing for fun for the past decade. She once dreamed of being a professional chef—now she knows better and is taking a stab at becoming an author. Without so much as a Creative Writing 101 class under her belt its a bit of a stab in the dark, but she is comfortable flying by the seat of her pants.
She enjoys food, baseball, classics, word games, tattoos, shoes, handbags, escapism, and creating characters. She is averse to over-used words, spiders, zombies, tardiness, camping, and people who misquote movie lines and lyrics. She has one cat.
Publisher Author Page ~ Blog ~ Twitter
Get the book here (FREE).